Duquette working on ways to bolster O's
Club has been connected to free agents Gallardo and Fowler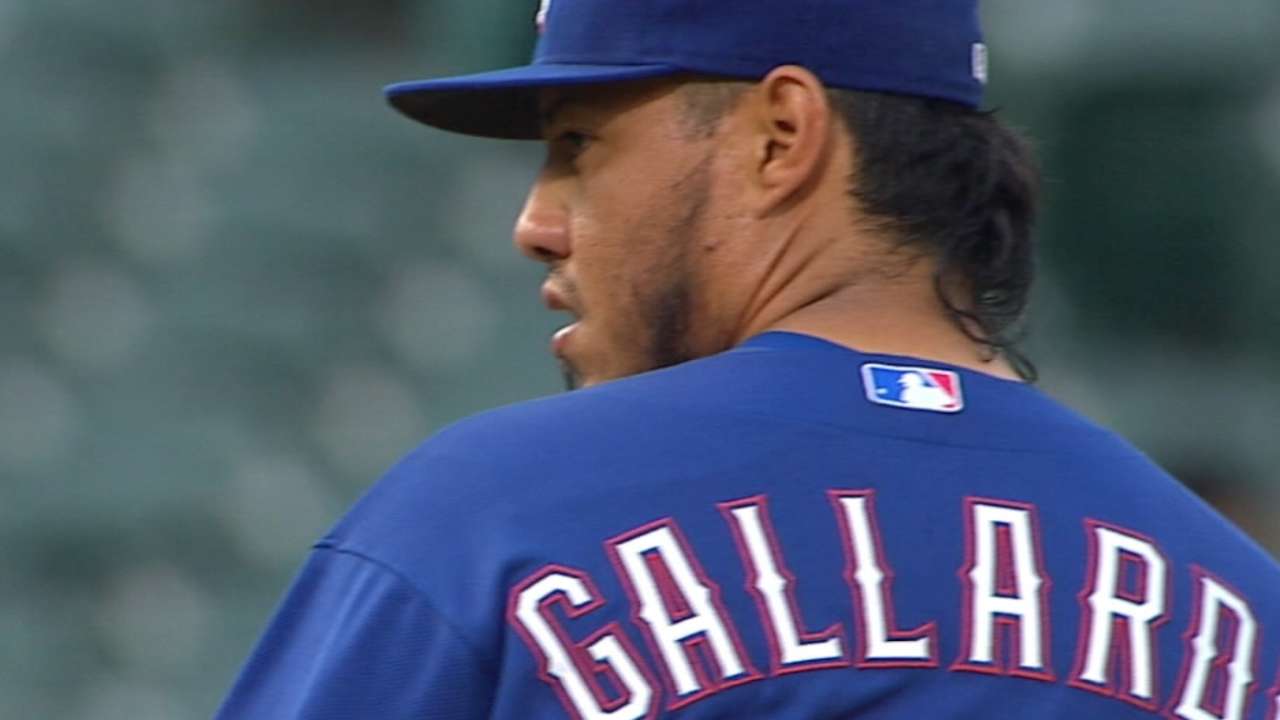 SARASOTA, Fla. -- If the Orioles are going to sign Yovani Gallardo, Dexter Fowler or any other free agents, they still have some bridges to cross.
"We're still trying to add to our team and we have some more work to do," said executive vice president of baseball operations Dan Duquette, who arrived to Florida on Friday. "We're still working on a couple of things that could help the ballclub.
"It's really hard to handicap whether you're going to get a deal completed or not. So I try not to. Just keep working and trying to find the right fit for the team."
• Spring Training: Schedule | Tickets | More info
While the O's were thought at one point to be closing in on adding Gallardo to the rotation, there hasn't been much momentum on that front over the past few days. Duquette declined to address if the organization was ever close to a deal with the right-hander, simply reiterating that there's "a lot more work to do" to get the current team ready for the season.
Right now, the O's hold the 14th overall pick in this year's Draft, and signing Gallardo -- who turned down a qualifying offer from the Rangers -- would require them to forfeit that pick. That's always a factor in negotiations, and Duquette said it's no different this spring.
"That's part of the consideration in the situations with the free agents that require compensation. If the club is going to participate in that market, they have to take into account the value of the pick, the current value and the potential future value of the pick," he said. "That's part of our consideration in each of these instances for compensation free agents. It's a system that's been in place for a couple of years, but there seems to be certain players in the market where it affects their contract."
Beyond that, the Orioles have the 29th overall pick, as compensation for Wei-Yin Chen signing with the Marlins. Should the O's give up their top pick, there's a thought they'd be more willing to sign another qualifying-offer player and part with the 29th overall pick as well. It's a similar situation to 2014, when they signed Ubaldo Jimenez and Nelson Cruz.
"The Cruz deal -- we weren't interested in doing a one-year contract with Cruz for a first-round pick. Our assessment of his addition to the team and the market, that worked out for the club," Duquette said. "For the club, it's been a little bit more difficult choice this time around. We're drafting higher in the Draft, so on paper, that pick should command more value, so we have to take a longer look at what the value of the pick is as compared to how we can help our club. The idea is to have a good team every year, right? We're trying to maximize our team this year and have a good year this year, and also have a good team next year and the year after that and the year after that."
Duquette has made it no secret this offseason that he'd like to upgrade the rotation, and he said the team has not yet seen free agent Tim Lincecum throw. Asked if there was interest in Lincecum -- who has been connected to Baltimore in the past -- Duquette only said that the O's are interested in adding to the starting rotation.
"We're talking to a number of players [who are still free agents]," Duquette said.
"In 2014 we signed a couple of veteran players that helped the team, and they helped the team and the team had a good year. So, we understand the value of adding solid, veteran, proven players to help the Major League team."
Brittany Ghiroli is a reporter for MLB.com. Read her blog, Britt's Bird Watch, follow her on Facebook and Twitter @britt_ghiroli, and listen to her podcast. This story was not subject to the approval of Major League Baseball or its clubs.