MLB.com Columnist
Barry M. Bloom
Mattingly gets Marlins chapter under way
JUPITER, Fla. -- Don Mattingly doesn't want anyone worrying about him. He said he's heard all the comments about how tough it might be to take over as manager of the Marlins after five high-profile years leading the Dodgers, and he scoffs at all that.
"This is really a dream job, one of the top five in the league," Mattingly told MLB.com after coming off the back fields behind Roger Dean Stadium late in the day on Friday, his first official day as Miami skipper behind him. "I'm very happy to have it. There's a lot of talent here."
Spring Training: Schedule | Tickets | Gear
And by the way, Mattingly said he's proud of what the Dodgers accomplished under his tutelage: three straight National League West titles, the first time in history the Dodgers have done that.
"I'm proud of what we were able to accomplish as an organization," Mattingly said. "Obviously it's not everything we wanted to accomplish, but I'm definitely proud of that time. I'm also grateful and thankful for the experience I was able to gain and to be around great people and great baseball minds. I feel like we did a good job. We just didn't get where we wanted to go."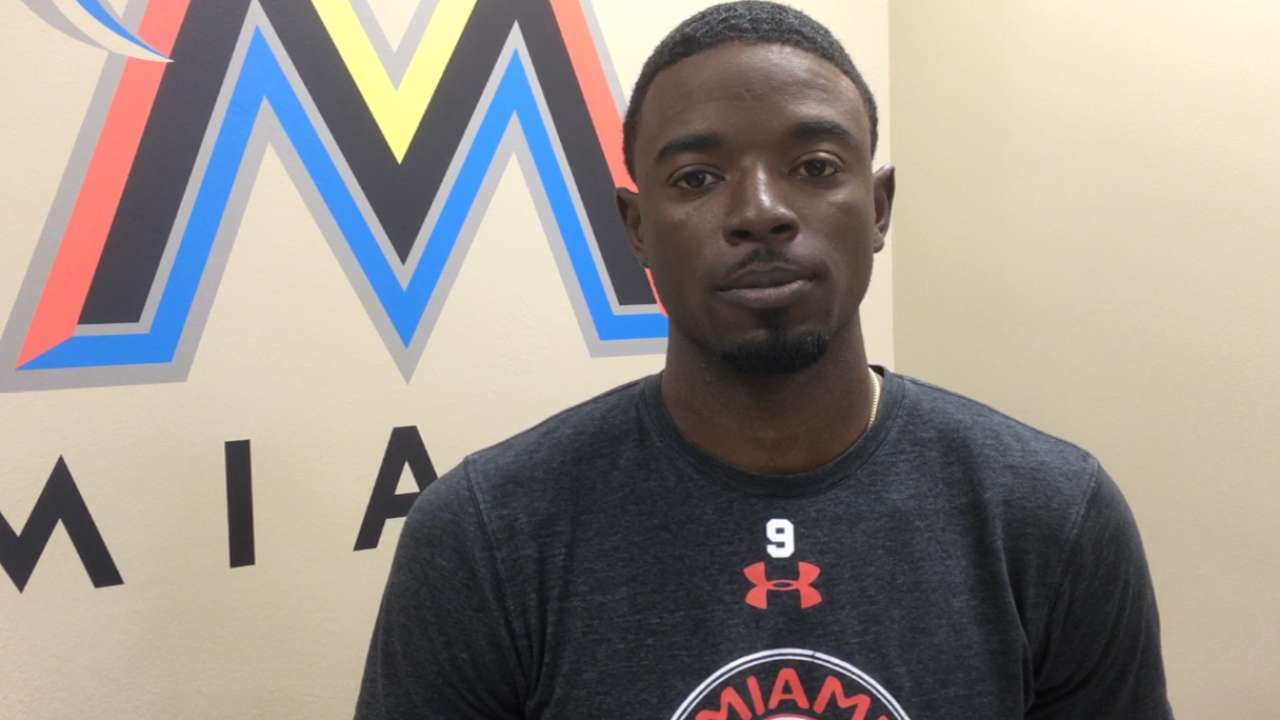 Despite the highest player payroll in Major League Baseball, the Dodgers fell short of the World Series under Mattingly, coming as close as Game 6 of their 2013 NL Championship Series loss to the Cardinals.
Last October, after the Dodgers were eliminated by the Mets in a very tough five-game NL Division Series, Mattingly said he sensed there wasn't much support for him fulfilling the final year of his three-year contract.
"I would have stayed another year and done whatever they wanted me to do. I was under contract," Mattingly said.
Mattingly laughed when asked if he had the Marlins job in his back pocket the day he left the Dodgers.
"Despite what people may think, really, I had no clue," Mattingly said. "A few days later, [Marlins owner] Jeffery Loria called my agent and asked him if I'd be interested in managing the Marlins."
Mattingly addressed another issue: the misconception surrounding his relationship last year with Dodgers president of baseball operations Andrew Friedman and general manager Farhan Zaidi.
"I'm not going to get into what last year was like, other than I really liked working with those guys," Mattingly said. "They are sharp guys. I think a lot was made of them trying to force the lineup on me and telling me exactly what I had to do. It really wasn't like that. Everything was a collaboration.
"We talked about things, different scenarios. Obviously analytics is a big part of what they do, and quite honestly, it was a good experience. I liked those guys. They're very smart guys. But I'm happy to be here."
Mattingly said that, just by the nature of things, it will be a lot different under Loria and club president David Samson. Miami has struggled to find success since winning the World Series in 2003. Mattingly is the team's seventh manager since Fredi Gonzalez was dismissed 70 games into the 2010 season.
The Marlins haven't had a winning season since 2009, and the 54-year-old Mattingly views this chapter of his storied career as a chance to develop players and teach them how to win. Just to punctuate that point, Mattingly and new hitting coach Barry Bonds were found on Field 3 late on Friday afternoon, working with catchers Jeff Mathis, Sharif Othman, Adrian Nieto and Francisco Arcia as the quartet took batting practice in the gathering gloom. By then, for Bonds and Mattingly, it had been a 10-hour day.
Mattingly said he developed a relationship with Loria by chatting it up around the batting cage over the years.
"Jeffrey is a fan. He wants to win. He loves the game," Mattingly said.
"It's a little different here. It's a different place, different organization, maybe a little bit different philosophy," he said. "You have to go about things a little differently. You're not in the same boat. You're in a different boat. You plan accordingly. We have to build the Minor League system.
"We're not going to sign 10 or 12 free agents in the same offseason. We have to keep teaching and developing. That's the exciting thing about this job. That's what's exciting and refreshing to me.
"I'm ready for it. Let's go."
Barry M. Bloom is a national reporter for MLB.com and writes an MLBlog, Boomskie on Baseball. Follow @boomskie on Twitter. This story was not subject to the approval of Major League Baseball or its clubs.