Breaking down the Nats' 2016 Top 30 Prospects
12 internationally signed players crack list; toolsy Robles rising quickly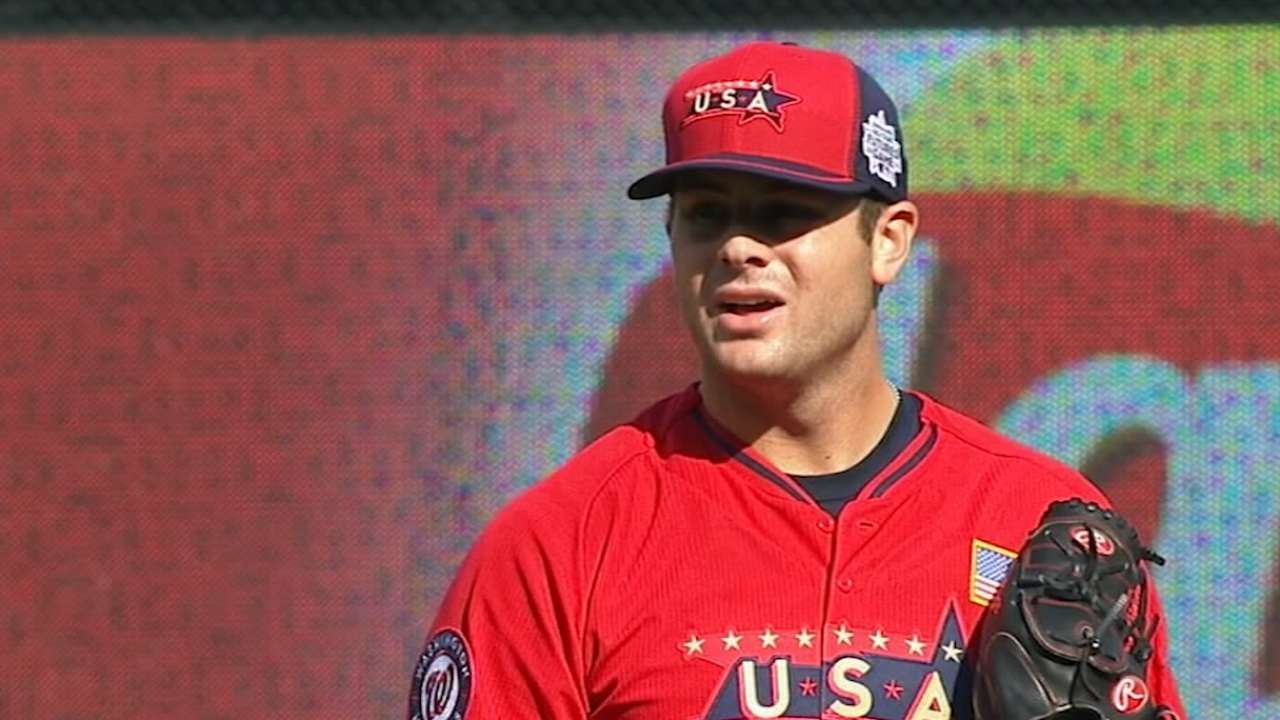 There were plenty of reasons to have high expectations for the Washington Nationals in 2015.
The Nats paced the National League with 96 wins in 2014, and though they came up short against the Giants in the NLDS, it was the second time in three years that the club had clinched a postseason berth. Bryce Harper also came into his own as a superstar that October, setting the stage for what would be monstrous MVP campaign the following year, and the Nationals added a bona fide ace during the offseason in free agent Max Scherzer.
But 2015 didn't unfold as expected for the defending NL East champs, who had their roster ravaged by injuries and ultimately missed a return to the playoffs by seven games. The Nats were able to give some of their top prospects a look in the big leagues, though, as the ultra-toolsy Michael Taylor emerged as the team's everyday center fielder, and right-hander Joe Ross, whom the Nationals acquired the previous offseason, filled in admirably for an injured Stephen Strasburg in the starting rotation.
Top 30 Prospects lists
Division
Teams/Release date
NL East
ATL, MIA, NYM, PHI, WAS
AL East
BAL, BOS, NYY, TB, TOR
NL Central
CHC, CIN, MIL, PIT, STL
AL Central
CLE, CWS, DET, KC, MIN
NL West
ARI, COL, LAD, SD, SF
AL West
HOU, LAA, OAK, SEA, TEX
Yet, the graduations of Taylor and Ross had little impact on Washington's farm system, and it remains loaded with upper-level talent and high-ceiling youngsters thanks to a series of strong drafts and international signings. Right-hander Lucas Giolito, who ranks as baseball's No. 1 pitching prospect and No. 3 overall prospect, shouldn't require much more time in the Major Leagues, and Trea Turner (No. 11 overall) seems poised to take over at shortstop for departed free agent Ian Desmond. Outfielder Victor Robles (No. 63), meanwhile, is one of the toolsiest players in the Minors, but also several years away from contributing in the big leagues.
Biggest jump: Osvaldo Abreu, SS/2B (2015: Unranked | 2016: 12)
Biggest fall: Jefry Rodriguez, RHP (2015: 13 | 2016: Unranked)
Best tools
Players are graded on a 20-80 scouting scale for future tools -- 20-30 is well below average, 40 is below average, 50 is average, 60 is above average and 70-80 is well above average.
MLB's Top 10 farm systems
Hit: Victor Robles (60)
Power: Matt Skole (55)
Run: Trea Turner (75)
Arm: Victor Robles (65)
Defense: Andrew Stevenson (65)
Fastball: Lucas Giolito (80)
Curveball: Lucas Giolito (70)
Slider: Erick Fedde (55)
Changeup: A.J. Cole (55)
Control: Lucas Giolito (55)
How they were built
Draft: 15
International 12
Trade: 3
Breakdown by ETA
2016: 9
2017: 7
2018: 7
2019: 6
2020: 1
Breakdown by position
C: 4
1B: 1
2B: 1
3B: 3
SS: 4
OF: 6
RHP: 9
LHP: 2
Mike Rosenbaum is a reporter for MLB.com. Follow him on Twitter at @GoldenSombrero. This story was not subject to the approval of Major League Baseball or its clubs.