Health in check, Wright upbeat about 2016
Third baseman rejuvenated after spending much of '15 on DL with back issue
PORT ST. LUCIE, Fla. -- The monotony of infield drills would be unbreakable during Spring Training's early days, if not for the chatter piercing the air: David Wright whistling at a teammate's crisp double-play turn, then clapping another on the back, then poking fun at a reporter. Wright grinning, chuckling, happy simply to be here.
For so much of last summer, the Mets missed this. Wright missed this, unable to play due to spinal stenosis. But he is back now, here since August, if not entirely ever out of harm's way.
• Spring Training: Schedule | Tickets | More info
"There are a few good days sprinkled in; there are a few bad days sprinkled in," Wright said of what will be a lifelong back condition. "I'd say the majority of them are somewhere in between."
The Mets' charge this spring -- and, in reality, for the balance of Wright's career -- is to make sure the good days outnumber the bad. No one is quite sure how to make that happen -- not manager Terry Collins, who plans to sketch out a rough plan for playing time later this month; nor general manager Sandy Alderson, who recently threw 130 games at his imaginary dart board; nor physical therapist John Zajac, who has accompanied Wright on much of his journey; nor even Wright himself. All that group knows is that prudence is paramount in Wright's quest to become an impact player once more.
"We're talking [now] about something that we won't know how it's going to happen or what's going to take place during the season, because he feels very good now," Collins said. "David and I are going to talk this year. I've put down some ideas. We're going to see if it floats. As I told him the other day, 'I know what Sandy said, but I'm not putting a number on it.'"
During that same conversation, Wright flatly told his manager he plans to play as much as possible.
"I said, 'Absolutely,'" Collins recalled. "'We've just got to be wise enough to know that every so often, you're going to get a day off.' We've got to do a better job of monitoring some off-days. But how many? When? Today, I can't answer that."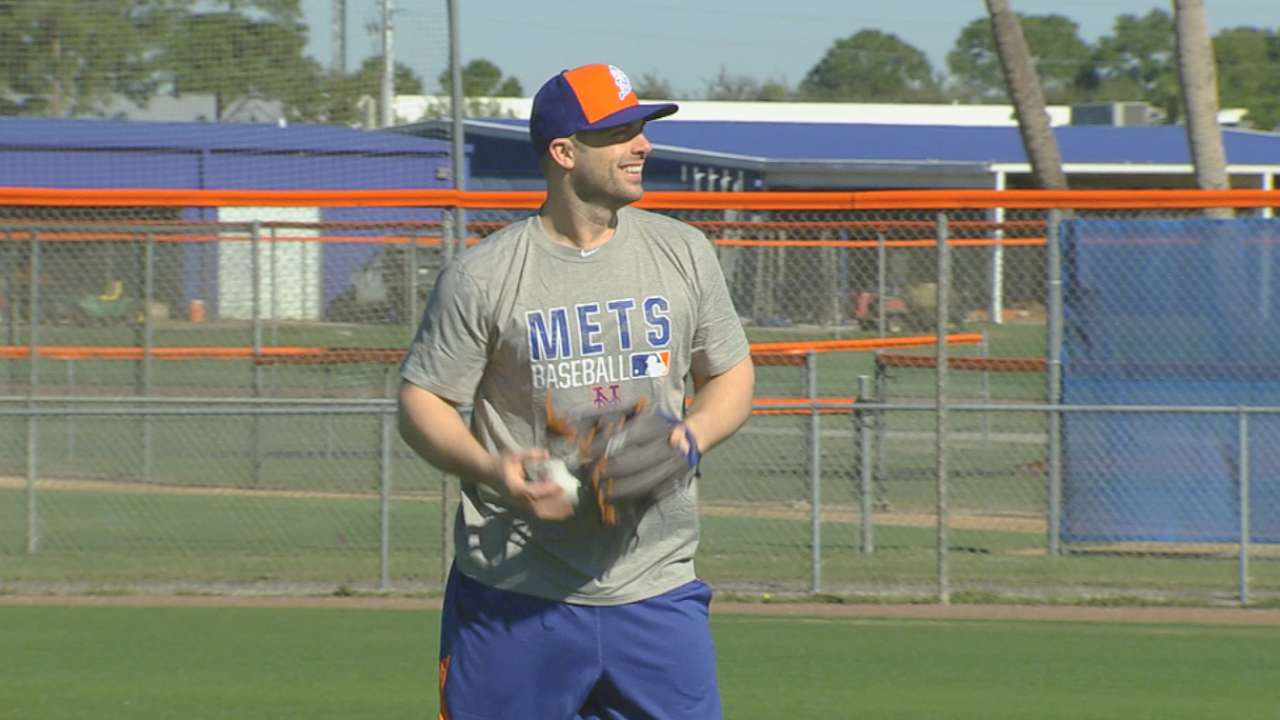 Consider this an extension of the plan the Mets initially improvised when Wright returned last August, following a four-month stay on the disabled list. Originally, Wright was never going to play in more than three consecutive games. But off-days allowed them to stretch that limit, and Wright wound up starting every postseason contest.
Presumably, a winter crammed with further rest and rehab should only fortify Wright's ability to take the field. But no one knows for sure until the third baseman increases his daily activities to game speed. And no one will ever be able to predict how Wright, now 33, might progress at an age when even healthy players often struggle.
All Wright knows is that he wants to be a part of what the Mets have going -- not just this summer but for years to come.
"We've experienced playoff baseball," Wright said. "We've experienced a pennant chase, a playoff push, a World Series. We now have that experience. It's not just talk."
The captain's message to his teammates has been to let that feeling of playoff baseball become "addicting." Wright points to what he calls his own "cautionary tale" of 2006, reaching the playoffs at age 23 before nine consecutive fruitless seasons. That all changed last summer, which Wright said "overtook 2006 as the most fun I've ever had on a baseball field," and he doesn't want it to change back anytime soon.
"For me personally, it started out somewhat like a nightmare with this back thing," Wright added. "But it ended up getting a chance to play in the World Series. To experience that with this group of guys, I'm just happy for us. I'm happy for the fans and the organization, because this was a long time coming. Hopefully the best is yet to come."
Anthony DiComo is a reporter for MLB.com. Follow him on Twitter @AnthonyDiComo and Facebook, and listen to his podcast. This story was not subject to the approval of Major League Baseball or its clubs.