Angels not buying into preseason projections
Scioscia, players confident club will succeed during 2016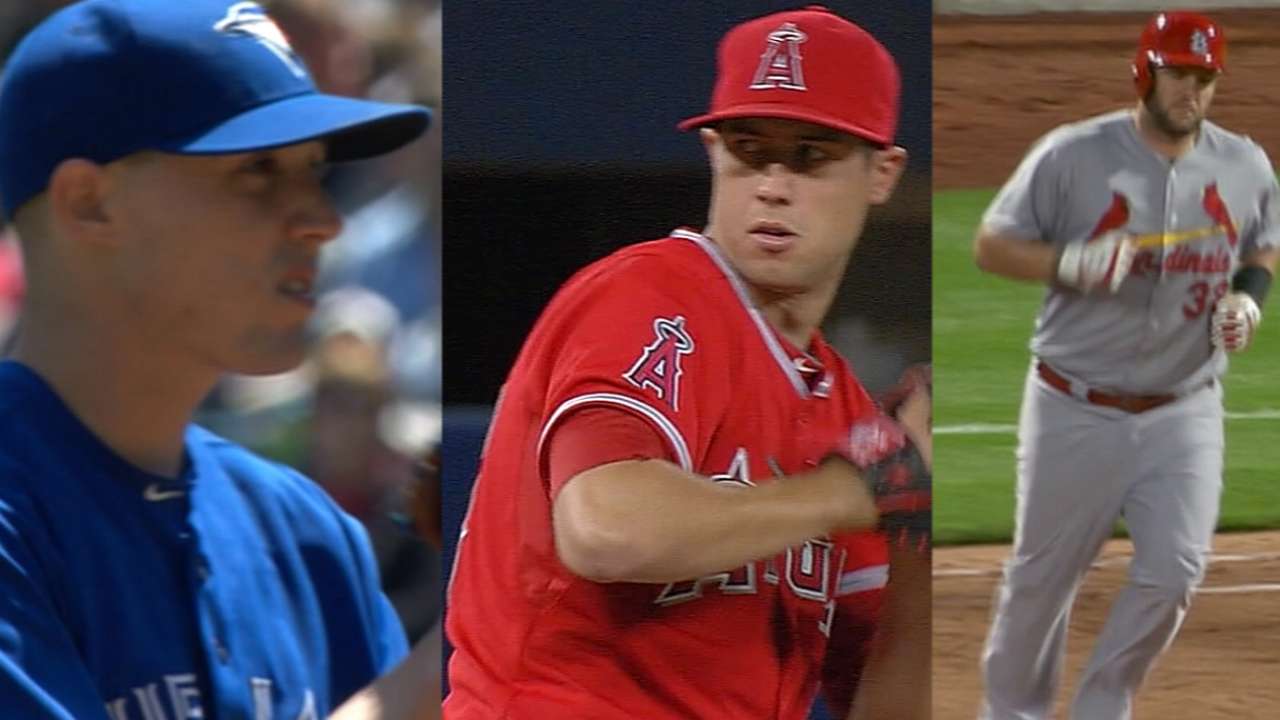 TEMPE, Ariz. -- Players will almost always say they don't care or even so much as consider the things that are written about them, especially when it comes to projections about how their teams' seasons will play out.
Andrew Heaney is not one of them.
"I'll be honest, I read that stuff," Heaney said Thursday, the day Angels pitchers and catchers reported for their physicals.
"Now, do I put any stock in it? Of course not. But I read it. Every year there's some team that comes out on fire and people say, 'Oh my gosh, they're defying the odds.' But they're not. They're just playing good baseball. And I think that we have pretty good players that know how to play really good baseball. And I don't think it should surprise anybody, in the locker room or outside the locker room, if we come out and play well. I don't understand why we would have to think that we're supposed to perform to the level that people project."
• Spring Training: Schedule | Tickets | Complete info
Heaney was talking about the 2016 win-loss projections that aren't very favorable to the Angels. FanGraphs has them at 81-81, PECOTA has them finishing 75-87 and USA Today -- considered predictions because they don't rely heavily on math like the other two -- estimates an 83-79 season.
Each of those records have the Angels out of the postseason, two years after leading the Majors in wins and one year after remaining in the race until the very last day. Then there's Will Leitch of Sports On Earth, who feels they "look like a total mess." Or Jonah Keri, who ranked them 21st in his power rankings for Sports Illustrated. Or David Schoenfield of ESPN.com, who wrote that the Angels "look ripe for a fall."
• Spring Training photo gallery
"Whether people think we're a fluke or people think we're the next best thing since sliced bread, it doesn't factor into anything," Angels manager Mike Scioscia said. "Two years ago we won 98 games. Nobody expected us to win 98 games two years ago, right? Last year we won 85; people thought we were going to win probably 95. There are a lot of variables that happen during a season. I don't think it serves any purpose to handicap. We're going to focus on in-house, what we need to do. I think that's the only way to look at it. I'm confident in this team."
Scioscia can begin to see just how truly confident he can be on Friday, when he hosts the team's first official workout of camp.
The Angels' farm system is widely considered the worst in the industry, especially after their two best prospects -- Sean Newcomb and Chris Ellis -- went to the Braves in the Andrelton Simmons trade. There are also major concerns about the offense, because Albert Pujols is questionable for Opening Day and because the team did not spend money on the left fielder it so desperately needed.
Scioscia sees more depth and versatility. And he envisions an offense "that will resemble a lot of the things that we did for a long time and get back to it, not rely so much on four guys in the middle hitting it out of the park."
Over the past four years, the Angels were a team that relied on what Scioscia frequently calls "batter's box offense," with Pujols, Mike Trout, Kole Calhoun and, previously, Josh Hamilton counted on to supply the production. This offseason, though, they passed on the likes of Yoenis Cespedes, Justin Upton, Jason Heyward and Alex Gordon, a development that prompted many to sour on the 2016 version.
C.J. Wilson wasn't surprised.
"There's a number there," Wilson said, referencing a $189 million luxury-tax threshold the Angels are dangerously close to exceeding. "They stay right at that level."
But Wilson nonetheless looked around the room and listed reasons for optimism. He talked about the upside in the rotation, with Heaney and Garrett Richards potentially getting better and he and Tyler Skaggs fully recovered from surgery. He feels the lineup has "a very solid core" and called C.J. Cron and Yunel Escobar "big X-factors."
"That's kind of how it is," Wilson said. "It's not the superstar players that determine the fate of the team. It's the No. 5 hitter, the No. 6 hitter, the Nos. 3, 4 and 5 in the rotation. Those guys. If I bounce back and pitch really well, then that's obviously going to help us win."
Alden Gonzalez is a reporter for MLB.com. Follow him on Twitter @Alden_Gonzalez and Facebook , and listen to his podcast. This story was not subject to the approval of Major League Baseball or its clubs.