Grapefruit League welcomes fans of all ages
Florida's Spring Training sites make for an ideal family getaway
Florida is a top getaway for spring breakers of all sorts, but baseball-frenzied families will find Grapefruit League action to be just as enticing as the Sunshine State's warm climes and breezy beaches. And since pitchers and catchers have now reported for Spring Training, there's just enough time left to plan a family-friendly preseason getaway before games begin.
Half of MLB's 30 clubs flock to Florida to train for the upcoming season at 14 different sites; the Cardinals and Marlins share a home at Roger Dean Stadium in Jupiter, Fla., just minutes from the Atlantic Ocean. Of these sites, though, a select few stand out above the rest as the perfect place for a family to take in some baseball before the regular season. But don't head anywhere without snagging some of your favorite team's newest gear.
Champion Stadium, Lake Buena Vista
Atlanta Braves
The first spot on our list is obvious. Although it's one of MLB's three landlocked Florida locales, there's no better way than to cap a trip to Spring Training than with a trip to Walt Disney World (or vice versa). Conveniently located in the heart of Disney's Wide World of Sports complex, the Braves' preseason abode is less than a 15-minute drive from both the Epcot and Magic Kingdom Theme Parks.
On the field, the Braves may be rebuilding, but slugger Freddie Freeman remains a stud to watch as he prepares for his sixth full MLB season. Get there early to catch newcomer Dansby Swanson, the 2015 No. 1 draft pick, who received an invitation to camp in January.
Bright House Field, Clearwater
Philadelphia Phillies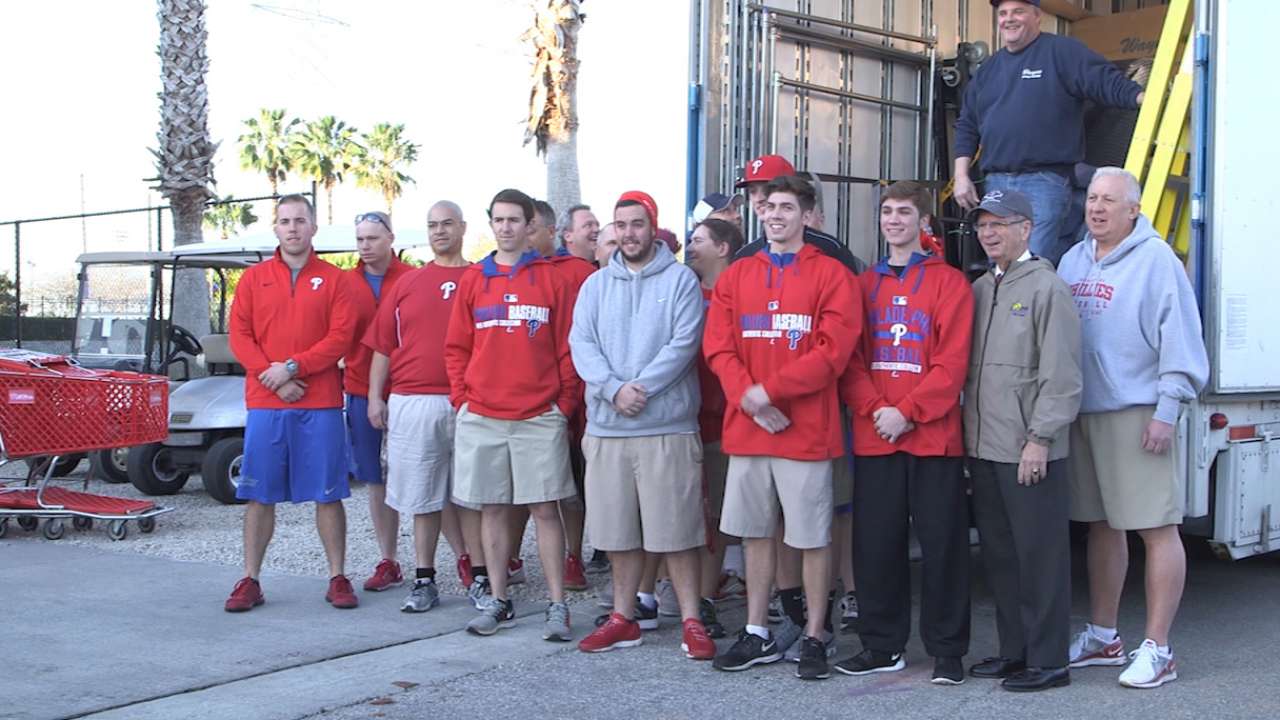 Florida's Gulf Coast welcomes eight MLB teams each spring, and once you arrive, it's easy to understand why. The Spring Training home of the Phillies is about a 20-minute drive from Clearwater Beach, and it's also within one Yoenis Cespedes throw of the Blue Jays' and Yankees' sites. Hit all three when you're in the area before heading an hour inland for more theme park thrills at Busch Gardens Tampa.
Inside Bright House Field, fans can roam a 360-degree concourse that's completely open to the playing field. Grab a spot on the lawn in left field and peer into the bullpens, where both teams' pitchers get loose and will toss fans a ball or two, if they're lucky.
As with the Braves, the division-rival Phils are rebuilding, but don't miss your chance to see the up-and-coming farm system on display, especially 21-year-old shortstop J.P. Crawford, who could be baseball's top prospect.
JetBlue Park, Fort Myers
Boston Red Sox
JetBlue Park at Fenway South literally is the southern incarnation of the Red Sox's storied home. Unlike Boston's 100-plus-year-old ballpark, though, Jet Blue opened in 2012 and includes all the modern amenities that a family could desire. A grassy area beyond the right-field fence invites fans to stretch out on some blankets, but the best seats in the house are over in left field within the mini replica of the Green Monster, where fans are blocked from towering home runs by protective netting.
The Red Sox are sure to draw quite the crowds this spring, thanks to the arrival of aces Craig Kimbrel and David Price. And just up the road is another crowd-pleaser; at Manatee Park, visitors can rent kayaks and check out the lovable local creatures in a warm-water refuge.
Wherever you go, heed the advice of Grapefruit League veteran and Cardinals stalwart Yadier Molina: "The best part [of Spring Training] is when the games begin, because you just can't wait until the season starts."
Allison Duffy-Davis is an associate editor for MLB.com. This story was not subject to the approval of Major League Baseball or its clubs.