Cubs' lineup will feature new leadoff man
Pitcher will continue to hit eighth in Maddon's batting order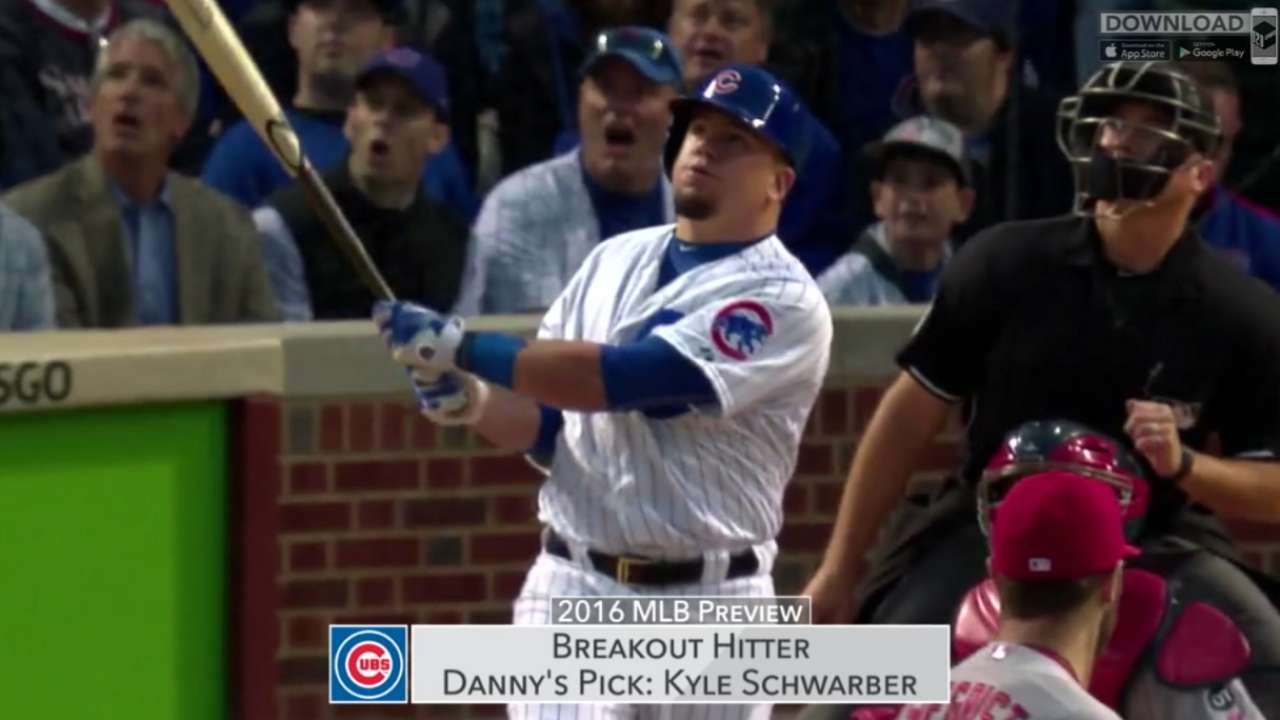 MESA, Ariz. -- The Cubs will be looking for a new leadoff man with Dexter Fowler not returning this year. Could it be new outfielder Jason Heyward? What about Kyle Schwarber? Manager Joe Maddon may have some surprises in store.
As the Cubs count down to the start of Spring Training, which begins Friday with pitchers and catchers reporting to camp, it's time to project the 2016 lineup. One thing that is certain: The starting pitcher will bat eighth, a move Maddon employed the majority of last season.
• Bullpen competition | Prospects | Comeback candidates | Newcomers
Most players downplay being the leadoff man because they only bat first at the start of the game. But Fowler did provide a spark -- especially with Maddon's encouraging "You go, we go" message -- and Heyward could find himself in that role. Last season with the Cardinals, Heyward batted third, fourth or fifth. In his career, he has been the leadoff man in 126 games, and has a slash line of .280/.354/.427 when he bats first.
• Spring Training: Schedule | Tickets | Info
However, Schwarber also was inserted into the No. 1 spot in the lineup in two games, and did post a .355 on-base percentage in 69 games last season. If Schwarber led off, Heyward could bat fourth or fifth.
"There's no different approach to the game," Schwarber said last August when he led off against the Giants. "You're the first hitter, and then once the game starts, you're not the first hitter anymore. Just approach it like any other at-bat and go from there."
Maddon used Ben Zobrist in the No. 2 spot when they were together with the Rays -- the switch-hitter batted .272 in 324 games in that spot -- and he seems the best fit there.
As for the rotation, John Lackey is expected to be inserted after National League Cy Young Award winner Jake Arrieta and Jon Lester. The only real decisions this spring will be how Maddon arranges his bullpen. If Rex Brothers can bounce back, he could be the left-handed setup man.
2015 record
97-65, third in the NL Central
Projected batting order
1. CF Jason Heyward:
.293 BA, .359 OBP, .439 SLG, 13 HR, 60 RBIs in 2015
2. 2B Ben Zobrist:
.276 BA, .359 OBP, .450 SLG, 13 HR, 56 RBIs in 2015
3. 1B Anthony Rizzo:
.278 BA, .387 OBP, .512 SLG, 31 HR, 101 RBIs in 2015
4. 3B Kris Bryant:
.275 BA, .369 OBP, .488 SLG, 26 HR, 99 RBIs in 2015
5. LF Kyle Schwarber:
.246 BA, .355 OBP, .487 SLG, 16 HR, 43 RBIs in 2015
6. RF Jorge Soler:
.262 BA, .324 OBP, .399 SLG, 10 HR, 47 RBIs in 2015
7. C Miguel Montero:
.248 BA, .345 OBP, .409 SLG, 15 HR, 53 RBIs in 2015
8. P Pitcher's spot
9. SS Addison Russell:
.242 BA, .307 OBP, .389 SLG, 13 HR, 54 RBIs in 2015
Projected rotation
1. Jake Arrieta: 22-6, 1.77 ERA in 2015
2. Jon Lester: 11-12, 3.34 ERA in 2015
3. John Lackey: 13-10, 2.77 ERA in 2015
4. Jason Hammel: 10-7, 3.74 ERA in 2015
5. Kyle Hendricks: 8-7, 3.95 ERA in 2015
Projected bullpen
Closer: Hector Rondon: 30/34 saves, 1.67 ERA in 2015
RH setup man: Pedro Strop: 2.91 ERA in 2015
LH setup man: Travis Wood: 3.84 ERA in 2015
Carrie Muskat is a reporter for MLB.com. She writes a blog, Muskat Ramblings. You can follow her on Twitter @CarrieMuskat and listen to her podcast. This story was not subject to the approval of Major League Baseball or its clubs.