Competition to heat up at back end of Marlins' rotation
Cosart, Jackson are front-runners to earn starting spots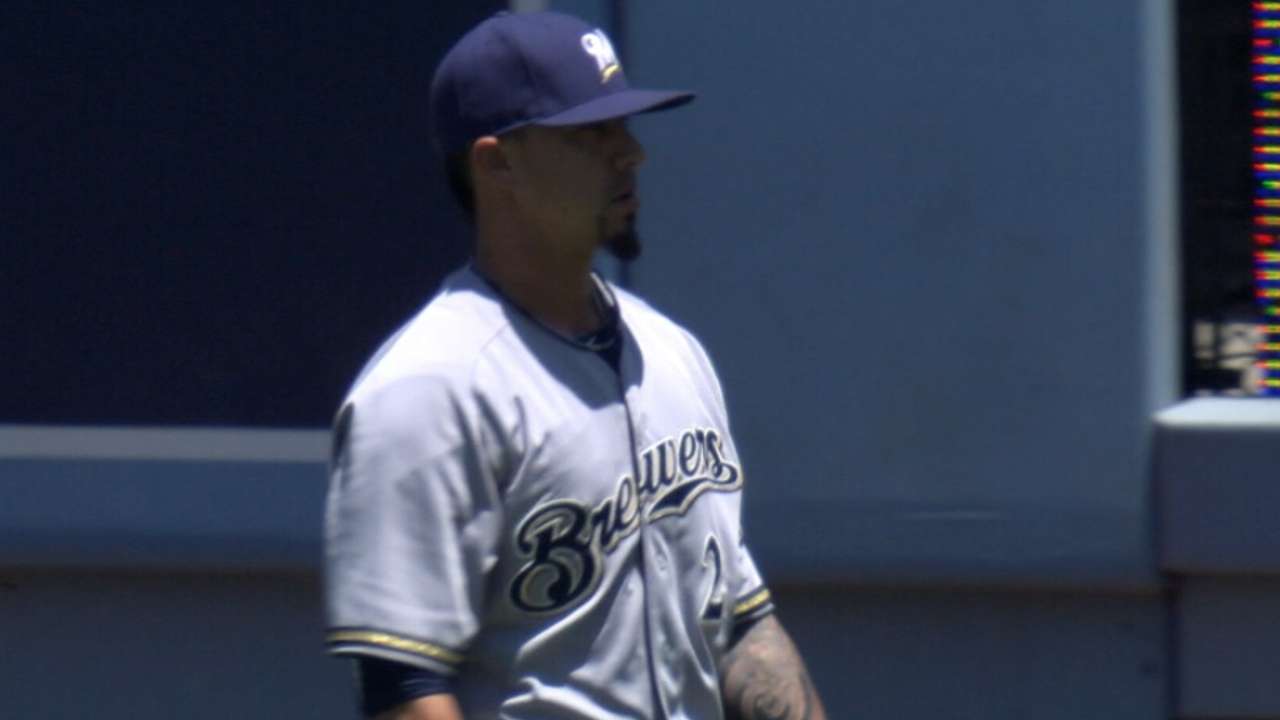 MIAMI -- Sometimes teams take a step backwards before moving forward. Entering Spring Training, which starts on Friday when pitchers and catchers will work out for the first time, the Marlins are hoping the tough lessons they learned a year ago will make them stronger in 2016.
After addressing their primary offseason need -- a front-line starting pitcher -- the talent is in place to contend. Now it's a matter of players producing under the direction of new manager Don Mattingly.
• Spring Training preview: Comebacks | Newcomers | Prospects
Coming off a disappointing 71-91 season, the Marlins retained the majority of their core. They continue to build around two franchise players -- right fielder Giancarlo Stanton and right-hander Jose Fernandez. The signing of lefty Wei-Yin Chen, formerly with the Orioles, gives the top of the rotation a proven veteran.
Certainly the pieces are in place to make for a fun 2016. It's a matter of seeing whether the club's top players can stay healthy.
Injuries severely handicapped the club the past two seasons. Stanton and Fernandez haven't been in the same lineup since May 9, 2014. Stanton was limited to just 74 games in '15 due to a broken left hamate bone, and Fernandez, who missed the first three months as he was recovering from Tommy John surgery, made 11 starts last year.
If those two can stay healthy, the Marlins could be a dark-horse playoff contender.
2015 record
71-91, third place in National League East
Projected batting order (with 2015 statistics)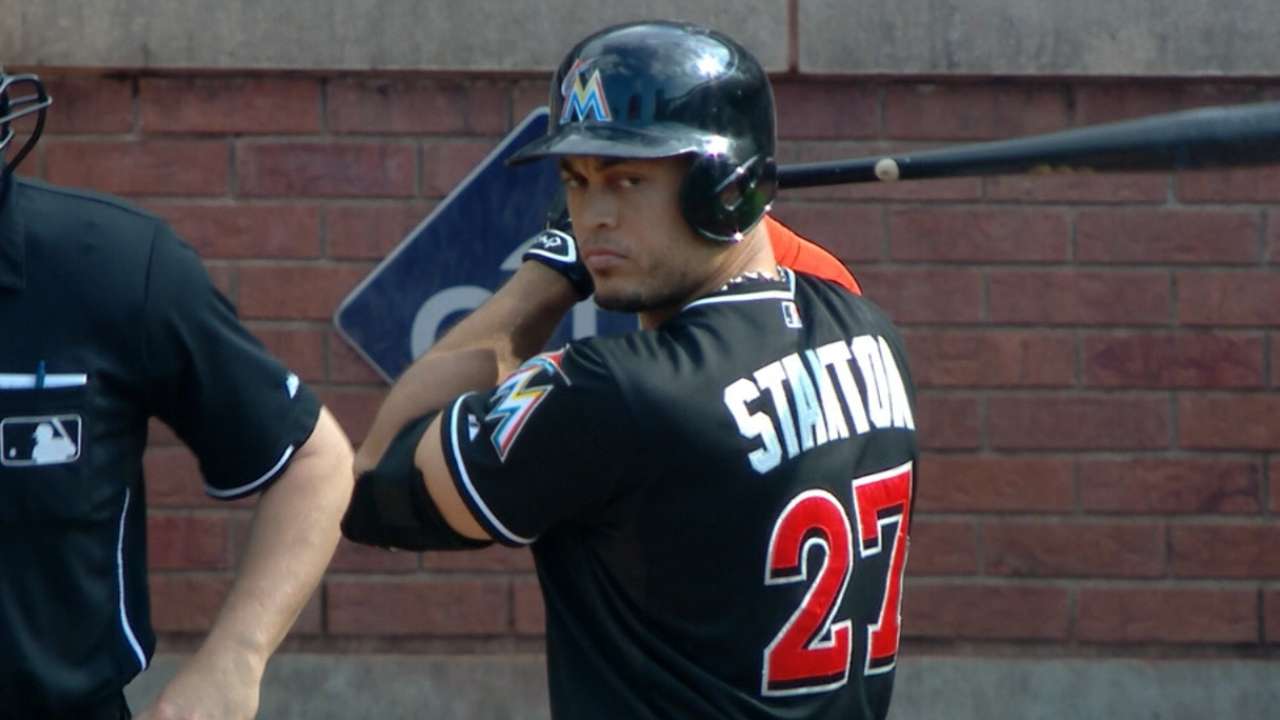 On paper, the everyday lineup is solid. It's also pretty much set, excluding a possible platoon situation at first base.
The outfield trio of Stanton in right, Christian Yelich in left and Marcell Ozuna in center is potentially one of the best in the National League. The double-play combination of shortstop Adeiny Hechavarria and second baseman Dee Gordon also is one of the best in the NL.
Gordon and Stanton were voted by the fans as All-Star starters in 2015, but injuries kept both from participating. Gordon had a career year, leading the NL in batting average (.333), while pacing the Majors in stolen bases (58) and hits (205).
First baseman Justin Bour and third baseman Martin Prado command the corner-infield spots. Bour, a left-handed hitter who knocked 23 homers last season but has a .219 career average against southpaws, could split time with veteran Chris Johnson.
At catcher, J.T. Realmuto is a rising young talent who showed great promise as a rookie. Entering his first full big league season, Realmuto is expected to take on more of a leadership role.
A year ago, especially without Stanton in the lineup, the Marlins struggled to score runs. They finished with 613, second fewest in the NL, and they were second to last in home runs (120). Miami also ranked at the bottom of the NL in doubles (236) and walks (375).
1. 2B Dee Gordon:
.333 BA, .359 OBP, .418 SLG, 4 HR, 46 RBIs, 58 SB
2. 3B Martin Prado:
.288 BA, .338 OBP, .394 SLG, 9 HR, 63 RBIs
3. LF Christian Yelich:
.300 BA, .366 OBP, .416 SLG, 7 HR, 44 RBIs
4. RF Giancarlo Stanton:
.265 BA, .346 OBP, .606 SLG, 27 HR, 67 RBIs
5. CF Marcell Ozuna:
.259 BA, .308 OBP, .383 SLG, 10 HR, 44 RBIs
6. 1B Justin Bour:
.262 BA, .321 OBP, .479 SLG, 23 HR, 73 RBIs
7. C J.T. Realmuto:
.259 BA, .290 OBP, .406 SLG, 10 HR, 47 RBIs
8. SS Adeiny Hechavarria:
.281 BA, .315 OBP, .374 SLG, 5 HR, 48 RBIs
Projected rotation (with 2015 statistics)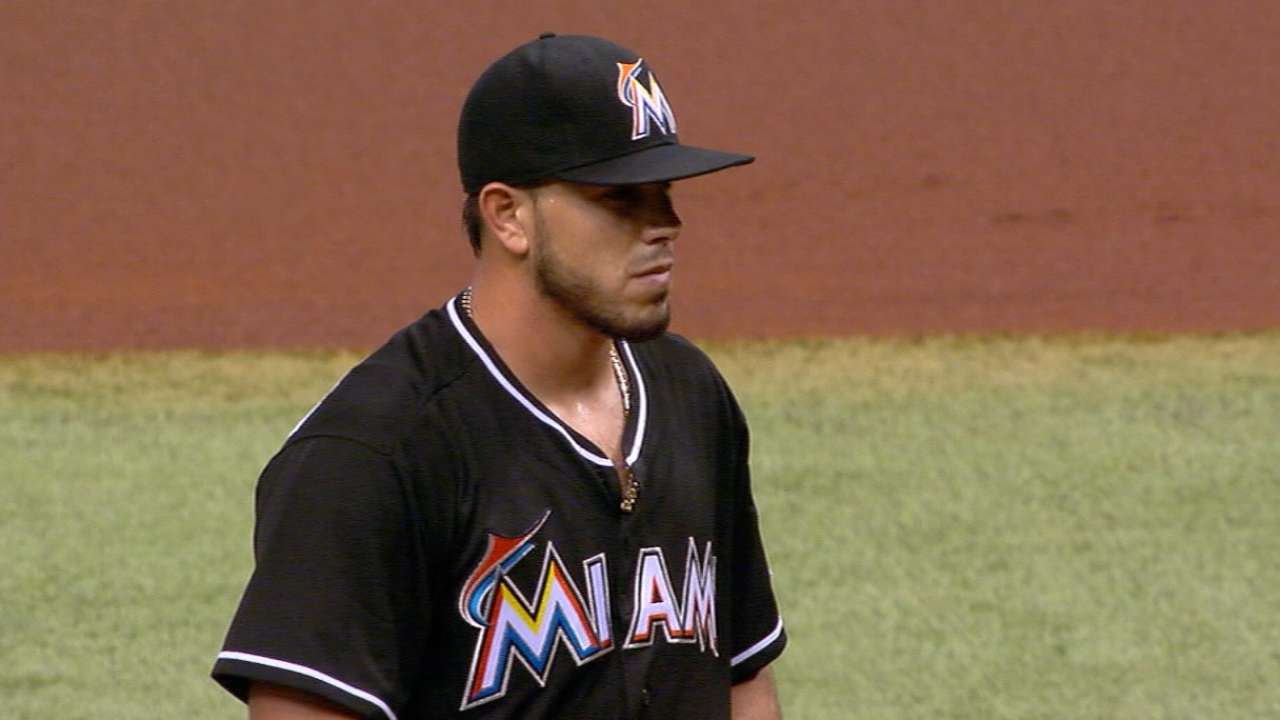 After using 13 starters in 2015, the organization prioritized adding a top-of-the-rotation starter. It filled its most pressing need by signing Chen to a five-year, $80 million contract, the richest deal ever issued by Miami to a pitcher.
Chen has made 31 starts in each of the past two seasons, and he projects to back Fernandez, who will be on an innings limit of around 180.
Tom Koehler, who paced the club with 187 1/3 innings last year, is projected as the No. 3 starter.
The remaining two spots are up for grabs. Jarred Cosart and Edwin Jackson, who spent last year with the Cubs and Braves, are the front-runners for the fourth and fifth spots. Also in the mix are David Phelps, Brad Hand, Adam Conley and Justin Nicolino.
Miami's starters combined for a 4.25 ERA a year ago, ninth in the NL.
1. RHP Jose Fernandez: 6-1, 2.92 ERA, 11 starts
2. LHP Wei-Yin Chen: 11-8, 3.34 ERA, 31 starts (with the Orioles)
3. RHP Tom Koehler: 11-14, 4.08 ERA, 32 games/31 starts
4. RHP Jarred Cosart: 2-5, 4.52 ERA, 14 games/13 starts
5. RHP David Phelps: 4-8, 4.50, 23 games/19 starts
Projected bullpen (with 2015 statistics)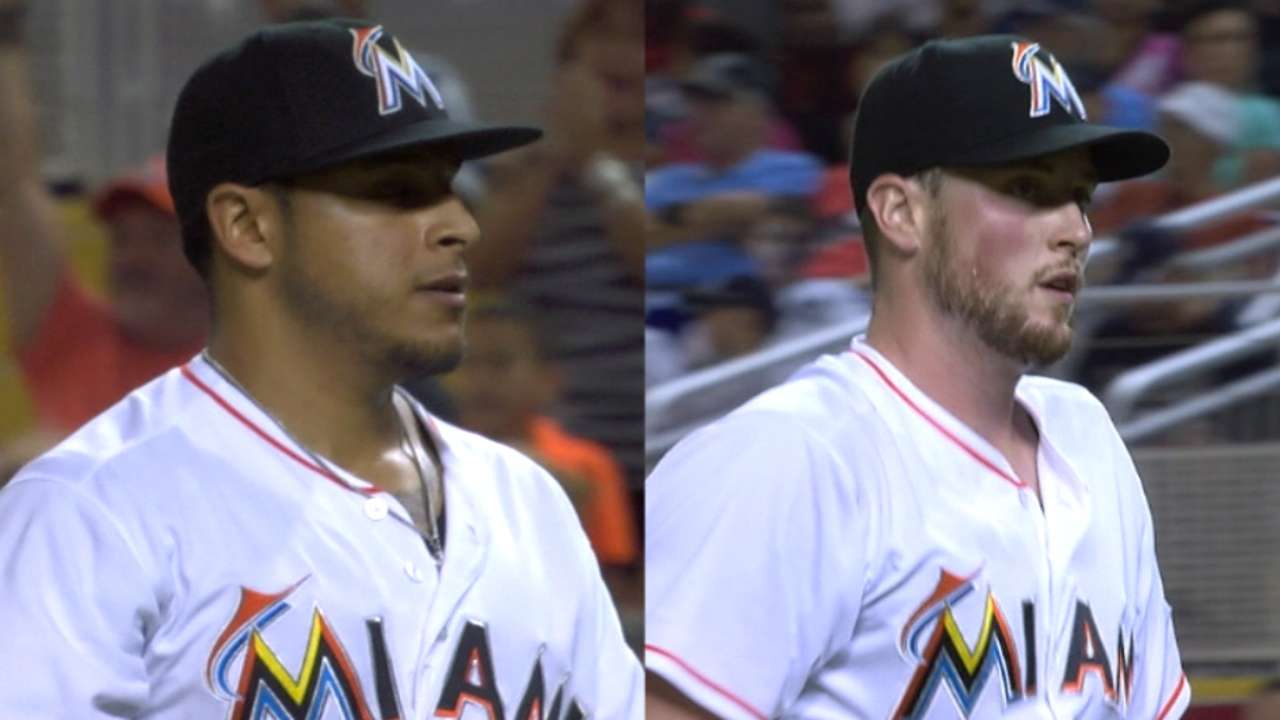 A.J. Ramos converted 32 of 38 save chances in 2015, and he struck out 87 in 70 1/3 innings. But the closer role is not automatically his, as Carter Capps, whose fastball averaged 98.05 mph, according to Statcast™, will compete for the spot. Capps, who was limited to 31 innings due to a right elbow strain, has never had a big league save.
The primary lefty setup reliever is Mike Dunn, and right-hander Bryan Morris returns. Dunn has made more than 70 appearances in each of the past three seasons, while Morris pitched in 67 games in 2015.
If Phelps doesn't win a rotation spot, he is a long-reliever candidate.
Closer RHP A.J. Ramos: 32/38 saves, 2.30 ERA
RH setup Carter Capps: 11 holds, 1.16 ERA
LH setup Mike Dunn: 23 holds, 4.50 ERA
Joe Frisaro is a reporter for MLB.com. He writes a blog, called The Fish Pond. Follow him on Twitter @JoeFrisaro and listen to his podcast. This story was not subject to the approval of Major League Baseball or its clubs.