Familiar faces anchor projected lineup
Young pitchers contrast with several longtime Reds in batting order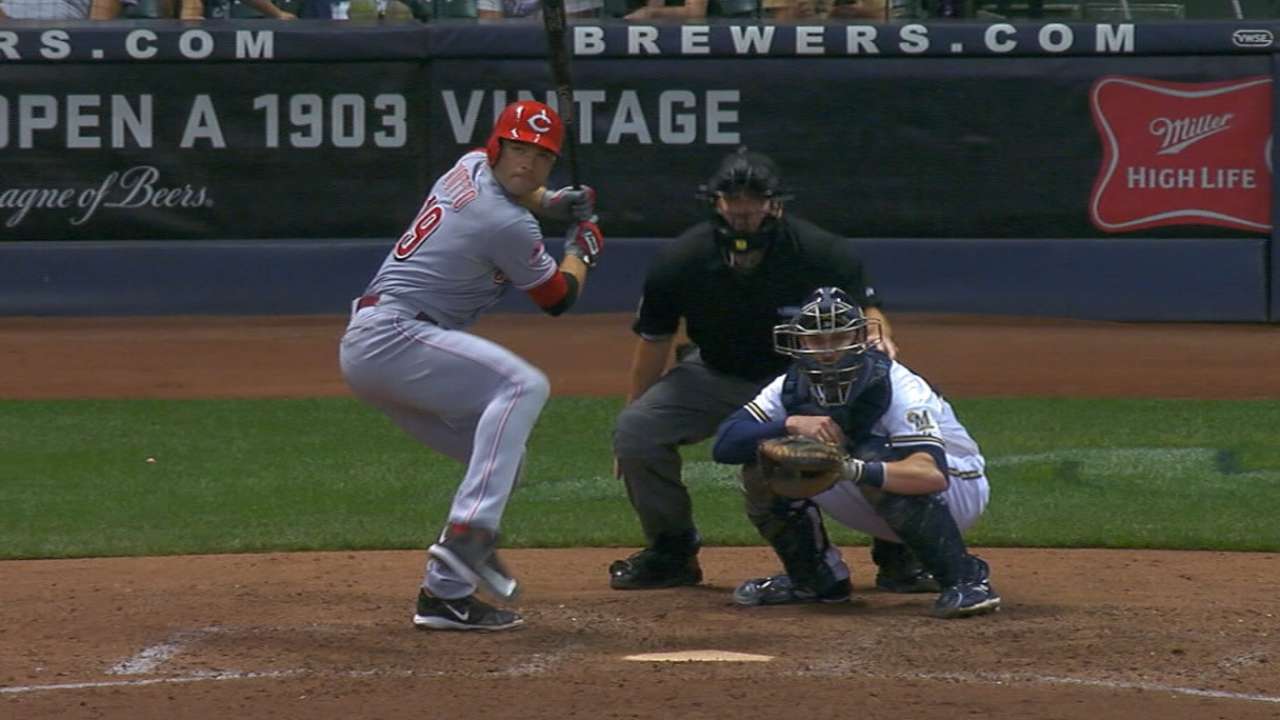 CINCINNATI -- In just a couple of days, there will be no more offseason, and the Hot Stove discussion will be over. Reds pitchers and catchers will report and work out on Thursday at the team complex in Goodyear, Ariz.
MLB.com has brought you a series of spring preview stories covering the players who are looking to bounce back from down years or injuries, new faces, prospects to watch and more. Today's entry is the Reds' projected starting lineup and rotation for Opening Day.
• Prospects | Newcomers | Rotation battle | Comeback candidates
A lot can change over the 44 days of camp, especially this year for a Cincinnati club in transition. While much of the lineup contains familiar faces, left field is a wide open spot for several contenders. Center fielder Billy Hamilton, who is coming back from both a down year and a shoulder injury, could wind up batting first or ninth. Others like Devin Mesoraco and Zack Cozart will be tested as they try to return from serious injuries suffered in 2015.
The pitching staff is much harder to predict, with three open spots for up to nine candidates. Veteran Homer Bailey is not listed below because he isn't expected to join the rotation until May, when his rehab from Tommy John surgery is expected to be complete. Several jobs also remain open in the bullpen, including the closer role vacated by Aroldis Chapman.
There can always be a Spring Training surprise or two, and of course injuries can throw a wrench in the best-laid plans. But for now, here is a glance at where things look for the Reds heading into Spring Training:
2015 record
64-98, fifth place in the NL Central
Projected batting order
1. CF Billy Hamilton:
.226 BA, .274 OBP, .289 SLG, 4 HR, 57 SB in 2015
2. 2B Brandon Phillips :
.294 BA, .328 OBP, .395 SLG, 12 HR, 70 RBI in 2015
3. 1B Joey Votto :
.314 BA, .459 OBP, .541 SLG, 29 HR, 80 RBI in 2015
4. C Devin Mesoraco:
.178 BA, .275 OBP, .244 SLG, 0 HR, 2 RBI in 2015
5. RF Jay Bruce :
.226 BA, .294 OBP, .434 SLG, 26 HR, 87 RBI in 2015
6. 3B Eugenio Suarez :
.280 BA, .315 OBP, .446 SLG, 13 HR, 48 RBI in 2015
7. LF Adam Duvall :
.219 BA, .306 OBP, .484 SLG, 5 HR, 9 RBI in 2015
8. SS Zack Cozart:
.258 BA, .310 OBP, .459 SLG, 9 HR, 28 RBI in 2015
Projected rotation
1. RHP Anthony DeSclafani: 9-13, 4.05 ERA in 2015
2. RHP Raisel Iglesias: 3-7, 4.15 ERA in 2015
3. RHP Michael Lorenzen: 4-9, 5.40 ERA in 2015
4. RHP Jon Moscot:1-1, 4.63 ERA in 2015
5. LHP Brandon Finnegan: 2-2, 4.18 ERA in 2015
Projected bullpen
Closer: RHP J.J. Hoover: 1/7 saves, 2.94 ERA in 2015
RH setup man: Blake Wood: 3.53 ERA (AAA) in 2015
LH setup man: Tony Cingrani: 5.67 ERA in 2015
Mark Sheldon is a reporter for MLB.com. Read his blog, Mark My Word, follow him on Twitter @m_sheldon and Facebook and listen to his podcast. This story was not subject to the approval of Major League Baseball or its clubs.