Buxton must earn starting spot in center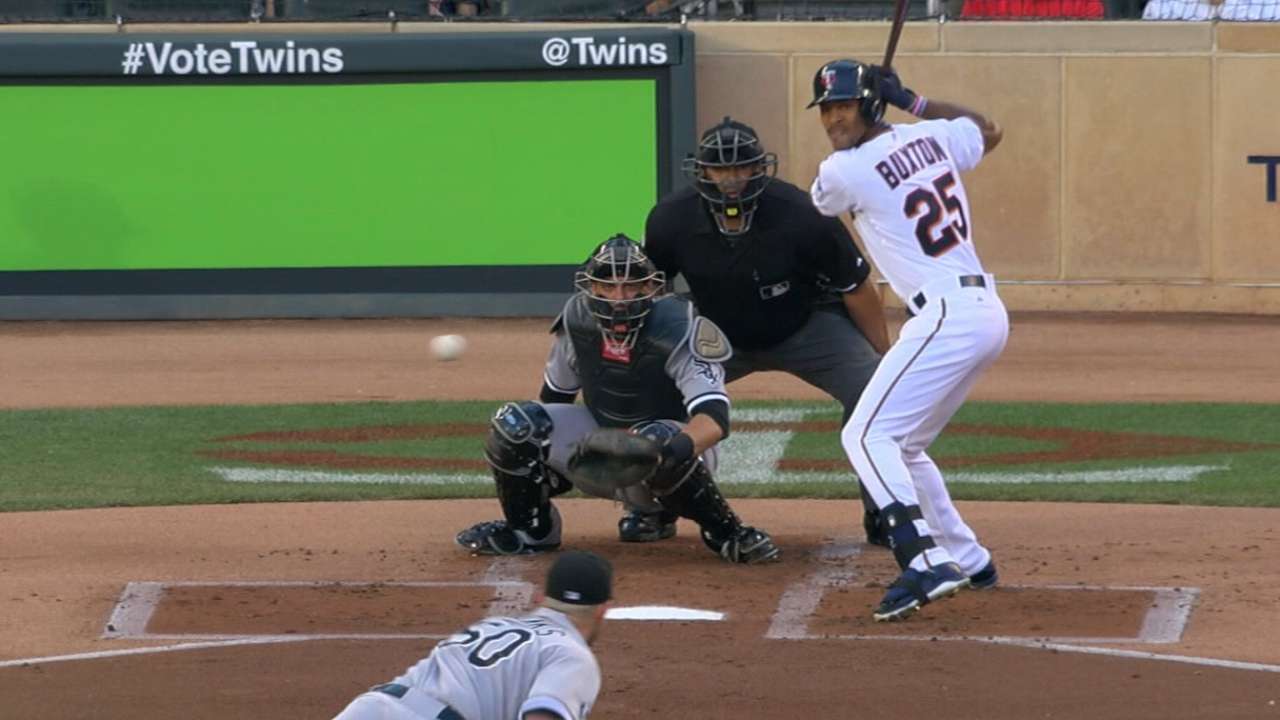 MINNEAPOLIS -- The Twins have a young core of position players and more rotation depth than they've had in years, but there are still plenty of roster questions that need to be resolved in Spring Training.
Among position players, the biggest change is Miguel Sano's impending move to right field with Korean slugger Byung Ho Park expected to take over as the club's regular designated hitter and Trevor Plouffe remaining at third base.
• Spring Training: Rotation battle | Comebacks? | Newcomers | Prospects
Minnesota traded center fielder Aaron Hicks to the Yankees for catcher John Ryan Murphy, opening the door for Byron Buxton to take over in center field. Buxton, ranked the No. 2 prospect by MLBPipeline.com, has to earn his spot. The Twins have other options, including Eddie Rosario, Danny Santana and fellow prospect Max Kepler. It's more likely Rosario remains in left, Buxton in center and Sano in right.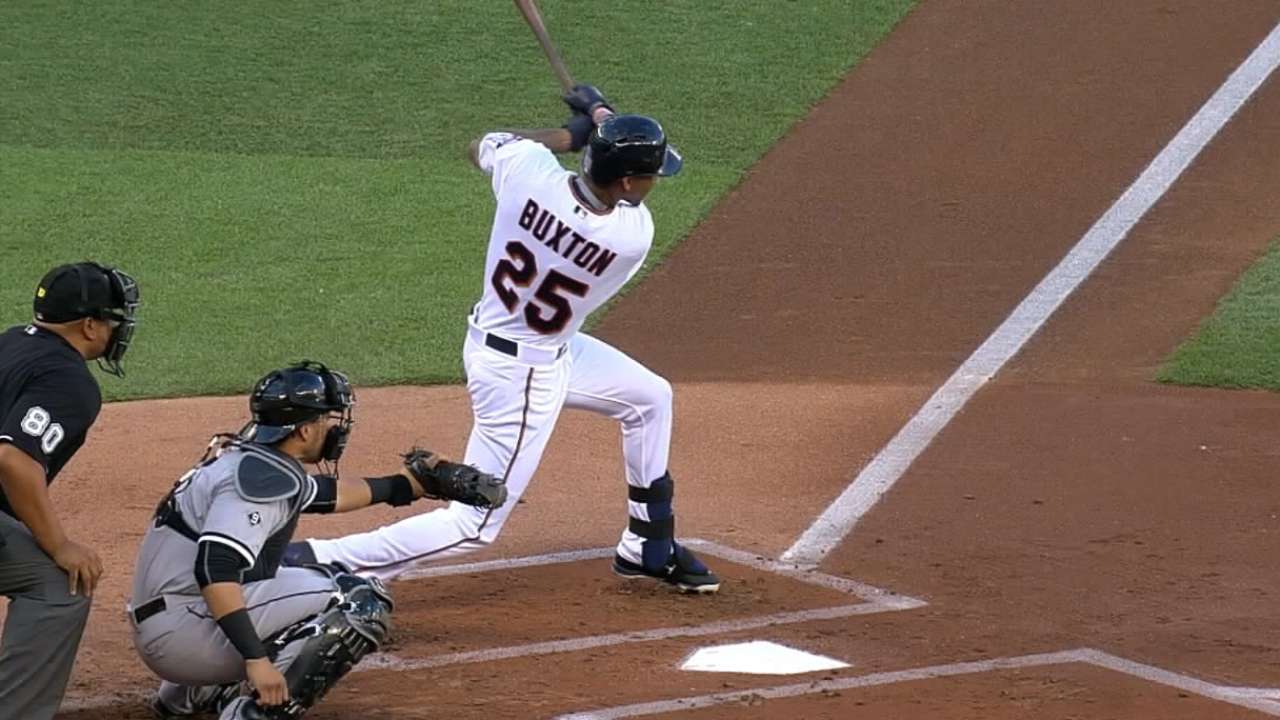 The front end of the rotation and the back end of the bullpen are both set, but there are two open starting spots and several holes in the bullpen that need to be filled, including a left-handed setup reliever. Among starters, Ervin Santana, Phil Hughes and Kyle Gibson are considered locks, leaving Tommy Milone, Ricky Nolasco, Tyler Duffey, Trevor May and Jose Berrios to compete for the final two spots. Among southpaw relievers, the Twins have several in-house options, including Ryan O'Rourke, Taylor Rogers, Mike Strong, Logan Darnell and Aaron Thompson, as well as non-roster invitees such as Fernando Abad, Buddy Boshers and Dan Runzler.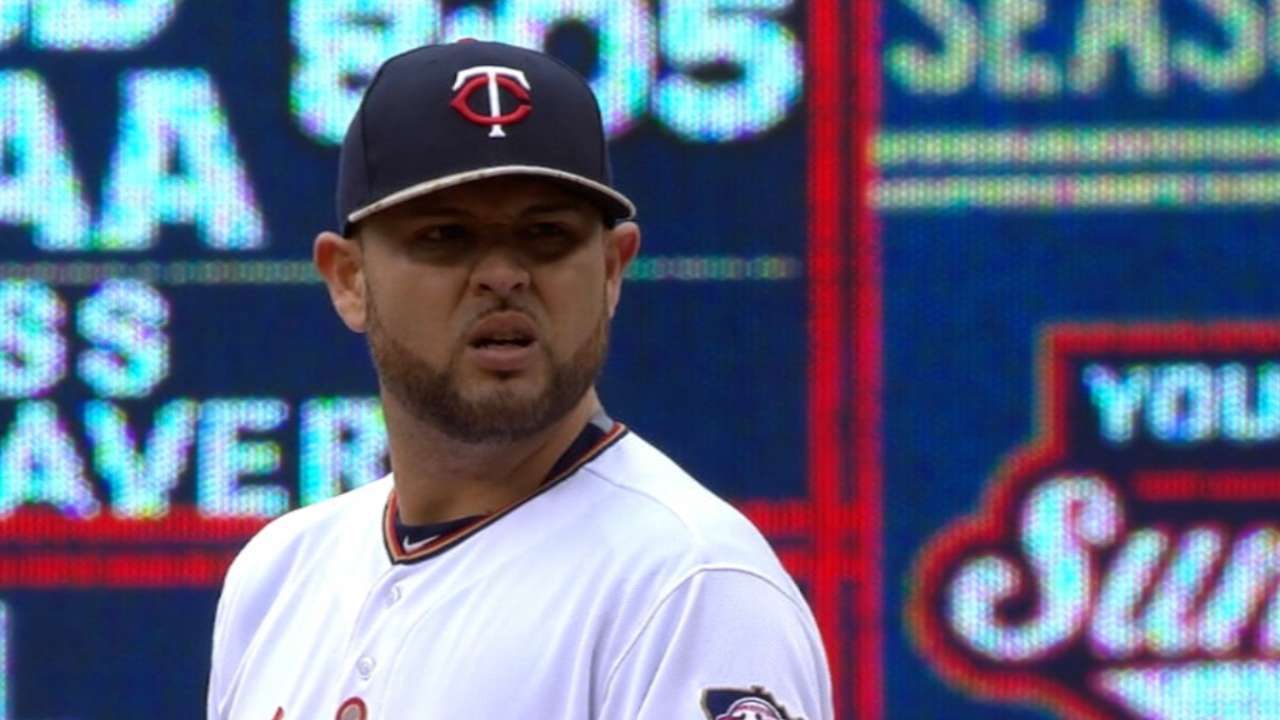 While plenty still has to sort itself out this spring, here's an early look at Minnesota's projected lineup, rotation and bullpen as Part V of MLB.com's Spring Training preview for the Twins:
2015 record
83-79, second in the American League Central
Projected batting order (with 2015 statistics)
1. 2B Brian Dozier:
.236 BA, .307 OBP, .444 SLG, 28 HR, 77 RBIs
2. 1B Joe Mauer:
.265 BA, .338 OBP, .380 SLG, 10 HR, 66 RBIs
3. RF Miguel Sano:
.269 BA, .385 OBP, .530 SLG, 18 HR, 52 RBIs
4. 3B Trevor Plouffe:
.244 BA, .307 OBP, .435 SLG, 22 HR, 86 RBIs
5. LF Eddie Rosario:
.267 BA, .289 OBP, .459 SLG, 13 HR, 50 RBIs
6. DH Byung Ho Park:
.343 BA, .436 OBP, .714 SLG, 53 HR, 146 RBI in Korea
7. SS Eduardo Escobar:
.262 BA, .309 OBP, .445 SLG, 12 HR, 58 RBIs
8. C Kurt Suzuki:
.240 BA, .296 OBP, .314 SLG, 5 HR, 50 RBIs
9. CF Byron Buxton:
.209 BA, .250 OBP, .326 SLG, 2 HR, 6 RBIs
Projected rotation (with 2015 statistics)
1. Ervin Santana: 7-5, 4.00 ERA, 17 starts
2. Kyle Gibson: 11-11, 3.84 ERA, 32 starts
3. Phil Hughes: 11-9, 4.40 ERA, 27 games (25 starts)
4. Tommy Milone: 9-5, 3.92 ERA, 24 games (23 starts)
5. Ricky Nolasco: 5-2, 6.75 ERA, nine games (eight starts)
Projected bullpen (with 2015 statistics)
Closer Glen Perkins: 32/35 saves, 3.32 ERA
RH setup man Kevin Jepsen: 2.33 ERA, 15 saves (with the Rays and Twins)
LH setup man Fernando Abad: 4.15 ERA, three saves (with the A's)
Rhett Bollinger is a reporter for MLB.com. Read his blog, Bollinger Beat, follow him on Twitter @RhettBollinger and listen to his podcast. This story was not subject to the approval of Major League Baseball or its clubs.