How will the Pirates line up in 2016?
Beat reporter Adam Berry projects the batting order, rotation and bullpen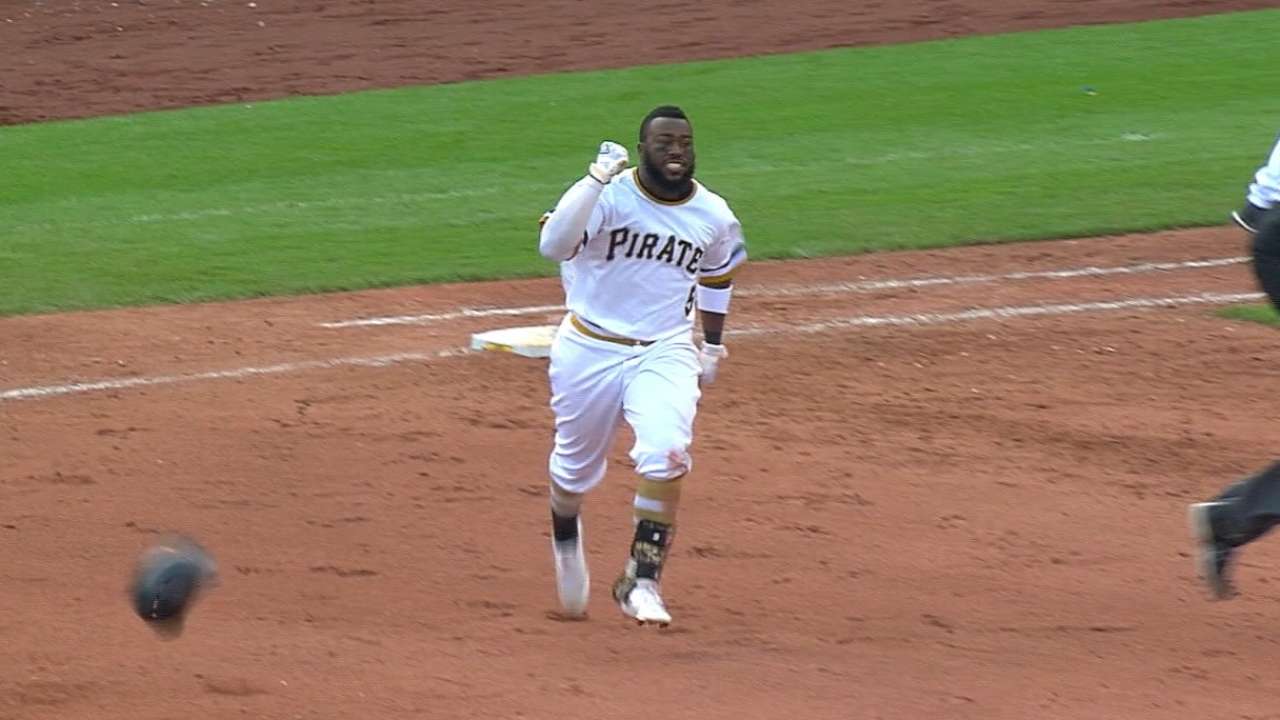 PITTSBURGH -- With few position battles to solve, one of the more interesting sights to monitor this spring will be the Pirates' daily lineup card. Will manager Clint Hurdle drop any hints about his ideal batting order? What will the Grapefruit League lineups tell us about the club's plans come Opening Day?
The Pirates parted ways this offseason with two everyday players, trading Neil Walker and releasing Pedro Alvarez. They won't have a traditional cleanup hitter, but they will deploy a deep lineup built around working long at-bats, making contact and getting on base.
• Prospects | Comeback candidates | Newcomers | Infield battle
How do Pittsburgh's pieces fit around Andrew McCutchen? Where does John Jaso wind up? How will Hurdle utilize the speed of Gregory Polanco, Starling Marte and Josh Harrison?
As spring rolls on, how will the Pirates line up their rotation? Will someone step up and command the seventh-inning setup role -- if such a role exists, that is -- behind setup man Tony Watson and closer Mark Melancon?
In the fifth part of our Spring Training preview series, let's take a look at the Pirates' projected lineup, rotation and bullpen. Though his status for Opening Day remains in question, this projection will include Jung Ho Kang, who should join the team at some point in April after undergoing left knee/leg surgery in September.
2015 record
98-64, second in the National League Central
Projected batting order (with 2015 statistics)
1. RF Gregory Polanco:
.256 BA, .320 OBP, .381 SLG, 9 HR, 52 RBIs, 27 SB
2. 2B Josh Harrison:
.287 BA, .327 OBP, .390 SLG, 4 HR, 28 RBIs
3. CF Andrew McCutchen:
.292 BA, .401 OBP, .488 SLG, 23 HR, 96 RBIs
4. LF Starling Marte:
.287 BA, .337 OBP, .444 SLG, 19 HR, 81 RBIs, 30 SB
5. 3B Jung Ho Kang:
.287 BA, .355 OBP, .461 SLG, 15 HR, 58 RBIs
6. 1B John Jaso:
.286 BA, .380 OBP, .459 SLG, 5 HR, 22 RBIs (with the Rays)
7. C Francisco Cervelli:
.295 BA, .370 OBP, .401 SLG, 7 HR, 43 RBIs
8. SS Jordy Mercer:
.244 BA, .293 OBP, .320 SLG, 3 HR, 34 RBIs
Projected rotation (with 2015 stats)
1. Gerrit Cole: 19-8, 2.60 ERA, 32 starts
2. Francisco Liriano: 12-7, 3.38 ERA, 31 starts
3. Jon Niese: 9-10, 4.13 ERA, 33 games/29 starts (with the Mets)
4. Jeff Locke: 8-11, 4.49 ERA, 30 starts
5. Ryan Vogelsong: 9-11, 4.67 ERA, 33 games/22 starts (with the Giants)
Projected bullpen (with '15 stats)
Closer Mark Melancon: 51/53 saves, 2.23 ERA
RH setup man Jared Hughes: 22 holds, 2.28 ERA
LH setup man Tony Watson: 41 holds,1.91 ERA
Adam Berry is a reporter for MLB.com. Follow him on Twitter at @adamdberry. This story was not subject to the approval of Major League Baseball or its clubs.