Deep rotation adds intrigue to Angels' camp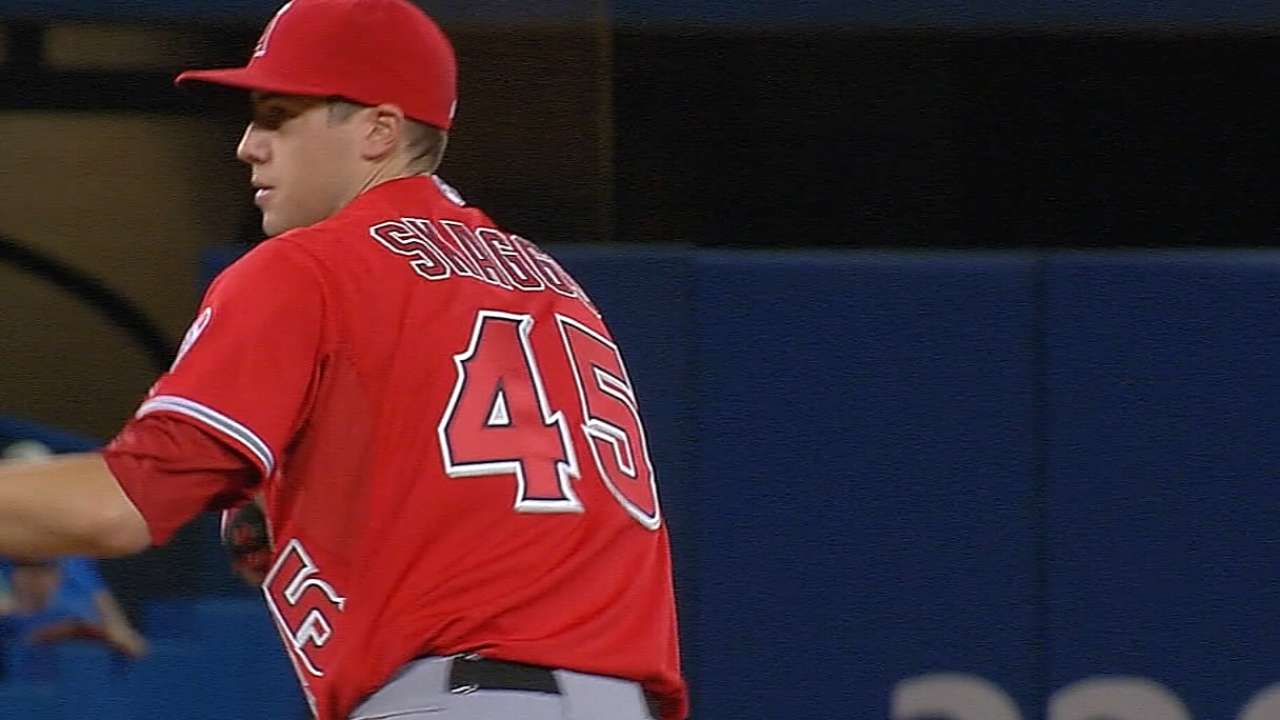 ANAHEIM -- The Angels will have plenty of competition for spots on the Opening Day roster this spring. More than usual, at least. And whether that makes you excited about the makeup of the 2016 roster is simply a matter of perspective.
Billy Eppler, winding down his first offseason as general manager, is most intrigued by how the rotation shakes out.
"What's going to happen there?" Eppler wondered. "People focus a little bit more on the bullpen, or they focus a little bit more on the outfield, or a little bit here and there at second base. You look up and you go, 'You know what? You do need to take eight of these starters, and there are going to be five of them.' Some of that will just naturally play out as the calendar and Spring Training evolves, but I think it'll be a fun one for the fans to watch, and one I'm excited to watch, as well."
• Buy Angels Spring Training tickets
Garrett Richards, Jered Weaver and C.J. Wilson are locks for that rotation. You'd think Andrew Heaney is, too, coming off an impressive rookie season. And you have to figure that the last spot would go to Hector Santiago, who made the All-Star team as a starting pitcher last season.
But what if the Angels decide the left-handed Santiago would help them more out of the bullpen?
Or if Tyler Skaggs or Nick Tropeano take the presumed next step in their development and grab that fifth spot?
Or if Matt Shoemaker, the runner-up in American League Rookie of the Year Award voting just 15 months ago, proves to be the safest bet?
What if somebody gets traded?
That may be the key question here. Apprehensions about exceeding the $189 million luxury-tax threshold kept the Angels from adding one of a plethora of free-agent bats who could've allowed them to separate from -- or, depending on how you see it, keep up in -- an increasingly competitive AL West.
• Angels Spring Training schedule
Without recent free agents Yoenis Cespedes, Justin Upton, Alex Gordon, Chris Davis, Jason Heyward, Howie Kendrick or Daniel Murphy, the Angels are left with concerns in left field and at second base, and questions about how they could use some of their starting-pitching depth to improve an unstable lineup.
"That remains to be seen," Eppler said of potentially trading one of his starting pitchers. "I couldn't say that our goal is to trade from that depth, because we know we're going to use nine, 10, 11 starters over the course of the season. Clubs do that. Look through the 29 other teams, and look at how many different names are in the 'games started' column, and you'll see a pretty sizable population there. Having that depth is important for us."
• Angels' additions ready to make their mark
Innings limits and pitch-count restrictions haven't kept starting-pitching depth from continuing to serve as the most crucial element to winning baseball. Just last year, all but one AL team needed six pitchers to make at least 10 starts, while all 15 AL clubs needed at least seven guys to start at least five times.
For the Angels, it ultimately boils down to this: How much is that eighth starter really worth?
On average, AL teams required seven starts from their No. 8 starter in 2015. That's a lot (though, interestingly enough, the Angels needed only one start beyond their top seven starters last season). But is it more valuable than a quality everyday player? That's a question the Angels' front office has asked itself throughout the winter, one that persists heading into Spring Training.
Asked about fan frustration over not chasing the bat the team clearly needed this offseason, Eppler, who doesn't necessarily make those decisions, simply said he "can appreciate wanting the best everywhere."
"I do, too," he added. "And then circumstances and elements come in that show you what you can and cannot do."
Eppler nonetheless expressed confidence in the present-day circumstances.
He projects to have four men who can hit at least 20 home runs: Mike Trout, Albert Pujols, Kole Calhoun and C.J. Cron. He hopes to have "some on-base in front of those guys," likely in the form of new third baseman Yunel Escobar. In the bottom part of the order, Eppler sees "guys that make a high degree of contact," a reference to the likes of Daniel Nava, Andrelton Simmons and Johnny Giavotella. And overall, Eppler sees a group that will allow Angels manager Mike Scioscia to play to his strengths and put runners in motion more frequently.
• Angels relying on prospects to take big steps
"When you see runners go in motion, when you see great defensive plays, when you get an opportunity for a couple of guys to put a charge on the baseball and put it in the seats, you're satisfying everything," Eppler said. "You're satisfying people that want to see a little bit more of stolen bases, or a little bit more of runners in motion. You're satisfying people that love to see homers, you're satisfying people that love to see tremendous defense. I think this team kind of brings that element in all of those categories."
But can this Angels team return to the playoffs, one year after elimination on the final day? The Astros are young, talented and trending upward, especially after adding closer Ken Giles to the back of their bullpen. The Rangers have a potent offense and a rotation fronted by Cole Hamels and Yu Darvish. The Mariners have star power and should have more on-base ability. And the A's are never to be counted out.
"It'll be one of those divisions where teams stay within striking distance up until that last month, that last couple weeks of the regular season," Eppler said. "I think it'll be a fun one to watch."
Pitchers' and catchers' first workout
Friday
Full-squad's first workout
Feb. 24
First Spring Training game
March 2, at Giants, 12:05 p.m. PT
Opening Day
April 4, vs. Cubs, 7:05 p.m. PT
Alden Gonzalez is a reporter for MLB.com. Follow him on Twitter @Alden_Gonzalez and Facebook , and listen to his podcast. This story was not subject to the approval of Major League Baseball or its clubs.