Pence, fiancee share details of proposal
Couple recounts November's special moment at Disney World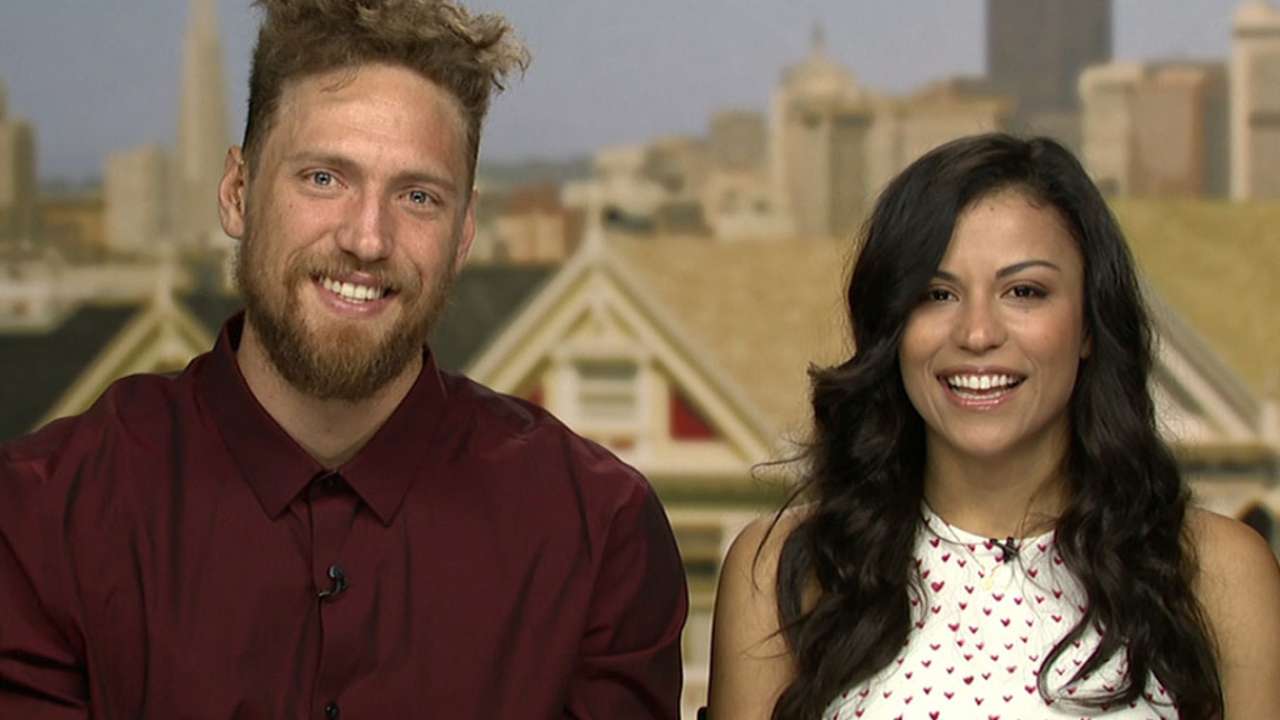 This was a special offseason for Hunter Pence, as the Giants outfielder proposed to his now-fiancee Alexis Cozombolidis in November at Walt Disney World. On Valentine's Day, Pence and Cozombolidis joined ESPN's SportsCenter to discuss the festive proposal and their relationship.
Pence knew he wanted to pop the question at some point this offseason. He had the ideal opportunity during the trip to Disney, which helped set the stage for the big moment.
"We got like this perfect three-day experience where I called Disney, and they set up a lot of really nice things for us to just go experience Disney," Pence said. "And who doesn't love Disney movies? It's the happiest place in the world. They choreograph getting a photographer, a filmographer and putting the fireworks behind me. No better way to set off the offseason vacation with getting to propose and holding that secret and doing everything at Disney and sharing it with the family at Thanksgiving."
As part of the plan, Disney staged an interview with the couple. When Pence was asked for his best Disney memory, he said it was "right now," then got down on one knee in front of Cozombolidis.
"Alexis, I've loved you from the second that I laid eyes on you," Pence told her. "You have made me such a better man. Literally you're my best friend. You're my soulmate. When we started, I didn't understand the way a relationship really works. Will you take my hand? I promise to always love and be a standup, loyal true man to you, to give you my all."
Before Pence could officially ask Cozombolidis to marry him, she interrupted with an, "Oh my God, yes!" as fireworks went off in the background.
"I was so surprised, oh my gosh," Cozombolidis said Sunday on SportsCenter. "I think during the interview before they actually pulled me in, I wasn't even listening to the questions because the lights on the Magic Castle went off and I was like, 'Oh my gosh, does anyone know? Does anyone know this? The lights in the Magic Castle went off.' I was more concerned with that, and I'm pretty sure the guy that was asking questions, asked me the same question twice. I had no idea.
"I was completely caught off guard. Had I known -- like we came straight from the park that day, I don't even think we showered. Had I known, I probably would have showered."
"Full day at the park," Pence added. "We just tried to cover it up with some perfume and cologne."
The couple talked about how they met, when Cozombolidis worked for IGN.com, in video games, and Pence came by to promote MLB The Show. She put makeup on him, and the two hit it off.
"I sort of bossed him around that day and I think he liked it," Cozombolidis said.
While Pence's proposal was a big production, the couple plan to keep a much lower profile for the first Valentine's Day since their engagement.
"We're actually just going to hang out for the day, and then tonight, we're going to play some Smash Brothers and hopefully get a heart-shaped pizza," Cozombolidis said.
Andrew Simon is a reporter for MLB.com. Follow him on Twitter @AndrewSimonMLB. This story was not subject to the approval of Major League Baseball or its clubs.