With Australia in, more Qualifiers on tap for 2017 Classic
Additional tournaments in March and September will fill out 16-team field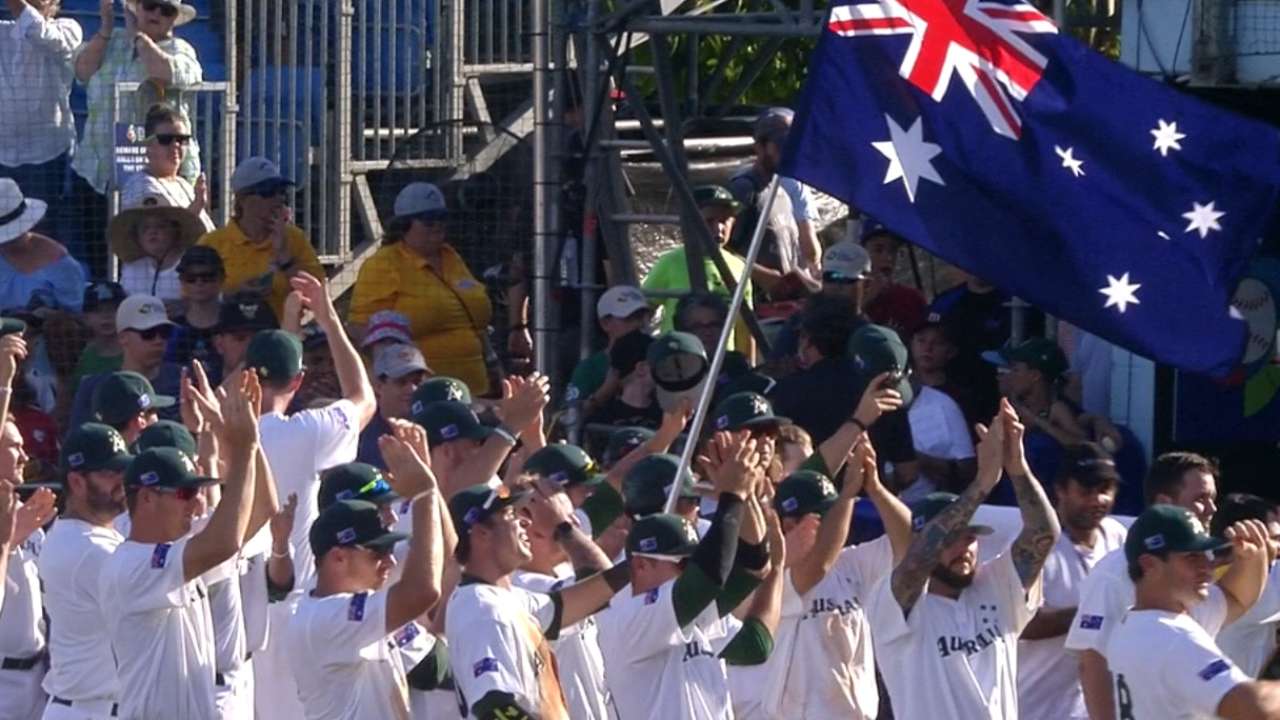 Australia entered the qualifying tournament for the 2017 World Baseball Classic as host and favorite, and with a 12-5 victory over South Africa on Sunday, emerged undefeated to secure its spot in the field.
But the Sydney Qualifier was only the beginning of four, four-team mini-tournaments for the chance to compete in the 16-team Classic, which begins in March 2017. There are still three spots remaining now that Australia has joined the 12 countries who already received automatic bids based on their results in the 2013 tournament.
The next pair of qualifying tournaments is set to take place from March 17-20 in Mexicali, Mexico, from March 17-20 (with Mexico, Czech Republic, Germany and Nicaragua competing), and Panama City (Colombia, France, Panama and Spain). The modified, double-elimination tournaments are scheduled to be played over four days with a winner-take-all game on the final day, rather than part of a double elimination.
Mexico is the highest-ranked baseball nation in the Qualifier and the clear favorite headed into its tournament. A disappointing performance in the 2013 Classic put Mexico in the position to have to earn its spot for '17.
The Mexican team will be challenged by Nicaragua, which has a storied history in the Baseball World Cup and is perhaps the second-best team in Central America behind Panama. But neither Nicaragua nor Germany has ever qualified for the World Baseball Classic. The Czech Republic, Germany's European rival, competed in the 2013 Qualifier for its first taste of World Baseball Classic action, although it was unable to qualify for the main tournament.
The Panama City Qualifier features another clear favorite in the host team, Panama. Despite participating in all three previous Classics, Panama has never finished higher than 14th.
Spain finds itself in a familiar position of having to earn its way into the main tournament, after winning the 2013 Qualifier to enter its first Classic. During that Qualifier, Spain defeated France, which like Columbia, will look to gain entry to its first Classic.
Brooklyn, N.Y., will also host the final Qualifier from Sept. 22-25 (Brazil, Great Britain, Israel and Pakistan). It features four vastly different teams and no true host nation, which should make for an exciting and unpredictable Qualifier.
Jamal Collier is a reporter for MLB.com. Follow him on Twitter at @jamalcollier. This story was not subject to the approval of Major League Baseball or its clubs.