Lincecum's tenure with Giants nearing end?
With full rotation, right-hander's future is hot topic during FanFest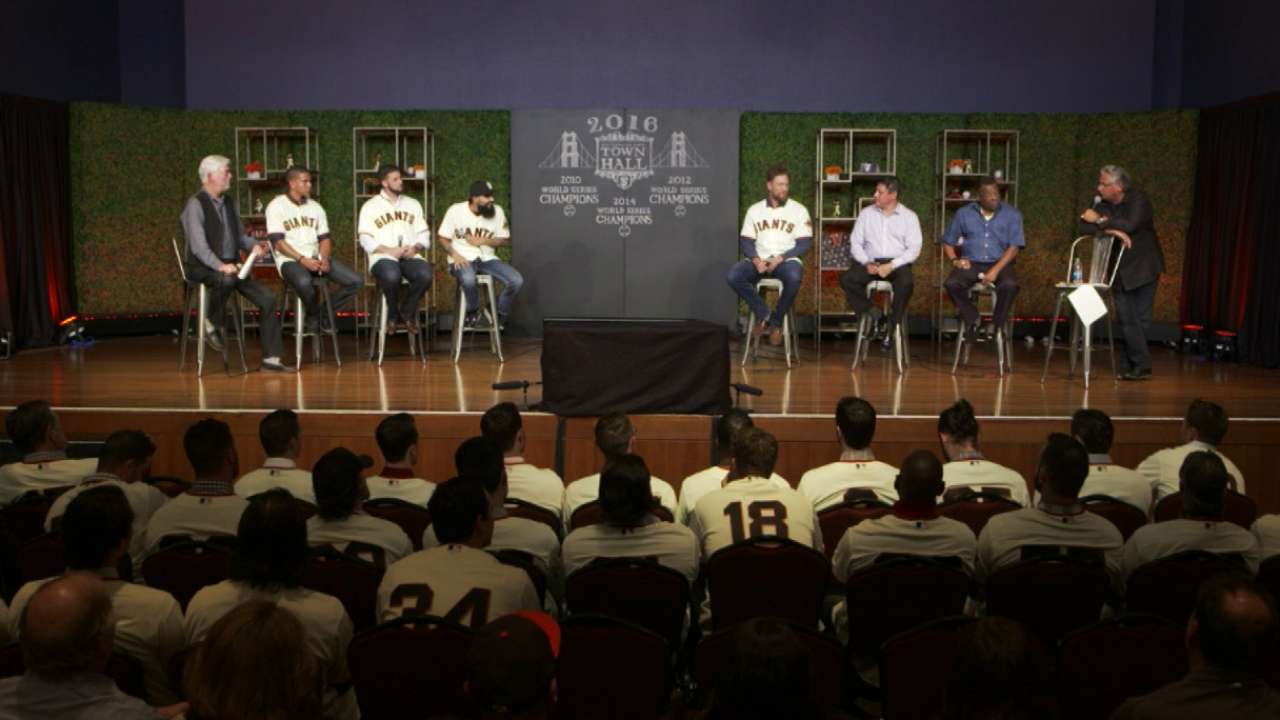 SAN FRANCISCO -- Even in his absence from Saturday's FanFest at AT&T Park, Tim Lincecum remained a significant presence.
Lincecum, a free agent who reportedly has recovered from hip surgery, is expected to prove his fitness to pitch by conducting a throwing session in the Phoenix area for all interested teams. Though the Giants are expected to send a representative to the right-hander's showcase, the club's starting rotation is full -- barring injuries -- and thus cannot accommodate Lincecum's anticipated desire to start.
This didn't stop orange-and-black-clad fans attending FanFest's question-and-answer panels from inquiring about Lincecum, who's likely the most beloved Giants player since Willie McCovey. Lincecum won back-to-back National League Cy Young Awards in 2008-09, made four All-Star teams in his first five seasons and excelled in the 2010 and '12 postseasons when the Giants won the first two World Series of their San Francisco franchise history.
Moreover, fans embraced Lincecum for the grin he wore almost perpetually off the mound and the sheer joy he exuded.
Giants vice president of baseball operations Brian Sabean acknowledged the likelihood of Lincecum's departure from the organization and the angst it's causing. Sabean held out the flickering possibility of welcoming back Lincecum as a reliever, admitting that the hurler's return to the Giants would be a "fallback" position.
"It's tough not to get caught up in the emotion that Timmy might not get back," Sabean said.
Manager Bruce Bochy didn't even try to hide his emotions.
"He's like one of my kids," said Bochy, whose 2007 Giants debut preceded Lincecum's arrival in the Major Leagues by a month. To others, Bochy acknowledged, "He's so iconic."
Bochy shared his most cherished memory of Lincecum: The latter's acceptance to pitch out of the bullpen during the 2012 postseason. Lincecum recorded an 0.69 ERA in five relief appearances, surrendering one earned run in 13 innings while striking out 16 and walking two.
"This is how unselfish he was," Bochy said. "It was a pretty special moment for him to go all in for us to win."
Bochy recalled watching Lincecum throw for the first time. "'Here's your No. 1 pick,'" Bochy remembered somebody telling him. "I said, 'This kid? He weighs 150. 'Then, I saw him throw a ball and I was amazed."
Shortstop Brandon Crawford and second baseman Joe Panik shared brief but telling anecdotes that reflected Lincecum's considerable popularity among players.
Crawford's grand slam in his Major League debut on May 27, 2011, at Milwaukee propelled Lincecum and the Giants to a 5-4 victory. Immediately after the game, Lincecum descended upon Crawford and thanked the rookie for helping him earn the decision.
Panik, the Giants' No. 1 pick in the 2011 Draft, recalled making his ceremonial visit to AT&T Park for a ballgame after signing his contract. At one point while touring the clubhouse, Panik found himself alone and felt too intimidated to initiate a conversation with anybody. Lincecum ended the awkwardness by approaching Panik.
"He actually came up to me and started talking," Panik said, still sounding amazed nearly five years later.
Chris Haft is a reporter for MLB.com. Read his blog, Haft-Baked Ideas, follow him on Twitter at @sfgiantsbeat and listen to his podcast. This story was not subject to the approval of Major League Baseball or its clubs.