MLB.com Columnist
Tracy Ringolsby
McRae discusses replay, plays at second
Namesake of 'Hal McRae Rule' reflects on art of takeout slide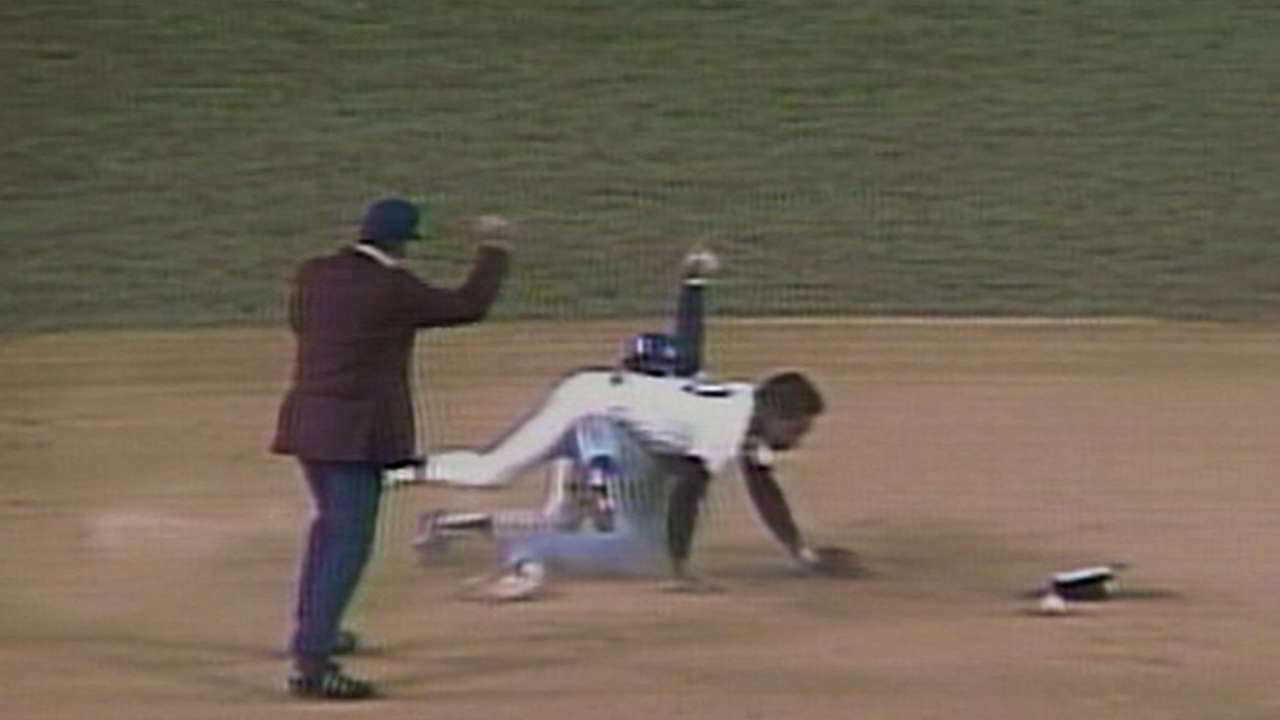 Hal McRae is out of baseball, retired and living in Bradenton, Fla. However, he isn't forgotten.
There is, after all, the so-called Hal McRae Rule, which provides that a baserunner who is not within reach of the base and who takes out an infielder is out and the ball is dead. Other baserunners cannot advance.
Rule 7.09 H was altered for the 1978 season in the aftermath of McRae taking out Yankee second baseman Willie Randolph to not only break up a double play in the sixth inning, but allow Freddie Patek to score from second base.
McRae also drew a walk to load the bases in the ninth inning of Game 6 of the 1985 World Series against the Cardinals, amid the rally that allowed the Royals to pull out a 2-1 victory after Don Denkinger's controversial safe call at first on Jorge Orta's leadoff single.
The emotional leader of the Royals during their 10-year stretch from 1976-85, when they advanced to the postseason seven times and won the World Series in '85, McRae played 19 seasons in the Major Leagues and coached with the Royals, Expos, Phillies, Reds, Rays and Cardinals. He also managed the Royals and Rays.
In this week's Q&A, McRae talks about the controversies that led to replay, and how baseball is currently reportedly working to determine how replay can be used to interpret plays at second base.
MLB.com: Not many players have a rule named after them. Any feelings about the "Hal McRae Rule?"
McRae: That was part of the game. Any opportunity you had to avoid allowing the opponent to turn a double play, you have to take advantage of it. A double play could take you out of an inning. The middle infielder expected you to come in hard.
MLB.com: But it wasn't until you collided with Randolph that the rule was amended.
McRae: A lot of players would try a leg whip on the infielder. I went in with a cross-body style. My purpose was to not take any chances. My purpose was to eliminate the throw.
MLB.com: You were more aggressive on the bases than most players. Where did you learn that style?
McRae: I was like that my whole life, even in sandlot ball. At Florida A&M, my baseball coach, Costa Kittles, was also the offensive and defensive end coach on the football team. He had an influence on me. I was drafted and signed by the Reds, and in their Minor League system, we played that way. I patterned myself after the way Pete Rose played.
MLB.com: Major League Baseball and the Players Association reportedly are re-examining replay on plays at second base. There seems to be a concern that fielders now just hold their glove on the baserunner for an extended period of time, waiting for a player to come off the bag. Does that concern you?
McRae: A lot of that is the popup slide. On a stolen base, it's a bad slide. The nature of it is you come off the bag.
MLB.com: Do you like instant replay?
McRae: I don't really follow it close enough. I watch a little of the Marlins and the Royals when they are on, but day to day, I don't watch baseball. I do think you should get the play right. I don't think you should delay the game anymore than it already is.
MLB.com: What if replay had been a part of baseball for Game 6 of the 1985 World Series?
McRae: Who knows, but the Cardinals still had their chance to win that game. They were up, 1-0, and it was the ninth. If Jack Clark doesn't drop that popup, if Darrell Porter doesn't get crossed up with the pitcher and have the passed ball [things could have turned out differently]. Usually there's not one call that determined a game.
MLB.com: And there was still a seventh game.
McRae: Yep.
MLB.com: You have been out of the game since leaving the Cardinals as a coach following the 2009 season. Was it hard to cut the ties?
McRae: Not for me. Once I was done, I was done. I was in the game a long period of time. Spent 45 years as a player, coach and manager. When I was let go by the Cardinals, I knew I wasn't going to seek a job. I hadn't ruled out taking a job if someone offered me a job, but I wasn't looking for work. Mentally, I knew I was near the end, so it was an easy transition.
Tracy Ringolsby is a columnist for MLB.com. This story was not subject to the approval of Major League Baseball or its clubs.