Australia, S. Africa to vie for 2017 WBC berth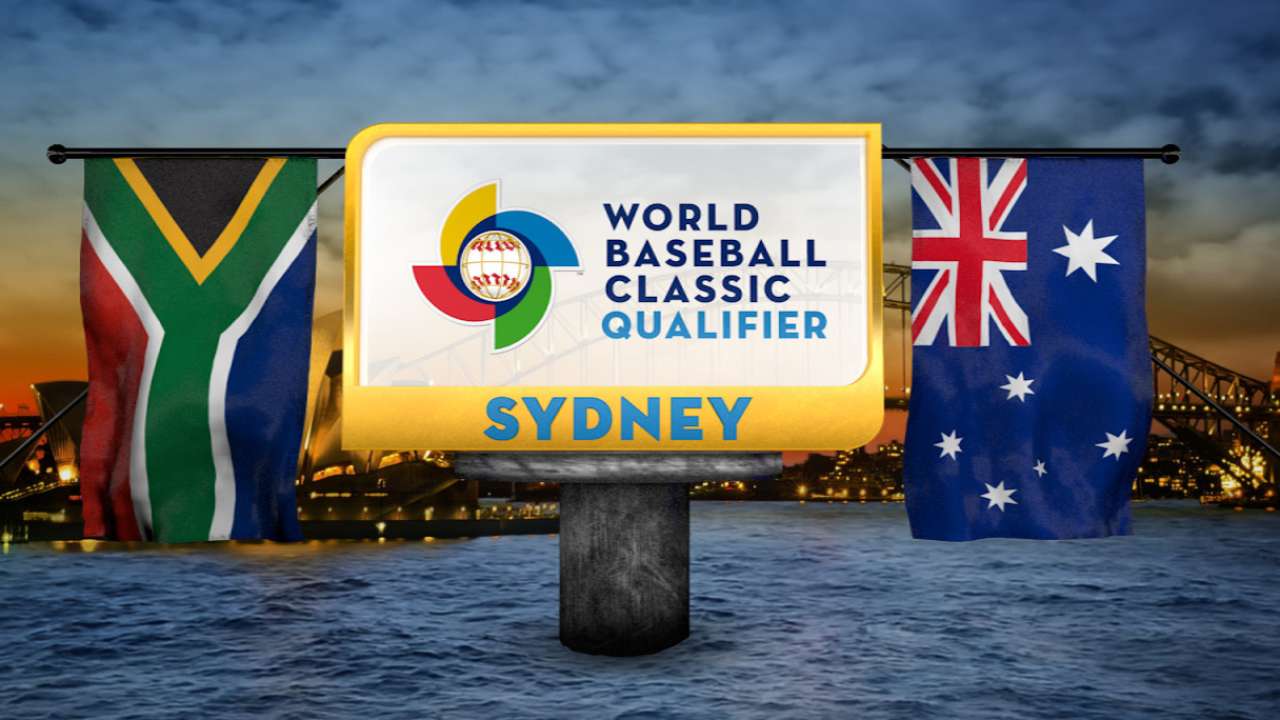 SYDNEY-- One more game remains before the first Qualifier ticket is punched into the main draw of the 2017 World Baseball Classic.
Australia (2-0) and South Africa (2-1) will face off with a chance to advance to the Classic in March 2017. Game time is 2 p.m. local time Sunday (10 p.m. ET tonight). All games are streamed live on MLB.com and WorldBaseballClassic.com and air on MLB Network.
Australia will be the designated home team based on its record and is slated to throw well-traveled former Major Leaguer Travis Blackley against South Africa 22-year old right-hander Kyle Gaddin, who was among the league leaders in wins and ERA in the South Africa professional ranks in 2011 and 2012.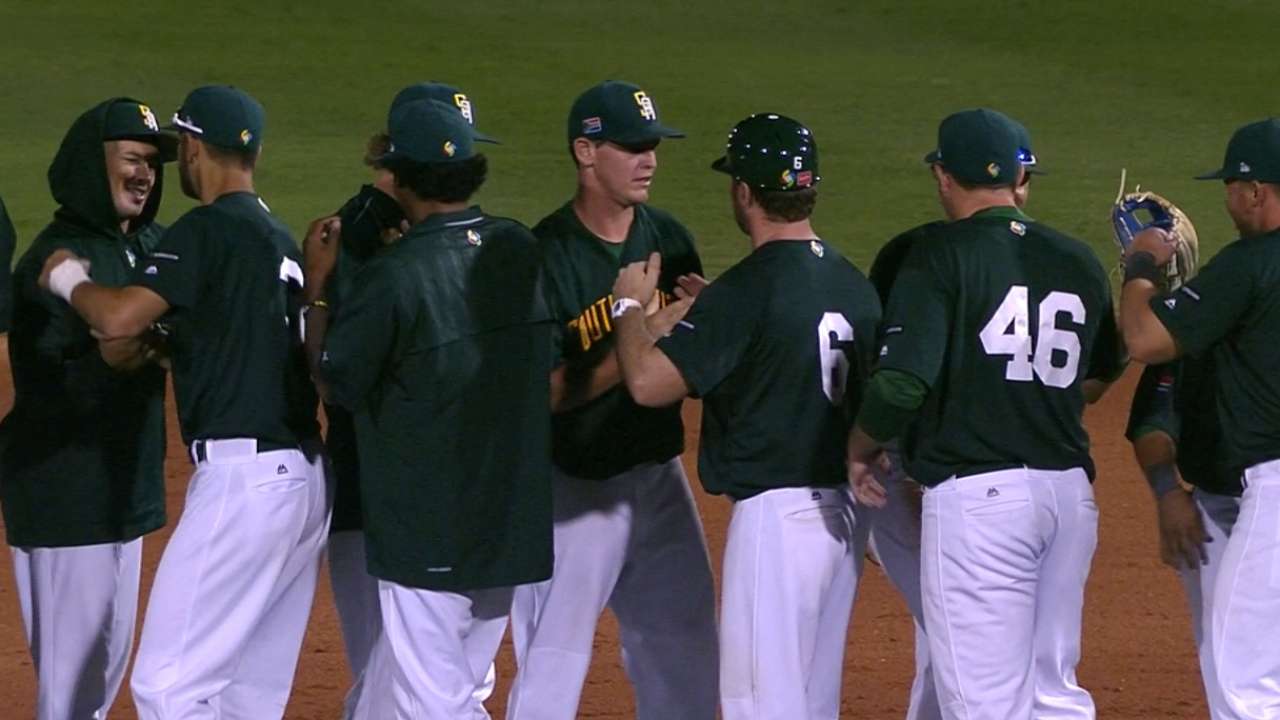 "I would say the top of our order would very much like to be facing Blackley," said South Africa manager Alan Phillips. "It's a big challenge. If you want to move along in the world of baseball, you have to face those types of pitchers."
Australia beat South Africa on Day 2 of the Qualifiers, 4-1, and also beat the Philippines, 11-1. South Africa beat the Philippines, 17-7, and eliminated New Zealand, 9-2, on Saturday night.
"The World Baseball Classic is sometimes surreal. You watch these guys on TV and playing in the big leagues and you get to be on the same field as these guys," said South African designated hitter Brett Willemburg. "It is so amazing. It just broadens your vision to see what is possible and what more is out there. For the new guys, one of the guys is like, 'This is awesome, this is baseball.'"
• Classic, MLB programs growing sport in South Africa
Prior to this year's contests, South Africa was 1-7 and Australia was 1-8 all-time in Classic games and Qualifiers. Australia had played in the main draw the first three years. South Africa was in the World Baseball Classic in 2006 and '09 and appeared in the 2013 Qualifier, going 1-2. But it did not qualify and was eliminated from the tournament.
Australia awaits with an array of professional arms, led by its top arm, Blackley. The left-hander was 74-64 with a 4.02 ERA in the Minors, won six of his nine games in the Majors with the A's in 2012 and has pitched seven seasons in various foreign leagues. The bullpen features two pitchers with a Major League resume, Ryan Rowland-Smith and Peter Moylan, as well as two of the top relief arms from the Australian Baseball League this past year in Josh Tols and closer Ryan Searle.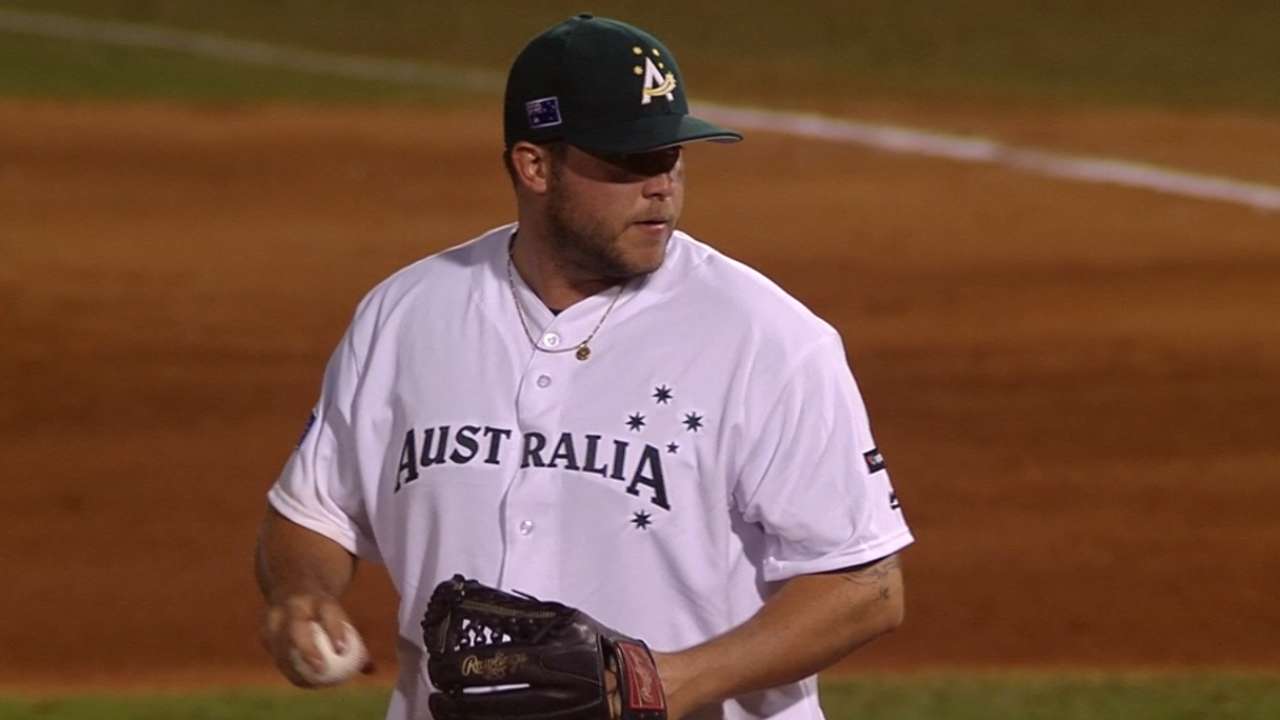 The Australian staff has a 1.13 ERA in the 2017 Qualifier, having struck out 21 and walked none.
On the offensive side, Australian shortstop James Beresford, a Twins prospect, is 5-for-8 with four RBIs.
"We've got a group of guys who played in the big leagues, but they act as a group, they work together," said Australian manager Jon Deeble. "Moylan's been fantastic in the clubhouse and keeping guys loose. [Trent] Oeltjen's got a smile on his face every day, he's a good leader. [Brad] Harman's not a loud guy, but he shows a lot of leadership, and [Luke Hughes has] been a leader for a long time, too. So they really do bring this club together and help these young kids.They're bringing the kids on like they were brought on."
South African second baseman Anthony Phillips is 4-for-10 with five walks and five runs in the Qualifiers. New first baseman Keegan Swanepoel, who started for the first time Saturday and knocked out four hits, is 6-for-7.
South Africa struck out 11 times against four Australian arms on Friday, but on Saturday, the club knocked out 11 hits and walked 10 times against New Zealand. South Africa's top three hitters scored six of the team's nine runs on Saturday.
SYDNEY QUALIFIER SCHEDULE/RESULTS
Thursday
• South Africa 7, New Zealand 1
• Australia 11, Philippines 1
Friday
• New Zealand 17, Philippines 7
• Australia 4, South Africa 1
Saturday
• South Africa 9, New Zealand 2
Sunday
• Australia vs. South Africa
2 p.m. local, 10 p.m. ET on Saturday
Watch: Live on MLB Network, MLB.com and WorldBaseballClassic.com
ESPN Pac-Rim delayed to 11 p.m. local
Niall Adler is a contributor to MLB.com. This story was not subject to the approval of Major League Baseball or its clubs.