MLB.com Columnist
Roger Schlueter
Cubs could boast historically great infield
Rizzo, Zobrist, Bryant, Russell poised to reach milestones
One year ago, Kris Bryant's Spring Training exploits established a sense of expectation and hopefulness that still resonates today, as the 30 Major League clubs prepare for the next installment of Spring Training.
The Cubs' phenom -- who had yet to play an official Major League game -- paced the Grapefruit and Cactus Leagues in homers, produced top-five marks in extra-base hits and total bases, and assembled an outrageous .425/.477/1.175 slash line.
This superior stat package won't be necessary for Bryant to draw attention in 2016, for the reigning National League Rookie of the Year is now an established, bona fide big league superstar who comprises one-fourth of what might be the best infield we've seen in a while.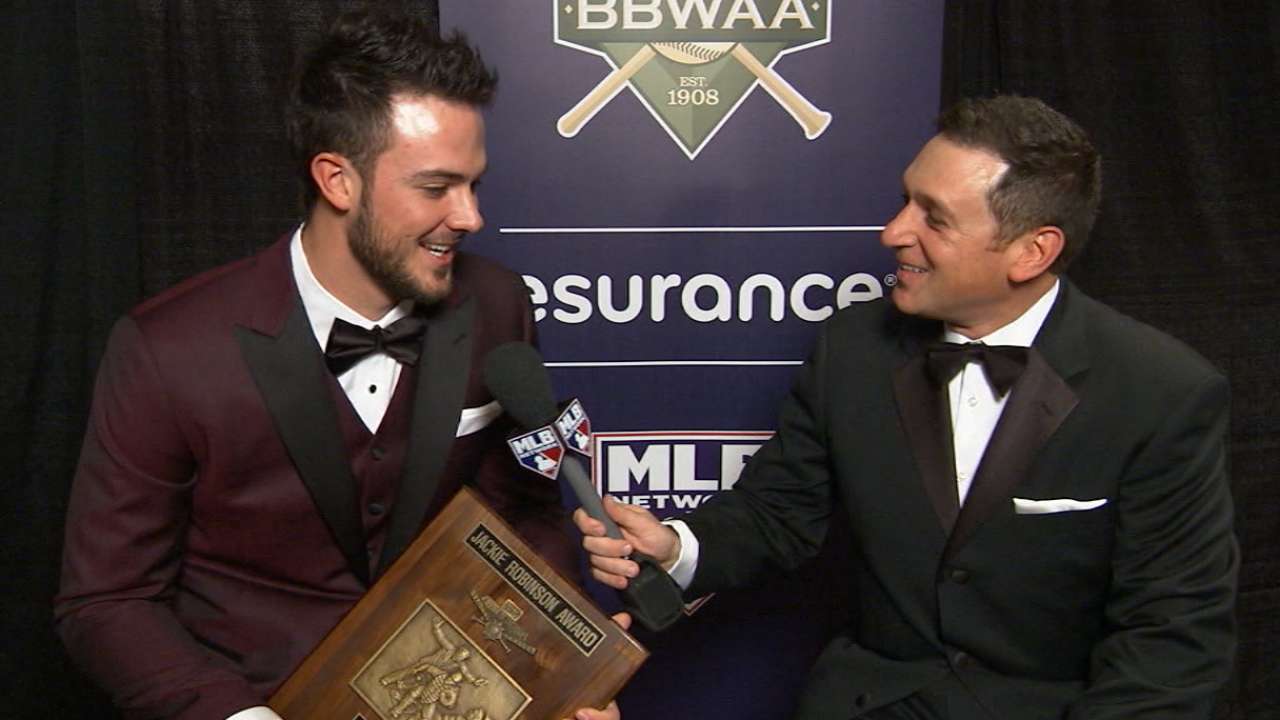 And with Spring Training being a time to dream a little, let's imagine what might be in store for this group, which features Bryant (24 years old), shortstop Addison Russell (22), second baseman Ben Zobrist (34) and first baseman Anthony Rizzo (26).
• Over the first 115 years of the game's modern era, there have been 35 teams to have at least three members each play in 100 games in the four infield spots and finish the season with an OPS+ of at least 120. The Cubs saw Bryant (133) and Rizzo (144) top 120 last season, and Zobrist posted 121 with the Royals.
A few different ways to view the 35 clubs and the Cubs' potential addition:
• The 2014 Dodgers were the last to do this, and there is one instance (the 2009 Yankees featuring Mark Teixeira, Robinson Cano, Derek Jeter and Alex Rodriguez) of a team having four members accomplish the feat.
• If Chicago joined the club in 2016, it would connect this Cubs infield with some of the truly great ones, like the $100,000 infield of the dead-ball-era Athletics, the 1927 Giants, the 1975 Reds and the 1982 Brewers.
• Interestingly, Cubs skipper Joe Maddon presided over two of the last eight teams to have three (the 2011 and 2009 Rays), and Zobrist was part of the Tampa Bay trio in 2011.
• The last 10 teams to do this won an average of 94 games.
Youth is served
Part of what makes this Cubs group so special is the combination of youth we see from Bryant, Rizzo and Russell.
• Since 1901, there have been 24 teams to claim three players in age-26 or younger seasons playing at least 100 games in the four infield spots and finishing with an OPS+ of at least 100. The last time this happened was in 2007, when the Brewers had four players get there and the Marlins had three. Russell (90 OPS+ in 2015) needs to take a step ahead for this to be a conversation.
For a bit of team trivia, the last time the Cubs had three reach those thresholds was in 1903, when the famed trio of Joe Tinker, Johnny Evers and Frank Chance was manning the infield. Those three would go on to help the Cubs compile a 530-235 record from 1906-1910. The 2016 Cubs would be in some awfully nice company.
• There has been one example of teammates with 100 games at third and first each having 30 doubles and 30 homers in a season in which they were each as young as Bryant and Rizzo will be in 2016 (by age-season). In 2015, Bryant's 26 home runs left him and Rizzo four homers shy of joining Teixeira and Hank Blalock of the 2004 Rangers.
There's plenty of room to imagine that the conclusion of the 2016 season will have many explorations into the historical significance of this Cubs' infield. And if it does come to pass, one can be certain that many will find themselves happily recalling seeing the first vestiges of it coming together, under the Spring Training skies in Arizona.
Roger Schlueter is a columnist for MLB.com. This story was not subject to the approval of Major League Baseball or its clubs.