A's land slugging outfielder Davis from Brewers
Prospects Derby, Nottingham dealt to Milwaukee; Nolin designated for assignment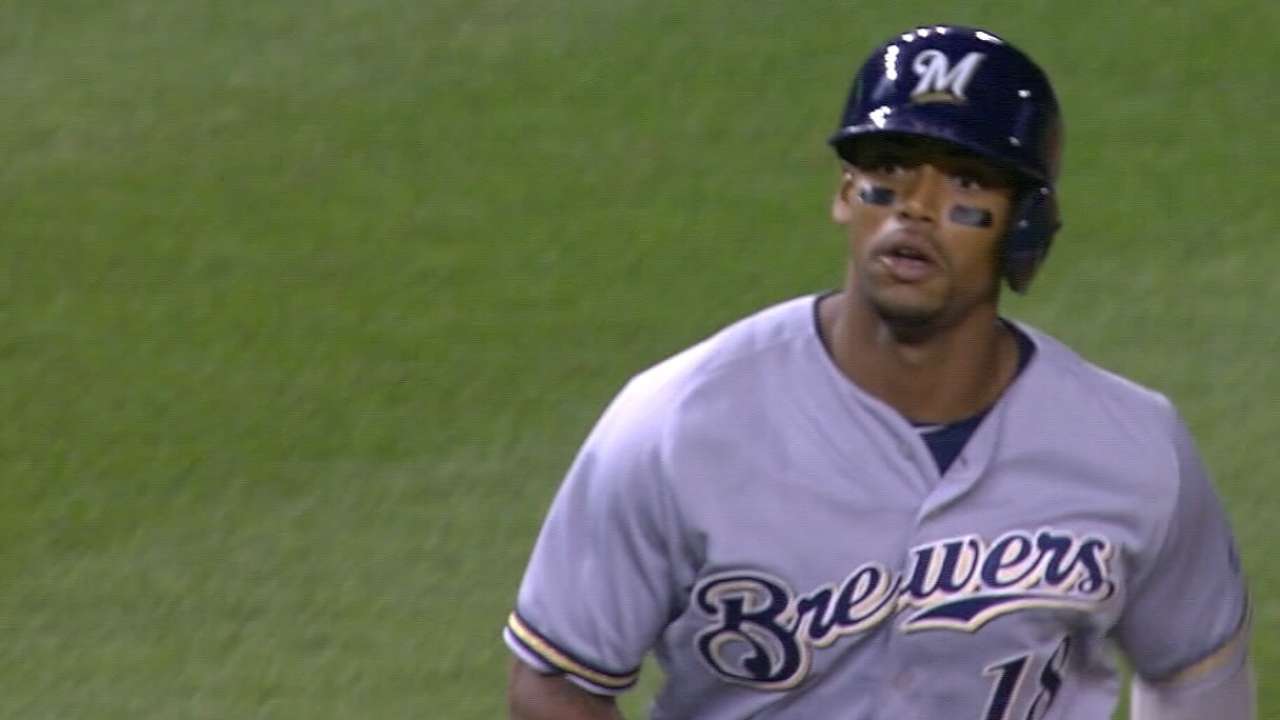 OAKLAND -- The A's cruised into their final weekend of the offseason in splashy style, pulling off a trade with the Brewers for slugging outfielder Khris Davis on Friday afternoon.
Davis injects power into an A's lineup that was craving some, and he also stabilizes the left-field position. The A's had to pay a price to get him, though, sending the rebuilding Brewers a pair of prospects in catcher Jacob Nottingham -- who is the eighth-ranked catching prospect in baseball according to MLBPipeline, and pitcher Bubba Derby. Nottingham. They also designated lefty Sean Nolin to make room on the 40-man roster.
The A's saw their left fielders total just 14 home runs while hitting .199 last year. Davis spent that time racking up 27 home runs in only 392 at-bats in a season shortened by right knee surgery.
"This was something we talked about a lot over the course of the offseason," general manager David Forst said. "We ultimately felt like filling that hole in both the lineup and the outfield was an important move for us."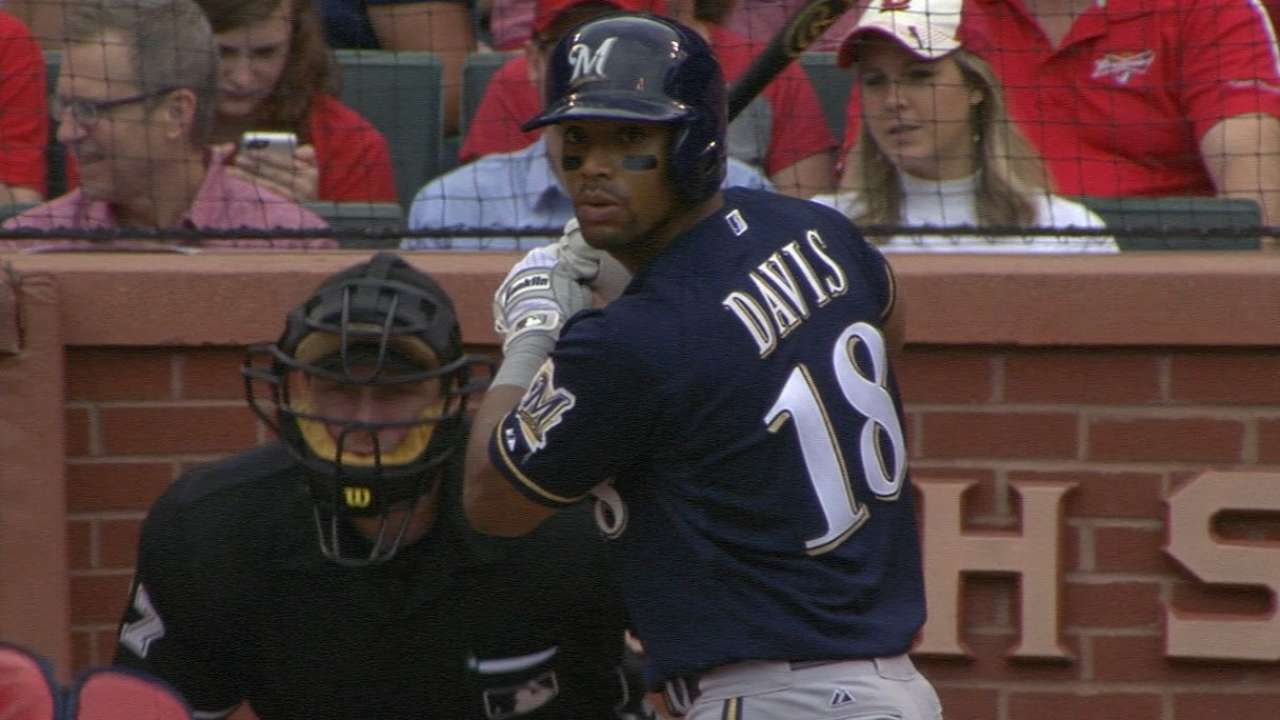 Davis, 28, won't be arbitration-eligible until after this season, giving the A's four years of club control for an outfielder who hit 60 home runs with an .809 OPS as Milwaukee's primary left fielder for the past two-plus years.
"It's tough trading a guy like Khris," Brewers GM David Stearns said. "This is a guy who had a really nice year last year, a really strong second half. But you have to part with value sometimes to get that high-impact value we're looking for in return. If we're going to part with value off the Major League team, I believe in doing so from an area of depth and strength. That's the best way to do it."
Forst said definitively that Davis will assume that same role in green and gold, forcing veteran Coco Crisp into a bench role and leaving young slugger Mark Canha left to fight for playing time elsewhere.
The 36-year-old Crisp, set to make $11 million in his final guaranteed season with the A's, was limited to 44 games last year because of a chronic neck issue, and there's no certainty his health will improve in 2016. When healthy, as he is now, Crisp offers manager Bob Melvin an experienced option in center field and at designated hitter.
He's also proven himself in a pinch-hit role, going 6-for-15 last year.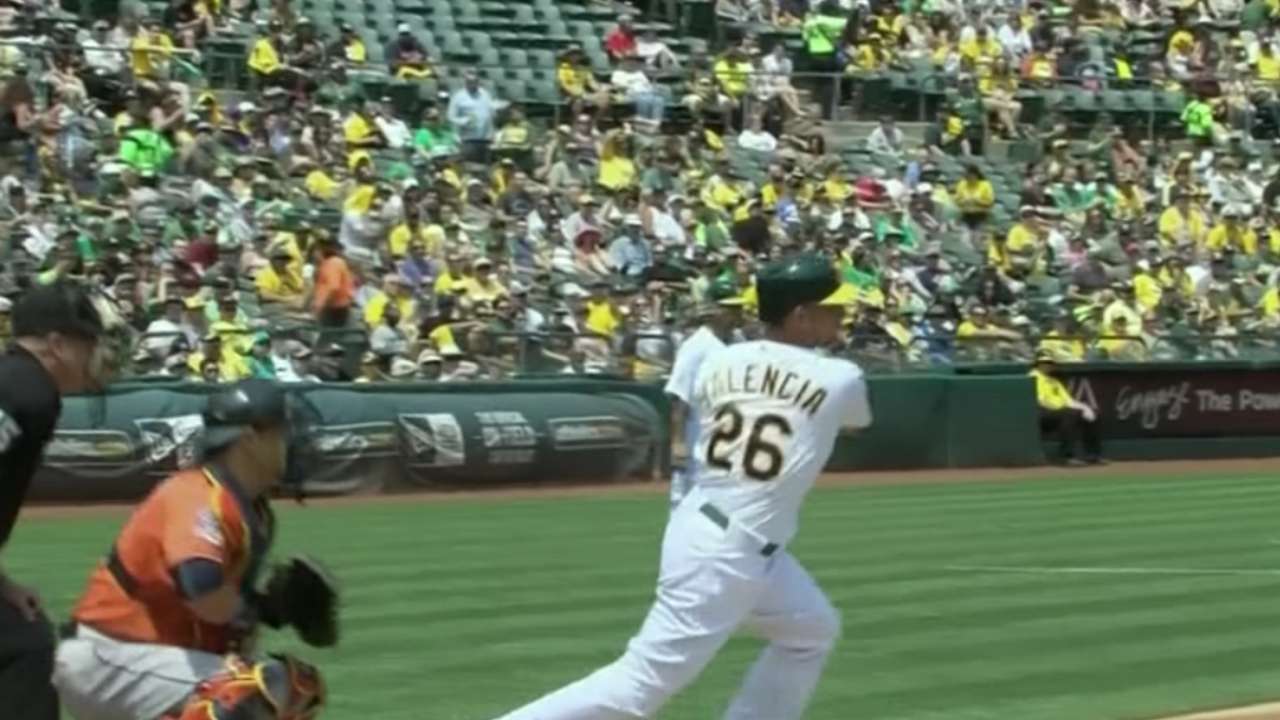 "Coco can do just about anything," Forst said. "He played off the bench last year because it was really the only way of keeping him healthy and using him. But look, if he's healthy and can be out there, then we'll find a spot for him. He's certainly going to need days off. We know that about Coco. Bob's got a pretty nice weapon on the bench."
Canha arguably deserves to be a lineup mainstay no matter where he plays. As a rookie last season, the right-handed hitter compiled 16 home runs and 70 RBIs in 124 games.
The A's are quipped with a good dose of right-handed power, not only with Davis and Canha in tow, but Danny Valencia and rebound hopeful Billy Butler.
"This was an important piece for us," Forst said, "and we're happy with the team we've got right now."
Nolin, one of four players acquired in the Josh Donaldson deal, spent the bulk of the 2015 season at Triple-A Nashville after being sidelined by injury in Spring Training. He went 2-2 with a 2.66 ERA in 14 games, including 12 starts, then joined the A's as a September callup and went 1-2 with a 5.28 ERA in six starts.
"Sean didn't have the 2015 he would've liked, and he really never got on track because of the injuries," Forst said. "We're just at that point where any 40-man roster decision is difficult, and this is the one we had to make."
Fantasy spin | Fred Zinkie (@FredZinkieMLB)
By moving from the offense-inducing confines of Miller Park to the pitcher-friendly Coliseum, Davis -- who compiled 21 homers across 233 at-bats in the second half of 2015 -- is less likely to produce a lofty round-tripper total this season. Beyond the effect of the venue change, the 28-year-old will need to avoid slumps to stay ahead of a crowded corner-outfield group that includes Coco Crisp, Josh Reddick and Mark Canha. Davis and Reddick can still be drafted in mixed leagues, while Crisp and Canha are relegated to American League-only squads.
Back in Milwaukee, this trade makes Santana a fine mixed-league sleeper. With eight homers across 177 career at-bats, the slugger has the potential to threaten the 25-homer mark if he can limit his whiffs well enough to stay in the regular lineup. The trade also creates a void in center field, but the main candidates -- Rymer Liriano and Kirk Nieuwenhuis -- are unlikely to impact most leagues. Owners in deep formats may wish to use a bench spot on prospect Brett Phillips, who could join the regular lineup this summer if he gets off to a strong start in the Minors.
Jane Lee is a reporter for MLB.com. This story was not subject to the approval of Major League Baseball or its clubs.