MLB.com Columnist
Bill Ladson
Inbox: What must Nats change to compete in East?
Beat reporter Bill Ladson answers questions from fans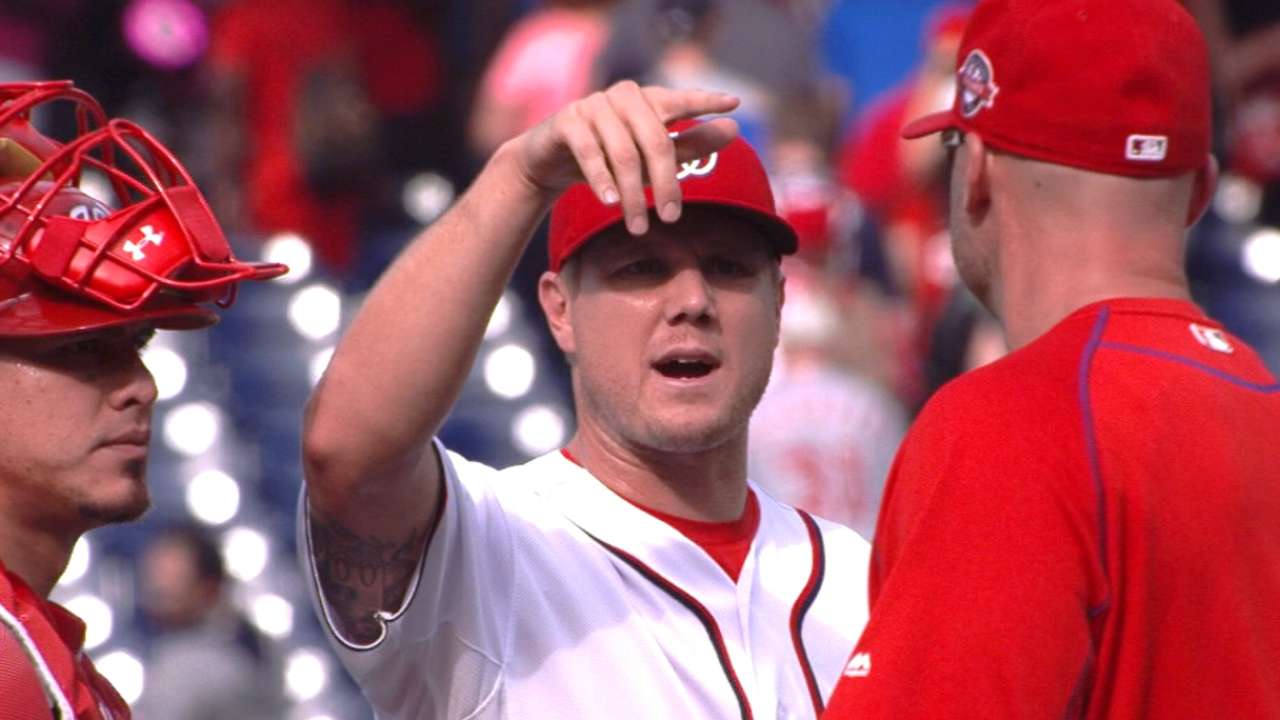 What is the biggest change the Nationals must make to be competitive in the NL East?
-- Jason H., Rockwood, Tenn.
The bullpen must improve. It was below average during the second half of the season last year. Yes, the Nats revamped the relief corps by adding Shawn Kelley, Trevor Gott and Yusmeiro Petit, but we won't know how much they help until the season starts. I also want to know how much Jonathan Papelbon has left in the tank. He is 35 years old, and he had a respectable 3.04 ERA during his time with the Nationals last season.
I also want to see the defense improve. It finished 15th in the Major Leagues last season, but I wonder if it could get any better. Ben Revere and Daniel Murphy are in the field, while Jayson Werth looks better in right field than he does in left. I hope Wilson Ramos has a better year behind the plate than he had last year.
• Submit a question to the Nationals Inbox
What will Blake Treinen's impact be on the team be this year? It seems like he has the talent to make an impact on the team.
-- Andrew S., Bethesda, Md.
I expect Treinen to be in the bullpen this year. His role in the 'pen depends on how he fares in Spring Training. People from the front office to the players have bragged about his 98-mph sinker. Last year, that sinker had trouble staying down, and left-handed hitters hit Treinen hard. It will interesting to see what he does to improve his pitching repertoire when Spring Training starts.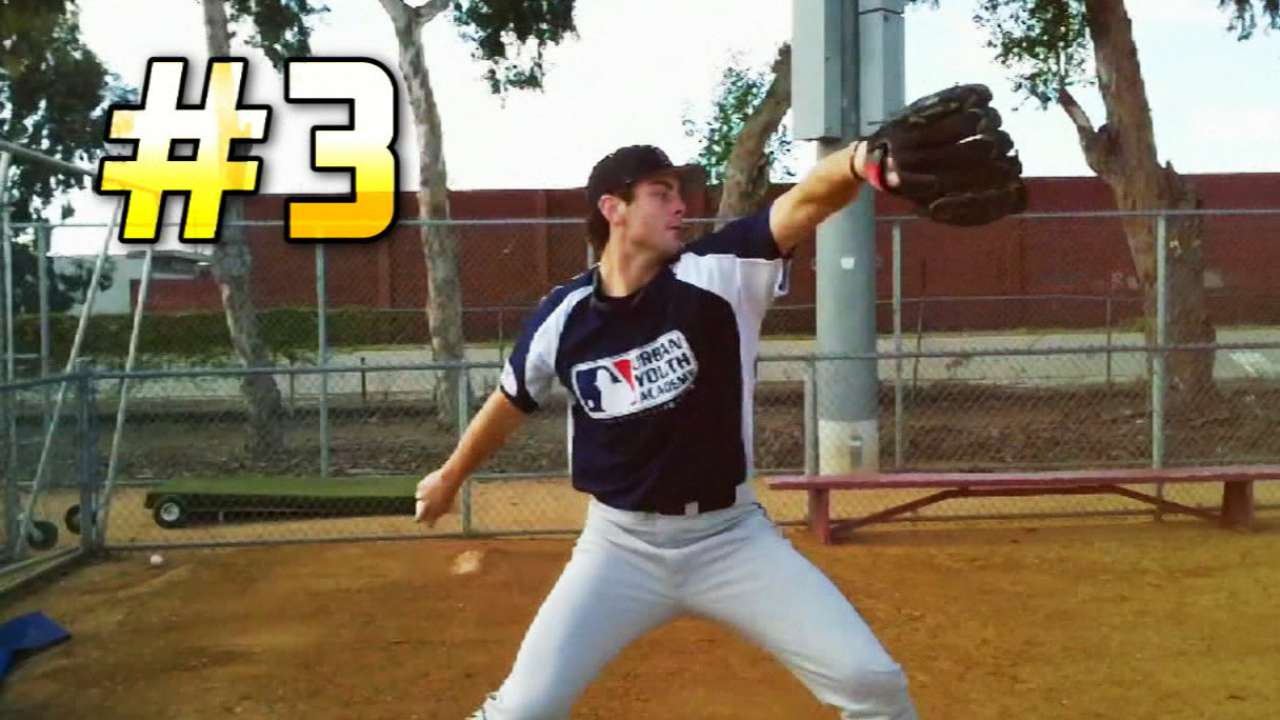 Do you expect Lucas Giolito with the big league club in 2016 or will he get a full season in Syracuse?
-- Richard G., Syracuse, N.Y.
It depends on how Giolito does in Spring Training. He is the real deal, though, and I expect him to have a good showing against Major League hitters during the spring season. He is no longer on a pitching limit after undergoing Tommy John surgery on his right elbow in 2012.
What kind of season do you expect from Gio Gonzalez?
-- Rick E., New Market, Md.
This is a key year for Gio, because it could be his last one with the Nationals, although he has a team option in 2017 and a vesting option the following year. I would like to see him pitch 200 innings for the first time since 2011 and throw fewer pitches in the games he starts. Last season, it seemed like he would consistently throw 100 pitches by the fifth inning. Gio will be the first to say he has to throw fewer pitches this season. He has a lot to prove in 2016 in Washington's rotation.
Do you expect a significant contribution from any of the players signed to Minor League contracts?
-- Bill M., Springfield, Va.
Last year, it was Clint Robinson. This year, it could Chris Heisey. I expect manager Dusty Baker to give him every chance to make the team. The Nationals need to improve their bench and could use some power from the right side of the plate. Baker made it clear to the media that he would like a solid group on the bench in 2016.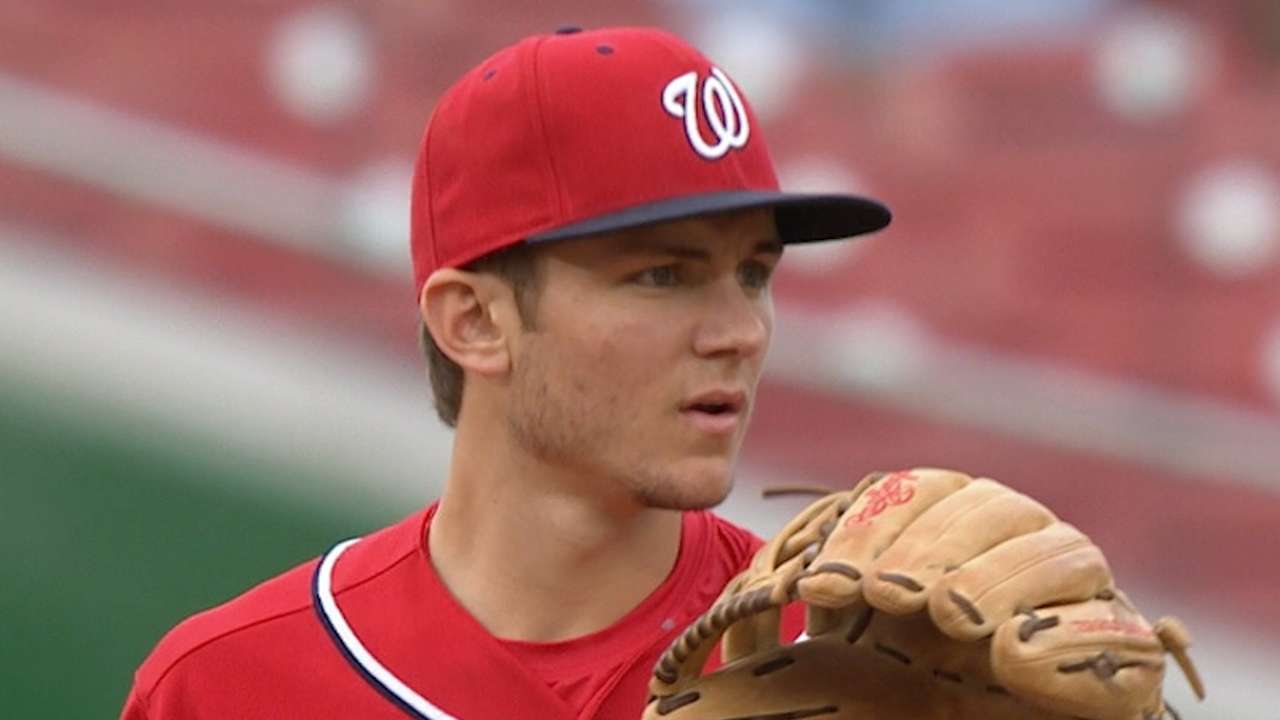 I'm asking for a prediction: Who do you think will be the starting shortstop between Danny Espinosa, Trea Turner and Stephen Drew?
-- Kirk N., Washington, D.C.
If I had to pick a player, it would be Turner. For me, Turner and Revere would be lethal at the top of the order. I love Turner's bat, speed and glove, and I predict Baker will feel it the same way. With Ian Desmond gone, it's time to play the homegrown talent at short.
I'm not in favor of Espinosa or Drew, because they are too inconsistent at plate. Both players are pretty good defenders, but they strike out too much for my taste.
Bill Ladson is a reporter for MLB.com and writes an MLBlog, All Nats All the Time. He also can be found on Twitter @WashingNats. This story was not subject to the approval of Major League Baseball or its clubs.