Tanaka: Opening Day status to be determined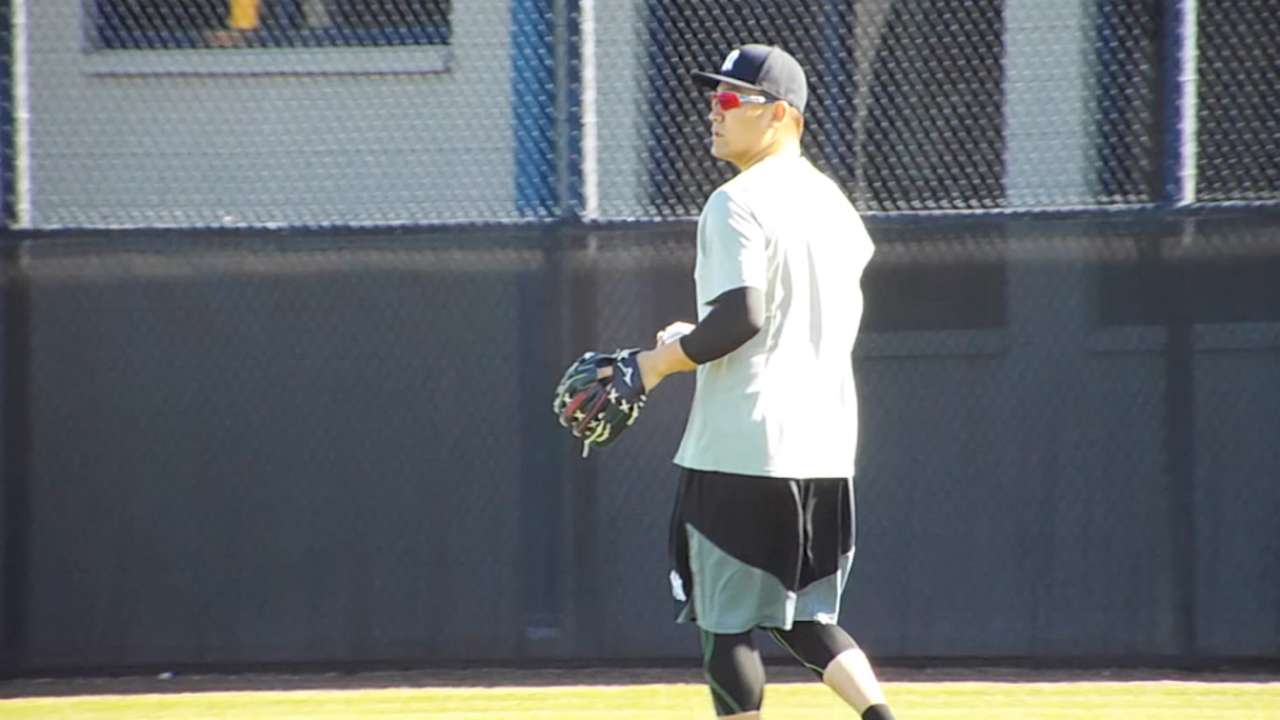 TAMPA, Fla. -- Yankees right-hander Masahiro Tanaka said on Friday that he "can't really say" if he will be ready for Opening Day until he resumes throwing off a mound and then in Grapefruit League games.
Tanaka had surgery this offseason to remove a bone spur from his pitching elbow. As such, the 27-year-old is not ready to commit to being on the mound for the Yankees' opener on April 4 against the Astros, as the team expects to handle him cautiously this spring.
"We'll take it day by day," Tanaka said through an interpreter. "I feel that I can't really talk about that at this point. I just want to see myself going to the bullpen, get the innings in, see how I feel."
Tanaka played catch on flat ground for about 15 minutes at the Yankees' Minor League complex on Friday morning, and he said that he was able to follow an offseason throwing program after the procedure. The Yankees have said the bone spur dates back to Tanaka's career in Japan.
"I didn't feel it overly when I was actually pitching, it was more so about after pitching," Tanaka said. "I felt there was a little bit more inflammation in that area. My thought process was that if we're able to take that bone spur off, we might be able to get not so much inflammation."
Tanaka, who went 12-7 with a 3.51 ERA in 24 starts last year, clarified that he has not yet thrown off a mound, as pitching coach Larry Rothschild indicated that he had last week. Tanaka said that he could do so this weekend at George M. Steinbrenner Field.
Rothschild said Friday that though the team will be careful with how it handles Tanaka, he believes the hurler will be ready for the first turn through the rotation.
"We've got so much time that if there's bumps in the road, I don't think it's going to be an issue," Rothschild said. "We're not going to try to push him through anything, even if it's something that seems like it doesn't mean much. We won't try to push through that."
Tanaka said that he does feel "perfectly healthy" and "doesn't even think about" the partially torn ligament in his pitching elbow that he has continued to pitch through.
Tanaka is looking forward to bouncing back from what he called a "frustrating" second year in pinstripes that included a stint on the disabled list for a right forearm flexor strain and right wrist tendinitis. He missed a September start due to a strained right hamstring and lost to the Astros in the American League Wild Card Game.
"I'm still at the stage of building myself up toward the season, but I feel it's going to be a better season," Tanaka said.
Bryan Hoch is a reporter for MLB.com. Follow him on Twitter @bryanhoch and read his MLBlog, Bombers Beat. This story was not subject to the approval of Major League Baseball or its clubs.