MLB Network ranks top right fielders right now
Harper, Stanton, Bautista land in top 3 of each ranking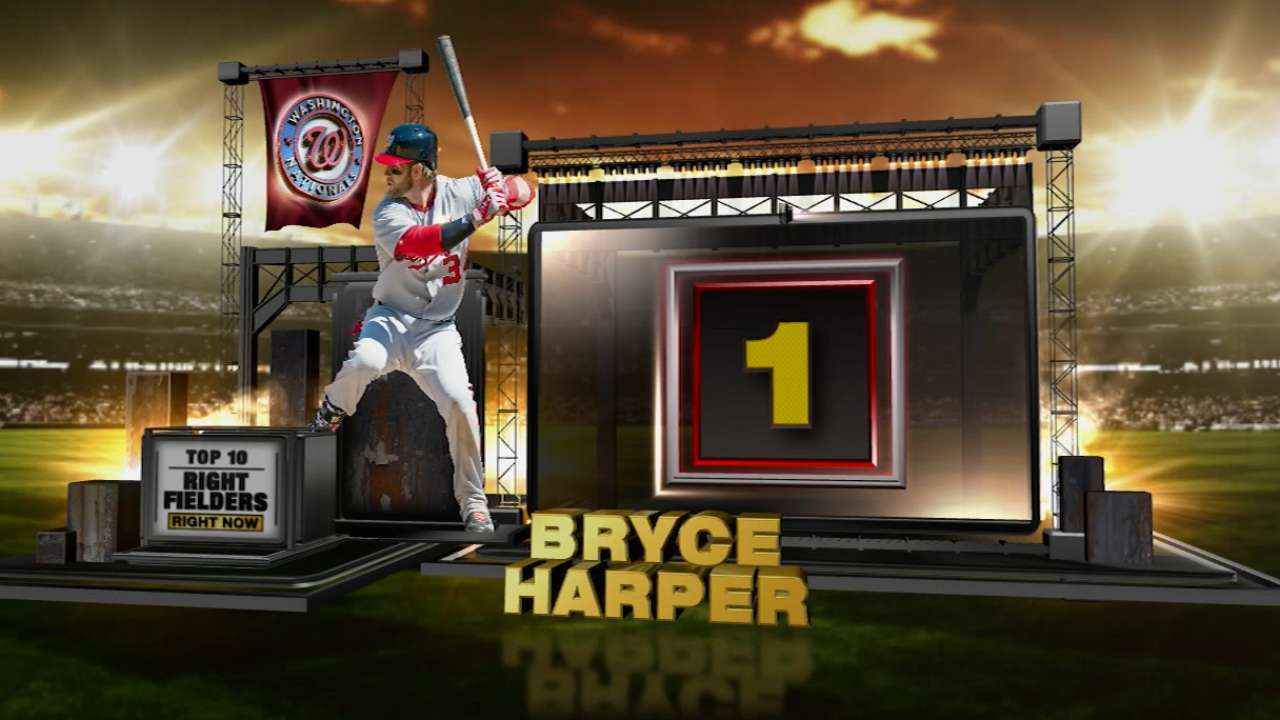 Right field is home to some of the game's top hitters, as evidenced by the fact that the position ranked second behind only first base last year in home runs, slugging percentage and OPS. Though the reigning National League Most Valuable Player hails from right field, he has plenty of competition when it comes to sorting out the best right fielders in the game.
MLB Network attempted to make sense of the madness Thursday night, relying on results from "The Shredder" -- an algorithm based on player performance that accounts for both offense and defense, which was put together by MLB Network's research department "without emotion or bias." Host Brian Kenny and guest host Eric Byrnes also provided their top 10s.
"The Shredder" uses an objective methodology to rank players at each position based on track record as well as future projection. It weighs the offensive and defensive statistics for a player in both one- and two-year increments and places more emphasis on defense at positions that are on the right of the defensive spectrum, i.e., catcher, shortstop, second base and center field. It also takes into account a player's durability as well as the offensive environment of his home park. (In other words, it gives more credit to home runs hit in San Diego as opposed to Colorado.)
MLB Network's Top 10 Right Fielders Right Now:
1. Bryce Harper
2. Giancarlo Stanton
3. Jose Bautista
4. Mookie Betts
5. J.D. Martinez
6. Nelson Cruz
7. George Springer
8. Yasiel Puig
9. Miguel Sano
10. Ryan Braun
Harper supplanted Stanton, last year's top-ranked right fielder, thanks to an historically impressive MVP campaign in 2015. The 2010 first-round pick posted an incredible .330/.460/.649 batting line while tying for the NL lead with 42 home runs. Harper also worked 124 walks and scored an NL-best 118 runs.
"All the promise, all the hype and, last year, Bryce Harper exceeded expectations -- think about that," Kenny said. "A high school phenom, jumping into the Draft as early as possible and last year, in his age-22 season, churns out a mind-blowing .460 on-base [percentage], slugging a league-leading .649. That type of production, at that age, is the rare air of the Hall of Fame outfielder."
The Shredder and both analysts all agreed on the top three right fielders, ranking Harper, Stanton and Bautista at the top of each of list. The rest, however, is far from unanimous, with plenty of variation to round out the top 10.
Biggest disagreements
MLB Network's Top 10 RF lists
| RANK | NETWORK | KENNY | BYRNES |
| --- | --- | --- | --- |
| 1 | Harper | Harper | Harper |
| 2 | Stanton | Stanton | Stanton |
| 3 | Bautista | Bautista | Bautista |
| 4 | Betts | Betts | Gonzalez |
| 5 | Martinez | Martinez | Martinez |
| 6 | Cruz | Sano | Springer |
| 7 | Springer | Springer | Granderson |
| 8 | Puig | Pence | Betts |
| 9 | Sano | Cruz | Pence |
| 10 | Braun | Choo | Cruz |
Carlos Gonzalez's first career 40-homer season was enough to crack Byrnes' top 5, though the Rockies slugger was noticeably absent from the other two lists. Byrnes also included veteran Mets outfielder Curtis Granderson at No. 7, while neither The Shredder nor Kenny found room for Granderson.
"Granderson is a tough case," Kenny said. "It broke my heart to leave him off, because he's coming off a very good year. The on-base [percentage] came back, the fielding, he's a complete player -- but I just had to drop him off once we got Sano and Betts on this list."
Kenny instead opted to also include Shin-Soo Choo at No. 10 and Sano, a third baseman set to transition to an entirely new position in right field, at No. 6. Sano dazzled in his rookie season, crushing 18 home runs in just 80 games for the Twins in 2015.
"[Sano's] not in my top 10 because of the small sample size, and he's only played 80 games," Byrnes said. "There are some other guys that deserve to be on this list that have done it more consistently for a longer period of time. Now, have they put up the astronomical numbers that Miguel Sano did in his first 80 games? No, not necessarily, so show me a little more and he'll be right up there."
As for The Shredder, the algorithm-produced ranking slotted 32-year-old Braun into the No. 10 spot and Puig at No. 8. Neither analyst included either of those two players in his individual rankings.
Biggest risers
Though the top three players remained unchanged from a year ago (except the order, of course), the rest of the right-field rankings experienced quite an overhaul. In fact, six of the seven remaining right fielders on The Shredder's list this year were not members of the top 10 last year. After all, two of last year's top 5 are no longer eligible, as Jason Heyward (No. 4 last year) has shifted to center field and Michael Cuddyer, last year's No. 5-ranked right fielder, has since retired.
Betts made the highest jump, going from unranked to No. 4 following his breakout season last year for the Red Sox. Other newcomers to the top 10 include Cruz (No. 6), Springer (7), Puig (8), Sano (9) and Braun (10).
"I think if we look at their careers 10 years from now," Byrnes said, "I would not be shocked at all if Mookie Betts far outplays Jason Heyward."
Chad Thornburg is a reporter for MLB.com. This story was not subject to the approval of Major League Baseball or its clubs.