No dispute atop Network's catcher rankings
Posey rated No. 1 by The Shredder, both analysts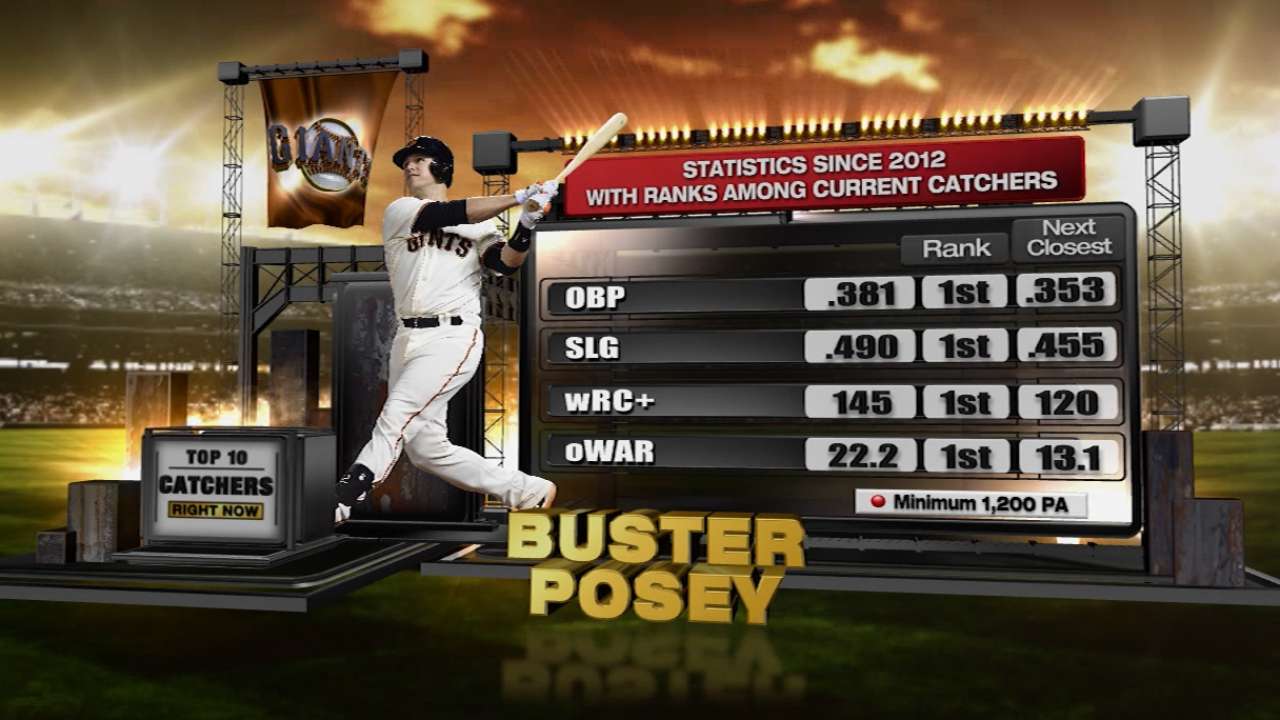 Behind every great pitcher is a great backstop, and while the hurler traditionally consumes much of the spotlight, today's crop of catchers is stacked with elite talent and some of the game's biggest stars.
As MLB Network continues to chronicle the best players at each position, the network turned its attention behind the plate Thursday, unveiling its list of the top 10 catchers. The rankings are based on results from "The Shredder" -- an algorithm based on player performance that accounts for both offense and defense that was put together by MLB Network's research department "without emotion or bias." Host Brian Kenny and guest host Dave Valle also provided their top 10s.
"The Shredder" uses an objective methodology to rank players at each position based on their past track records as well as their future projection. It weighs the offensive and defensive statistics for a player in both one- and two-year increments and places more emphasis on defense at positions that are on the right of the defensive spectrum, i.e., catcher, shortstop, second base and center field. It also takes into account a player's durability as well as the offensive environment of his home park. (In other words, it gives more credit to home runs hit in San Diego as opposed to Colorado.)
MLB Network's Top 10 Catchers Right Now
1. Buster Posey
2. Russell Martin
3. Jonathan Lucroy
4. Francisco Cervelli
5. Stephen Vogt
6. Brian McCann
7. Yadier Molina
8. Salvador Perez
9. Derek Norris
10. Travis d'Arnaud
There was very little debate atop the list as Posey retained his first-place ranking, a sentiment shared by both analysts. Posey earned a trip to his third All-Star Game last season, batting .318/.379/.470 with 19 homers and 95 RBIs. When it came time to discuss the computer's evaluation, the conversation wasn't centered around his positional ranking but how he stacks up among the best players in all of baseball.
"Not a real surprise," Kenny said. "He has emerged as the no-doubt leader at the catching position."
"Buster Posey can do everything on a baseball field. There is nothing this young man cannot do," Valle said. "He's like having another manager out there on the field [and is] well respected by his teammates."
In his first year with the Blue Jays, Martin climbed from No. 5 to second, behind Posey. Martin, who turns 33 this month, was a steady presence behind the plate and contributed a productive bat to an already potent Blue Jays lineup.
"The longer you're behind the plate in that position, it seems like you get smarter, you get better, kind of like a fine wine," Valle said. "It seems like wherever this guy shows up, the team wins. He has a big impact on the pitching staff."
• Top 10 Right Now: Right Fielders
Biggest disagreements
MLB Network's Top 10 C lists
| RANK | NETWORK | KENNY | VALLE |
| --- | --- | --- | --- |
| 1 | Posey | Posey | Posey |
| 2 | Martin | Martin | Molina |
| 3 | Lucroy | Lucroy | Perez |
| 4 | Cervelli | Perez | Martin |
| 5 | Vogt | Molina | Lucroy |
| 6 | McCann | Vogt | Grandal |
| 7 | Molina | d'Arnaud | McCann |
| 8 | Perez | McCann | d'Arnaud |
| 9 | Norris | Cervelli | Castro |
| 10 | d'Arnaud | Grandal | Vogt |
Long considered one of the best defensive catchers in the game, Molina surfaced on the program much earlier than expected. The Cardinals veteran clocked in at No. 7 on The Shredder's rankings, a considerable drop from his No. 3 ranking in 2015.
Molina endured a down year offensively in 2015, batting .270/.310/.350, his lowest marks since 2010, and was also limited by a late-season thumb injury. Despite the downward trend at the plate, Molina still posted the lowest catcher's ERA (2.80) among qualified backstops and earned his seventh straight All-Star nod and eighth consecutive Gold Glove Award.
It's that defensive expertise and other unquantifiable intangibles that had Molina higher on both the lists of Kenny (No. 5) and Valle (2).
"The Shredder, I think, has short-term memory loss, because this guy, first and foremost, is still the best defensive catcher in the game," Valle said. "The leadership, the controlling of a staff, the calling of a ballgame, this guy impacts every single game that he's in."
"Nobody runs on him," Kenny said. "He's No. 1 in just teams not running on him, and then guys that do run on him, you figure the only ones that are going to try are the very best or the most desperate, and he still throws out half of those guys that even try to run."
Another catcher both analysts elevated above The Shredder's ranking was Kansas City's Perez. The 25-year-old was last season's World Series MVP and a key component to the Royals' title run.
"At this point, where The Shredder is, I think needs a little bit of calibration because I don't think it's giving enough credit to what Salvador Perez brings to a team," Valle said. "For those guys coming out of the bullpen to see Sal Perez back there every single night, day in, day out, had a huge impact. A big reason why that team won the World Series."
Biggest risers
Unlike other positions around the diamond, the Shredder's list at catcher endured less turnover, seeing just three new names crack the top 10 -- Cervelli (No. 4), Vogt (5) and d'Arnaud (10).
Cervelli and Vogt are coming off their first seasons as full-time catchers, while the 27-year-old d'Arnaud, who was limited by injuries in 2015, has yet to play a full season in the big leagues.
Cervelli enjoyed the biggest rise, as the former Yankees' reserve went from unranked to fourth on the list in his first year as the Pirates' primary backstop. Cervelli hit .295/.370/.401 with seven homers, 43 RBIs in a career-best 130 games.
"This was a young man who got the opportunity to show up and play every day, and he took advantage of it," Valle said.
Chad Thornburg is a reporter for MLB.com. This story was not subject to the approval of Major League Baseball or its clubs.