Spring around corner as Padres send off trucks
Spangenberg, Jankowski interact with fans at Petco Park
SAN DIEGO -- When the first of two trucks carrying 17,000 pounds of equipment slowly rolled away from Petco Park on Wednesday, Spencer Dallin had just one thought continually race through his head.
Spring Training is finally here? No, that wasn't it.
Instead, Dallin, the Padres' first-year equipment manager had a thought a lot of us have had when embarking on an important trip.
"Did I forget anything?" Dallin said Thursday.
Dallin, in his 22nd season with the team, is now in charge after spending the last 14 seasons as the assistant equipment manager. He's loaded plenty of trucks to carry the Padres' equipment, uniforms, you name it, to Arizona before.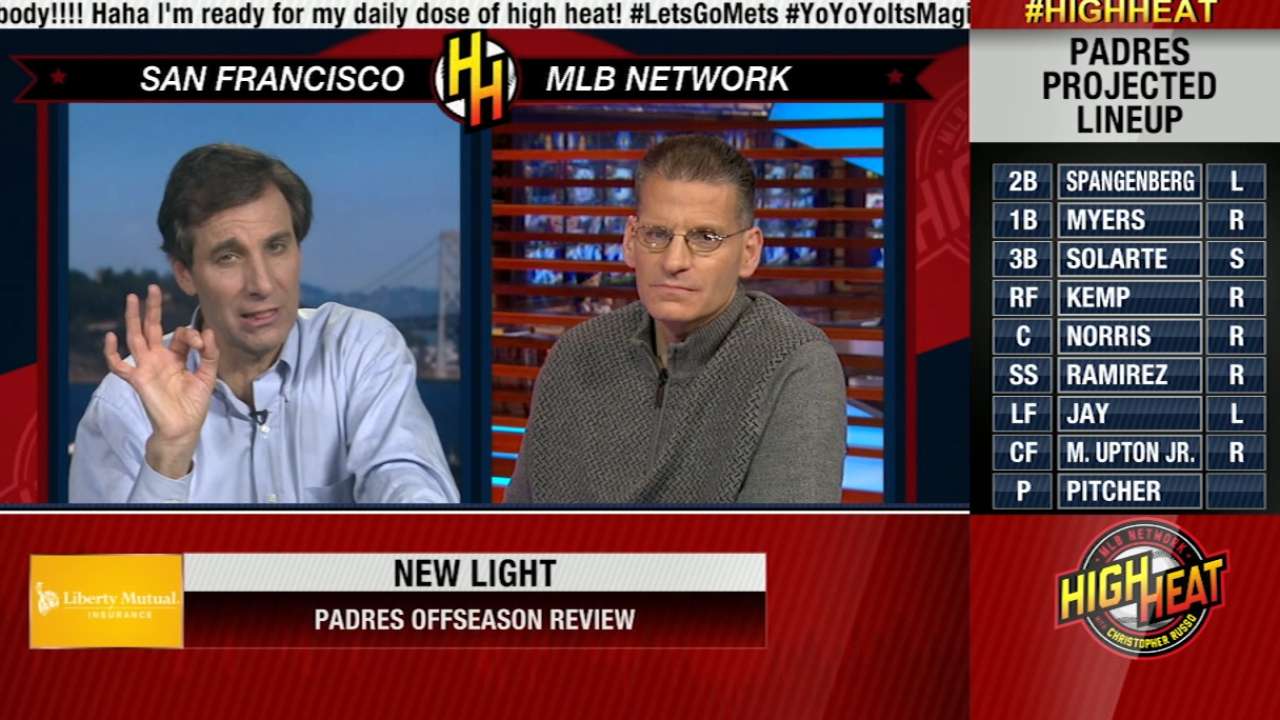 But this is the first time he's been in charge.
His biggest fear, therefore, was somewhat justified.
"It's forgetting something, the little things, making sure the uniforms made it … making sure I didn't forget a pallet somewhere," Dallin said.
On Thursday, the second of the two Padres trucks left Petco Park, set to make the 357-mile journey to the Peoria Sports Complex. A normal drive in a car might take five hours. In the semi, however, it's closer to 7 1/2 hours.
The Padres held a gathering for fans outside Petco Park on Thursday morning to bid farewell to the second truck and give away tickets -- and coffee and donuts.
San Diego second baseman Cory Spangenberg and outfielder Travis Jankowski were at the ballpark for photos with fans before the truck left. Spangenberg challenged a fan to a hula hoop contest. Jankowski was involved in a dance-off with a fan and a toddler. The toddler won.
Hula-hooping on truck day! ⚾️#PadresCaravan #SpangWon pic.twitter.com/VpvAGjrgKc

— San Diego Padres (@Padres) February 11, 2016
Both had no clues as to how much equipment the Padres were taking to Arizona.
"3,000 pounds," Jankowski said.
"5,000 pounds," Spangenberg guessed.
Both, as it turned out, were way off.
The pitching machines the team takes to Arizona account for the heaviest items on the trucks. There's roughly 116 boxes of sunflower seeds, 24 boxes of bubble gum, over 2,300 baseballs, 19 boxes of baseball caps, 18 boxes of Spring Training jerseys and even 15 boxes of shower shoes.
This was the first event of the weekend for Spangenberg and Jankowski, who are in town for the team's Caravan event, which runs through Saturday.
While Jankowski has been working out in Arizona, he said being at Petco Park on Thursday morning gave him the feeling that baseball is around the corner.
"There's just something about being at the ballpark, in front of your big league locker that makes you feel like baseball is here," he said. "It's like, 'Wow … it's right around the corner."
Pitchers and catchers report to Arizona next Thursday, with position players showing up on Feb. 23. The first full-squad workout is set for Feb. 24.
Corey Brock is a reporter for MLB.com. Keep track of @FollowThePadres on Twitter and listen to his podcast. This story was not subject to the approval of Major League Baseball or its clubs.