WBC play could cost prep Boyce HS eligibility
New Zealand-born Washington resident hopes to pitch for Kiwis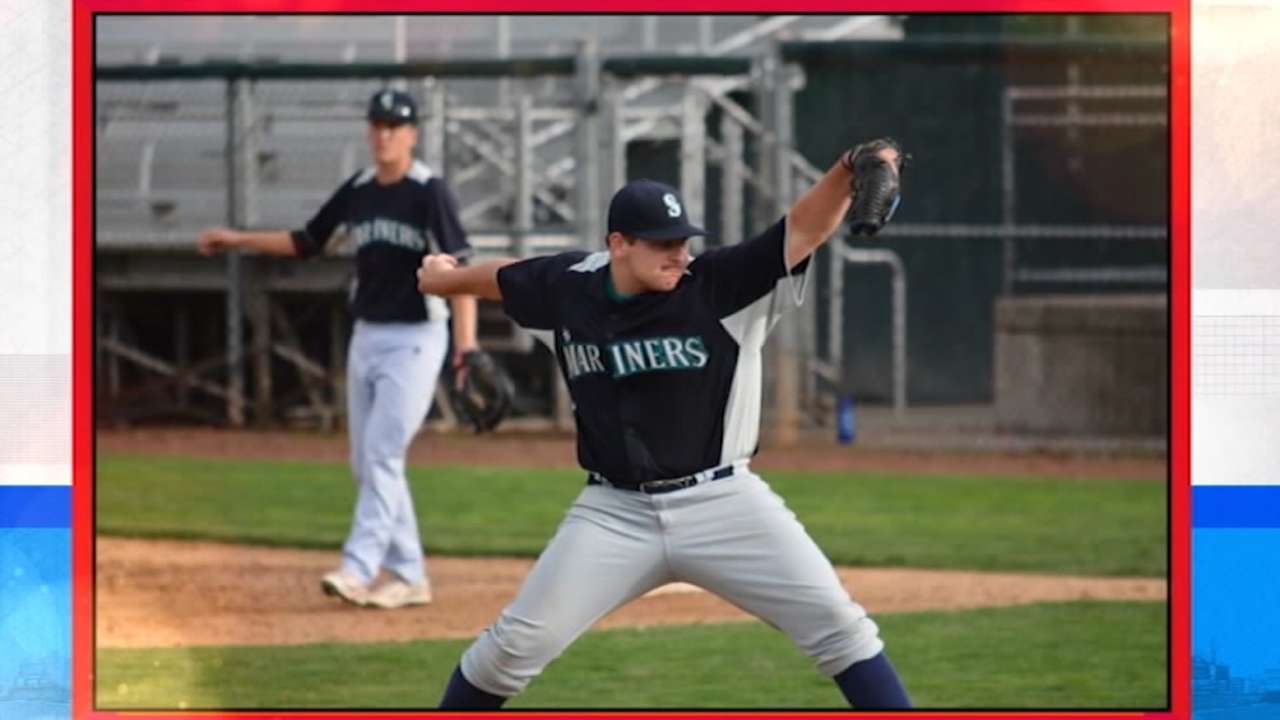 National pride and the chance to play in the ultimate international baseball tournament are apparently enough for Jimmy Boyce to be willing to potentially sacrifice his high school baseball career.
The 18-year-old pitcher, who was born in New Zealand but lives in Snoqualmie, Wash., is on the roster for the Kiwi team at the World Baseball Classic qualifier that is taking place in Sydney this week, with one of four teams (New Zealand, Australia, South Africa and Philippines) to emerge and make the 16-team field for the 2017 Classic.
• World Baseball Classic coverage
According to a story by MLB Network reporter Jon Paul Morosi for FOXSports.com, Washington Interscholastic Activities Association rules indicate that Boyce, a junior who was born in Tauranga, New Zealand, and lived in that country until moving to the U.S. in 2012, will become ineligible to play for Mount Si High School once he throws a pitch for New Zealand in the qualifier, because rules prohibit student-athletes from competing in team sports with or against professional players.
The Sydney qualifier features a handful of players with Major and Minor League experience, including several affiliated players and former big leaguers Luke Hughes, Ryan Rowland-Smith and Trent Oeltjen, all of whom are on the Australian roster.
"Jimmy has a lot of baseball ahead of him," New Zealand team CEO Ryan Flynn wrote to Morosi in an email from the qualifier, which is being played at Sydney's Blacktown Sportspark.
"While I do not believe that he should have had to make such a difficult decision in his young career, his makeup, his talent and desire put him in a position to have a solid collegiate career in the U.S., and, barring injury, I fully expect for him to be a professional baseball player, as well, in due course."
Morosi added that WIAA executive director Mike Colbrese said it's possible for Boyce to appeal if the player is ruled ineligible, which could happen depending on the Kiwi club's next game, which is scheduled for Thursday at 9 p.m. ET/1 p.m. Friday local time against the Philippines in a contest that will be streamed live on MLB.com and worldbaseballclassic.com and airing on MLB Network. Boyce did not appear in his team's first game in the qualifier, which New Zealand lost to South Africa.
In an email to Morosi, Jimmy's father, Joe Boyce, indicated that the prestige of the World Baseball Classic and the opportunity to wear the jersey of his native country might be worth the possible sacrifice.
"Jimmy just wants to play baseball with his friends and have the same opportunity to compete and win for the school," Joe Boyce wrote. "Will he be disappointed if he cannot play? Absolutely. He has dedicated himself to baseball.
"However, I can also say if it is a choice between playing high school baseball and representing New Zealand at the WBC or any other event, that is a very easy decision. All of our family take huge pride in being Kiwis."
Qualifier schedule/results:
THURSDAY
• South Africa 7, New Zealand 1
• Australia 11, Philippines 1
FRIDAY
• Philippines vs. New Zealand:
Local: 1 p.m.
ET: 9 p.m. Thursday
Watch: Live on MLB.com, WorldBaseballClassic.com and ESPN Pac-Rim
• Australia vs. South Africa:
Local: 7:30 p.m.
ET: 3:30 a.m.
Watch: Live on MLB Network, MLB.com, WorldBaseballClassic.com and ESPN Pac-Rim
SATURDAY
• TBD vs. TBD:
Local: 6:30 p.m.
ET: 2:30 a.m.
Watch: Live on MLB Network, MLB.com and WorldBaseballClassic.com (ESPN Pac-Rim delayed to 12:30 p.m. local)
SUNDAY
• Finalist 2 vs. Finalist 1:
Local: 2 p.m.
ET: 10 p.m. Saturday
Watch: Live on MLB Network, MLB.com and WorldBaseballClassic.com (ESPN Pac-Rim delayed to 11 p.m. local)
Doug Miller is a reporter for MLB.com. Follow him on Twitter @DougMillerMLB. This story was not subject to the approval of Major League Baseball or its clubs.