Healthy Pressly seeks bullpen spot
Right-hander missed the second half of 2015 with a lat injury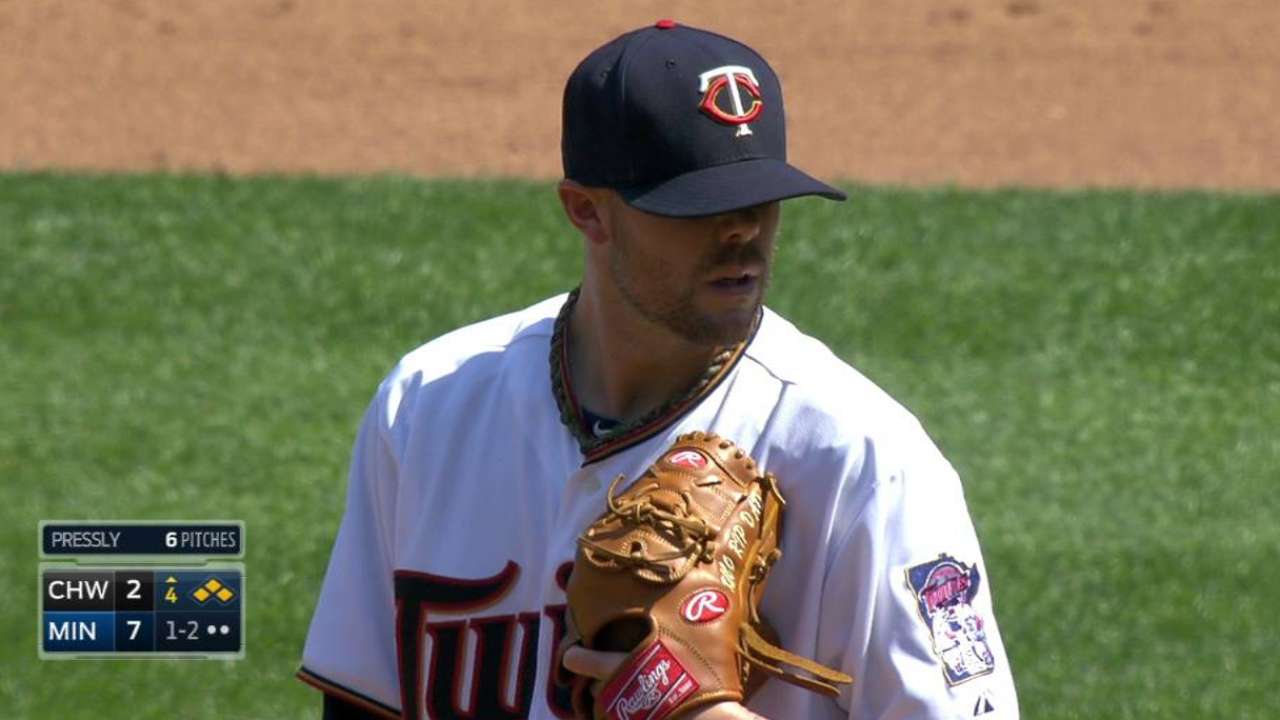 MINNEAPOLIS -- Twins reliever Ryan Pressly was feeling particularly good during last season's big series against the first-place Royals in Kansas City on the Fourth of July.
The right-hander was throwing harder than he had all season, hitting 98 mph on the radar gun twice in a perfect sixth inning. But he immediately knew something was wrong after his second pitch of the seventh, which registered at 97 mph.
Pressly felt something in the back of his shoulder. After several tests, it was determined he had strained his lat muscle. He tried to rehab it to make it back during the regular season, but after a small setback in mid-August, Pressly was forced to miss the rest of a promising 2015.
But Pressly is healthy now, as he was cleared at the end of the season. He said his taste of success before the injury is driving him heading into '16. The righty was emerging as a go-to reliever, posting a 2.93 ERA with 22 strikeouts in 27 2/3 innings after being called up from Triple-A Rochester.
"After getting shut down, the main goal was just getting into the offseason healthy," Pressly said. "I wanted to have a healthy, clean offseason. My main thing was putting on some weight to be a bit stronger. But the lat is feeling really good, so if I can come back and still be in the upper 90s, that'd be nice."
Pressly, 27, started his throwing program in December and is already working out at the club's Spring Training complex in Fort Myers, Fla. He's still being cautious after the injury because he wants the training staff to be there for his first bullpen sessions.
Pressly said he's excited to get back on the mound, as it was tough to watch from the bench during the second half of last season. One positive, though, was that he pitched well before the injury, which gives him and the Twins confidence heading into '16.
"You never want to get hurt, but if you do get hurt, you at least wanna get hurt while you're doing something good," Pressly said. "So you leave something good in their mind. Like if I would've had a whole season, who knows what would've happened? The hardest part was just sitting on the bench watching all my teammates."
Pressly doesn't plan on holding anything back this spring since he will be competing for a spot in the bullpen. He knows it'll be a challenge to make the Opening Day roster despite his success over parts of the past three seasons in the Majors. He has a career 3.46 ERA in 132 2/3 innings. He said he's trying to not think too much about how the bullpen will shake out, but he admitted it's tougher to do as Spring Training goes along.
"After like the first or second cut, you try not to play manager, but it can be hard not to," Pressly said. "I feel like I left on a good note. I was starting to get some meaningful innings, so we'll see how it goes."
Rhett Bollinger is a reporter for MLB.com. Read his blog, Bollinger Beat, follow him on Twitter @RhettBollinger and listen to his podcast. This story was not subject to the approval of Major League Baseball or its clubs.