Horton discusses Aaron's legacy
Former Tigers outfielder sits in for Smithsonian Channel documentary in Detroit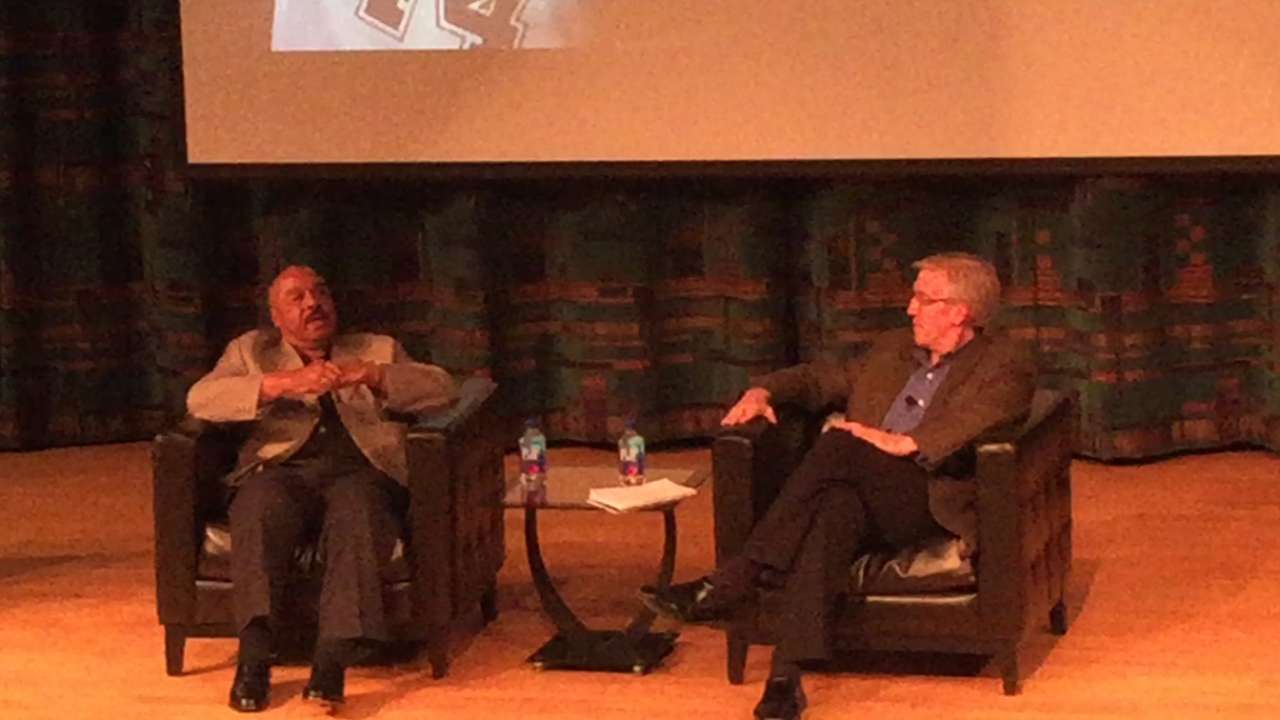 DETROIT -- Willie Horton still vividly remembers his first arrival at Spring Training in Lakeland, Fla., 55 years ago. It was by foot.
"I got on the bus in Tampa," Horton recalled for an audience on Wednesday night. "The bus was full, and I just went to the back anyway. But when I got to Lakeland, I went around to see if anybody could take me to Tiger Town. And [the cab driver] said he couldn't take me.
"I thought he was joking, because you hear about [teammates] playing rookie jokes on you. So I said, 'Well, how do I get there?' He said, 'Well, you have to walk about four or five miles.' So I got my duffel bag, and I walked to Tiger Town."
As Horton looks back, he said, "It was one of the best walks I've had in my whole life, [because] it got me involved way beyond the field, with what I'm doing today in life."
As America observes Black History Month, Horton, an 18-year big leaguer from 1963-1980 and a Tigers special assistant to the general manager, is a bridge between generations. He can consider Hank Aaron a contemporary, as he recalled on Wednesday night during a screening of an upcoming Smithsonian Channel documentary on Aaron and his chase of baseball's career home run record.
And yet, as he shared his memories with a crowd that spanned generations at Detroit's Charles H. Wright Museum of African American History, he answered a question about Cam Newton's post-Super Bowl performance without a flinch or a fidget.
"I know I was a hard loser myself," Horton said. "I think I see a big kid out there having fun. He's bringing something new to the game. There's nothing wrong with that. I think sometimes we kind of close our minds on the way things are."
Better, Horton said later, that Newton avoided saying something he could regret, giving himself time to think rather than react.
The documentary, "The Hammer of Hank Aaron," will air at 8 p.m. ET on Feb. 29 on the Smithsonian Channel, opening a weekly series of Major League Legends documentaries. Detroit was the second stop on a screening tour that began with Aaron in Atlanta and will continue onto several more cities.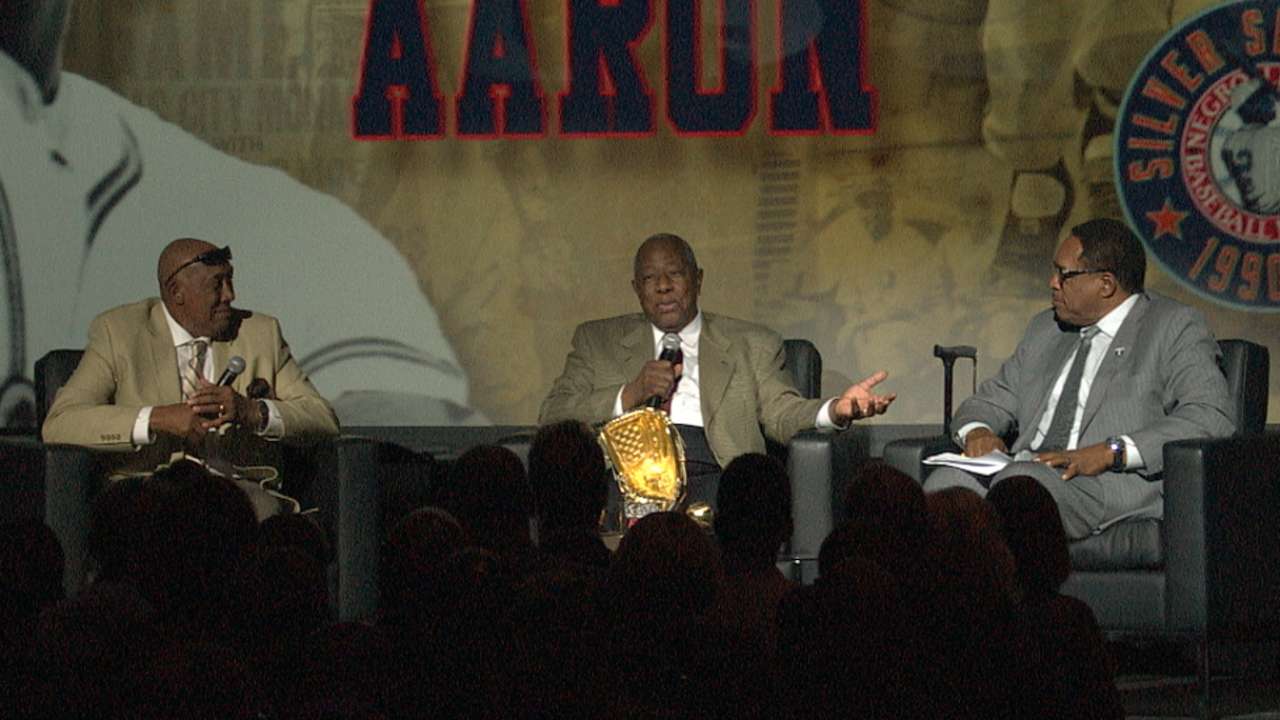 Though Horton isn't in the documentary, he was an ideal authority in Detroit to talk about it. He remembers having a poster counting down how many home runs Aaron needed to set the Major League career record, even though Horton himself was a veteran big leaguer at the time.
More importantly, he can relate to the struggles with racism that Aaron encountered as he closed in on the record.
"I think through some early times in my career, Henry Aaron got me through some troubled times along with Ernie Banks and other people," Horton said. "When I came up with the Tigers, there were still things in our organization that weren't right. I didn't understand why I had to go through it. I just wanted to play baseball.
"But Hank used to call me two or three times a week. Ernie Banks would call me every day."
Aaron's grace, Horton said, set the tone for how to conduct himself. If he had reacted angrily in public to the hate mail, or even acknowledged it, he'd just be inviting more of it. He wouldn't let them see the hurt.
It's important, Horton acknowledged, that people remember such history. But at the same time, he said, it's equally important to let younger generations help change minds with time.
"You leave it to the young people," Horton said. "If you let the young people get more involved, you'd be surprised."
Horton has gotten involved across generations, and he thanks that walk for getting him there.
"It hurt," Horton said, "but that walk took me places."
Jason Beck is a reporter for MLB.com. Read Beck's Blog, follow him on Twitter @beckjason and listen to his podcast. This story was not subject to the approval of Major League Baseball or its clubs.