Bush dedicated to advancing urban baseball programs
New Rangers youth director sees untapped talent in North Texas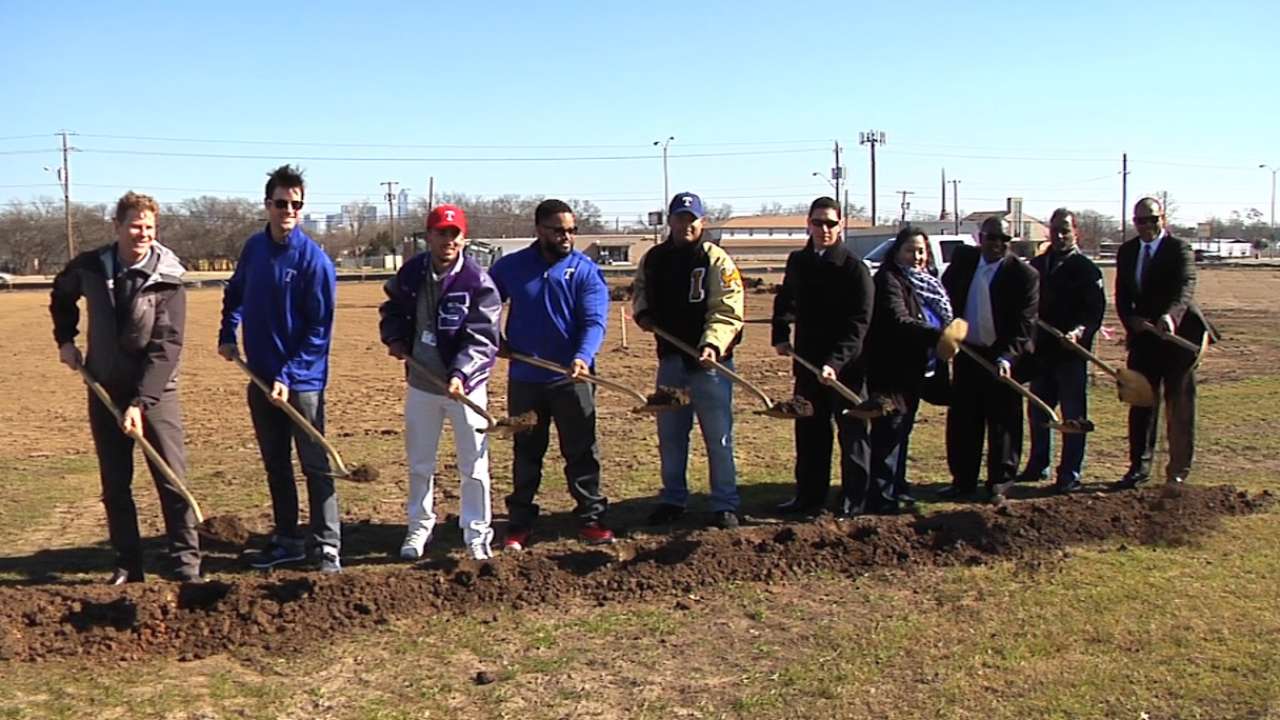 ARLINGTON -- Former Major League second baseman Homer Bush retired from baseball after the 2005 season, and he found success in the financial world working for Merrill Lynch.
But the passion for baseball and working with kids never left him. He kept a hand in the game doing camps and clinics during the summer for the Blue Jays and Yankees, and then he served as a hitting instructor in the Padres' organization during the 2014 season. Last year, he was an instructor at the Elite Development Invitational with Major League Baseball and USA Baseball.
• Texas Rangers Baseball Foundation
Now he is settling into what he describes as the "perfect job" for him. Bush, who lives with his wife Monica and two children, Jailyn and Homer Jr., in Southlake, Texas, was hired this offseason to be the Rangers' director of youth baseball programs.
The Rangers, because of the tireless efforts of the Texas Rangers Baseball Foundation and executive director Karin Morris, have invested heavily in youth baseball in the Metroplex. They are strong supporters of the Dallas and Fort Worth RBI programs, as well as the Miracle League of Dallas-Fort Worth, and provide grants to support youth baseball and softball programs throughout the area.
The most ambitious project is just getting started. The Rangers, Mercy Street, Major League Baseball and the Players Association announced in December the founding of the Urban Youth Academy being built in West Dallas near Pinkston High School. The academy is expected to be in full operation this summer.
• Bush inspired to never quit by Jackie, Wills
"RBI is near and dear to my heart," Bush said. "I'd love to work with inner-city kids for the rest of my days of coaching, because I feel however the process is running, it's not making it feasible for inner-city kids to play the game … which is unfortunate.
"There is a lot of good talent there. These are unbelievable programs. They are cost-efficient. They are doing the best they can to get the kids good information, and when you are trying to do the best you can to reach as many kids as possible, that's a tough process. There is a lot of time, money and effort being put into these organizations, and they have a very good chance of producing players."
You can start with players like Clayton Kershaw, Jake Arrieta, Shawn Tolleson, Michael Choice, Brad Hawpe, Hunter Pence, Noah Syndergaard and Brandon Finnegan to see that North Texas is a gold mine for finding outstanding baseball prospects. TCU, Dallas Baptist and Texas Wesleyan's college programs thrive on local talent. Grayson Junior College in Denison brought back baseball 20 years ago and became an immediate powerhouse, winning three national titles, by tapping into the immense talent in North Texas.
Then you look at Ellis Burks and Yovani Gallardo, strong baseball programs like Arlington Heights under Tommy Elliott and W.T. White under David Shepherd, or the work of the Fort Worth West Side Little League to understand there is more talent in the inner-cities of Fort Worth and Dallas to be reached. Much of the Major League talent in North Texas has come from the suburbs and to the front through the select teams that abound, including the powerful Dallas Mustangs.
The Urban Youth Academy and the RBI programs offer a chance for more than the select-league players to get a chance to enjoy the benefits of playing baseball.
• Reviving Baseball in Inner Cities
"What's happening in the select [leagues], there is so much money being pumped into that, the elite players will be taken out of RBI," Bush said. "So you have to make do with what is left. That's why if we reach out to as many kids as possible and get them to understand their true potential, then there will be enough elite talent for RBI to survive.
"What I'm excited to do is get in and get to know the kids, and find out where the talent is."
Bush received his first glimpse of the potential when he did a clinic for Mercy Street, the West Dallas civic organization that is a driving force behind the Urban Youth Academy.
"Really good ballplayers," Bush said. "Good footwork, and more importantly, they understood the game. It was cold outside and it was late in the evening, but they were out there in their T-shirts. I'm thinking, 'Man you have to be freezing.' I like what I have seen so far on the surface.
"The thing I didn't know about RBI, most of it is volunteer coaching. That's extremely important. It takes up a lot of time. To make this program work, it is going to take a lot of work from a lot of people."
Bush said it comes down to identifying talent, making the talent better and giving that talent the opportunity to get to the next level.
"In Latin America, they are very poor, but they somehow find a way to get to the next level," Bush said. "They have a functioning system that allows their players to get to the Major Leagues. We just have to make sure they get the right coaching and the right information, and the ability to play baseball in a first-class facility 12 months out of the year. Give them a fun, safe environment where they can learn. Don't put too much pressure on them.
"I can't help but see only good things out of this program."
T.R. Sullivan is a reporter for MLB.com. Read his blog, Postcards from Elysian Fields, follow him on Twitter @Sullivan_Ranger and listen to his podcast. This story was not subject to the approval of Major League Baseball or its clubs.