Rapada grateful to go out with Classic experience
Former big league reliever pitched perhaps his final game Thursday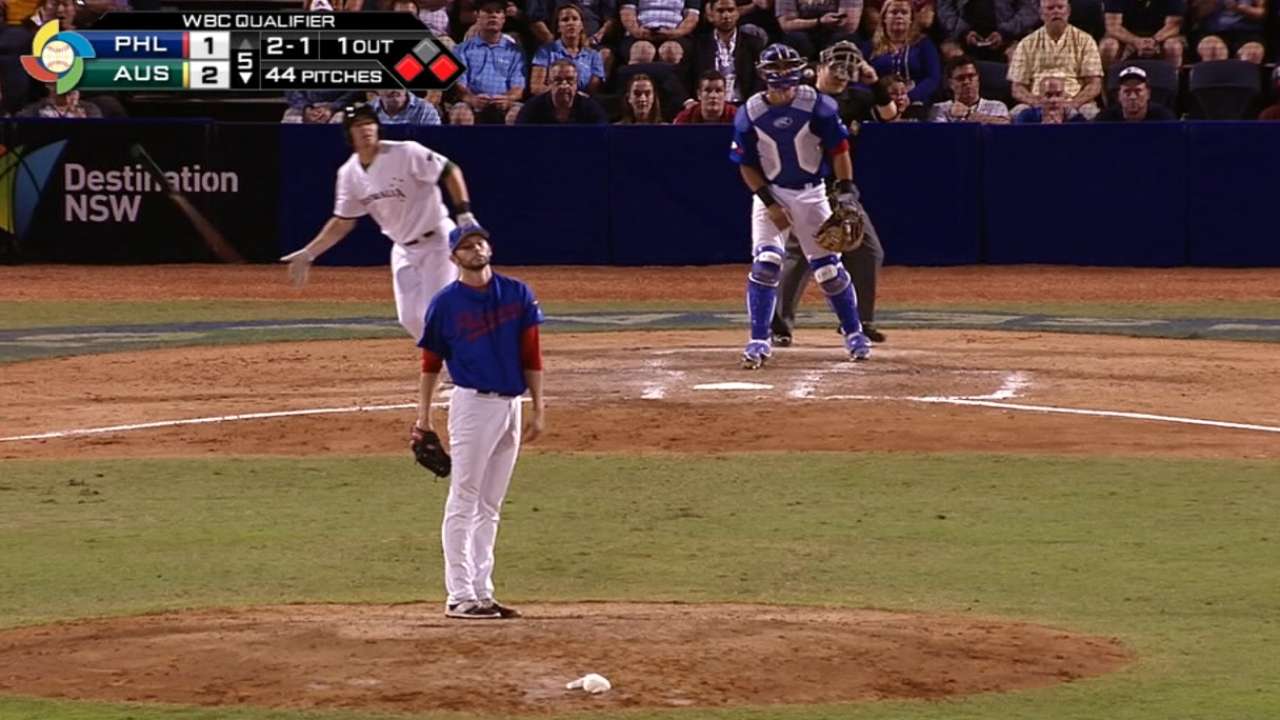 SYDNEY -- It may have been the last pitch of former Major League reliever Clay Rapada's career: a double off the bat of Australian former big leaguer Trent Oeltjen and into the gap that plated two and made it 4-1 in the fifth inning of an eventual 11-1 loss for the Philippines at the World Baseball Classic Qualifier on Thursday night.
"It was nice to come out here for the experience. To me, it is priceless," said Rapada. "I gave them what I got tonight. It was tough to train for this as quick as I can when I got the email [to join the team]. I gave it everything I got. I have to tip my caps to these guys, they've got a good squad."
For Rapada, who had playoff experience with the Yankees and Rangers, it has been a good ride. This latest opportunity was also one he couldn't pass up.
"This is my first [with the Philippines]," said Rapada. "I was invited in 2012, but I had a wedding -- my wedding. My wife would not have married me if I went to the Qualifiers the first time. So... she loves me."
Rapada, who had entered in the third inning Thursday for injured starter J.R. Bunda, finished off the third, pitched a scoreless fourth and struck out Japan Central League player Mitch Denning to start the fifth. A walk and single followed before Oeltjen chased Rapada from the game.
• Twins' farmhands lead Australia to WBC rout
With his 45 pitches, Rapada could return no sooner than Saturday, due to WBC rules. And that is if the Philippines beats New Zealand in an elimination game tonight at 9 p.m. ET/1 p.m. local time on Friday.
"We had a plan to use [Rapada] tonight. He's a guy that can pitch every day if he had to," said Philippines manager Tim Hulett. "He's the experienced guy. … You can't replace that. The experience he brings -- not just on the field, but going in the clubhouse, riding on the bus, doing other things -- he just brings that experience to the game, and it's been great for us, it really has."
Rapada pitched for 14 professional seasons, including 152 games in the Majors and another 497 in the Minors. He had said prior to the start of the tournament that this would be his last game action.
A Virginia native who pitched at Division II Virginia State University, he was signed as a free agent by the Cubs in 2002. He made his big league debut five years later with Chicago before being dealt to the Tigers later that season.
Rapada pitched in parts of seven seasons in the Majors for the Cubs, Tigers, Rangers, Orioles, Yankees and Indians, going 8-0 with a 4.06 ERA over 152 relief appearances. His best year came in 2012 for the Yankees, when he appeared in 70 games with a 2.82 ERA for the American League East champions.
Rapada is slated to be the pitching coach this season for the Giants' Class A Augusta affiliate.
"I told these guys [here] to enjoy it," said Rapada. "Wins and losses are going to come. An experience like this is once-in-a-lifetime. And being on a stage where MLB puts out a good show, they have to enjoy it, win or lose."
Qualifier schedule/results:
THURSDAY
• South Africa 7, New Zealand 1
• Australia 11, Philippines 1:
FRIDAY
• Philippines vs. New Zealand:
Local: 1 p.m.
ET: 9 p.m. Thursday
Watch: Live on MLB.com, WorldBaseballClassic.com and ESPN Pac-Rim
• Australia vs. South Africa:
Local: 7:30 p.m.
ET: 3:30 a.m.
Watch: Live on MLB Network, MLB.com, WorldBaseballClassic.com and ESPN Pac-Rim
SATURDAY
• TBD vs. TBD:
Local: 6:30 p.m.
ET: 2:30 a.m.
Watch: Live on MLB Network, MLB.com and WorldBaseballClassic.com (ESPN Pac-Rim delayed to 12:30 p.m. local)
SUNDAY
• Finalist 2 vs. Finalist 1:
Local: 2 p.m.
ET: 10 p.m. Saturday
Watch: Live on MLB Network, MLB.com and WorldBaseballClassic.com (ESPN Pac-Rim delayed to 11 p.m. local)
Niall Adler is a contributor to MLB.com. This story was not subject to the approval of Major League Baseball or its clubs.