Twins' farmhands lead Australia to WBC rout
Beresford, Wade help Qualifier host invoke mercy rule on Philippines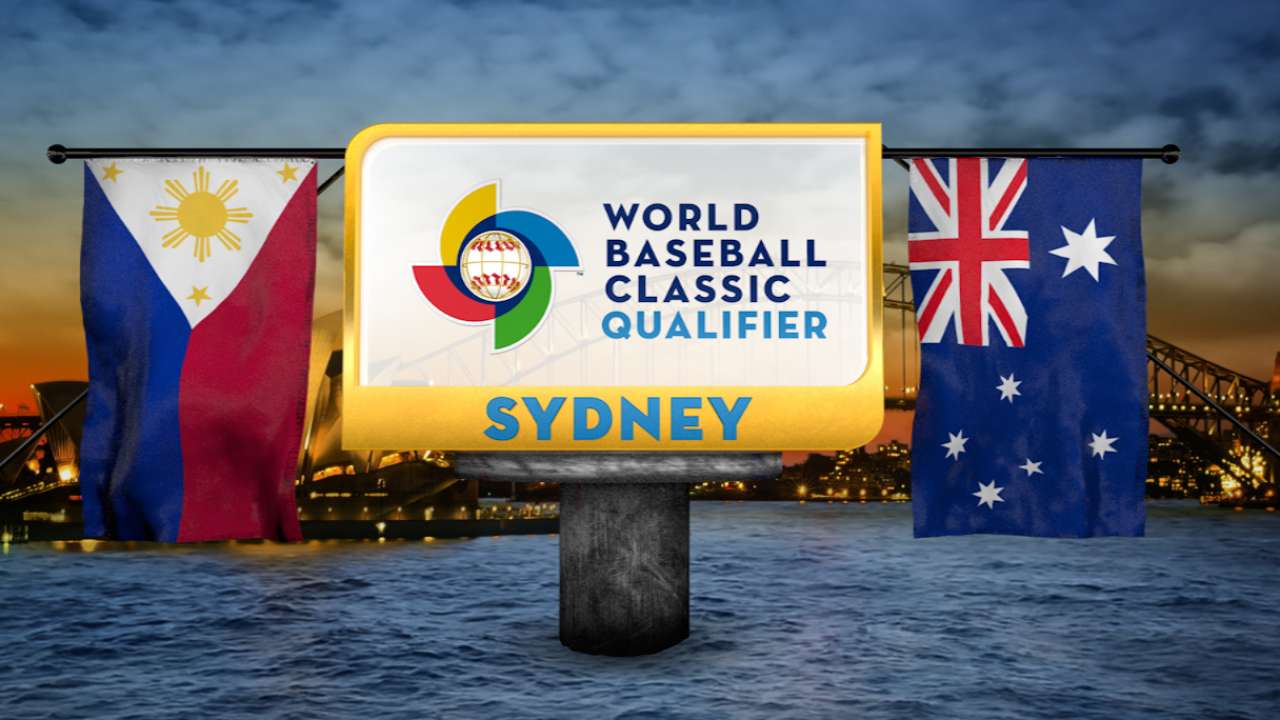 SYDNEY -- Twins Minor Leaguer James Beresford went 4-for-5 with three RBIs from the leadoff spot as Australia cruised by the Philippines, 11-1, prompting the mercy rule after seven innings on Thursday in the second game of the World Baseball Classic Qualifier at Blacktown International Sportspark. Australia will now face South Africa in the winner's bracket, while the Philippines will take on New Zealand in an elimination game.
"He's a great player," Australia manager Jon Deeble said of Beresford. "He's been in professional baseball for 11 years. He hit .300 in Triple-A. We just want him to get a chance in the big leagues because he is such a bloody good player. Hopefully, that is this year."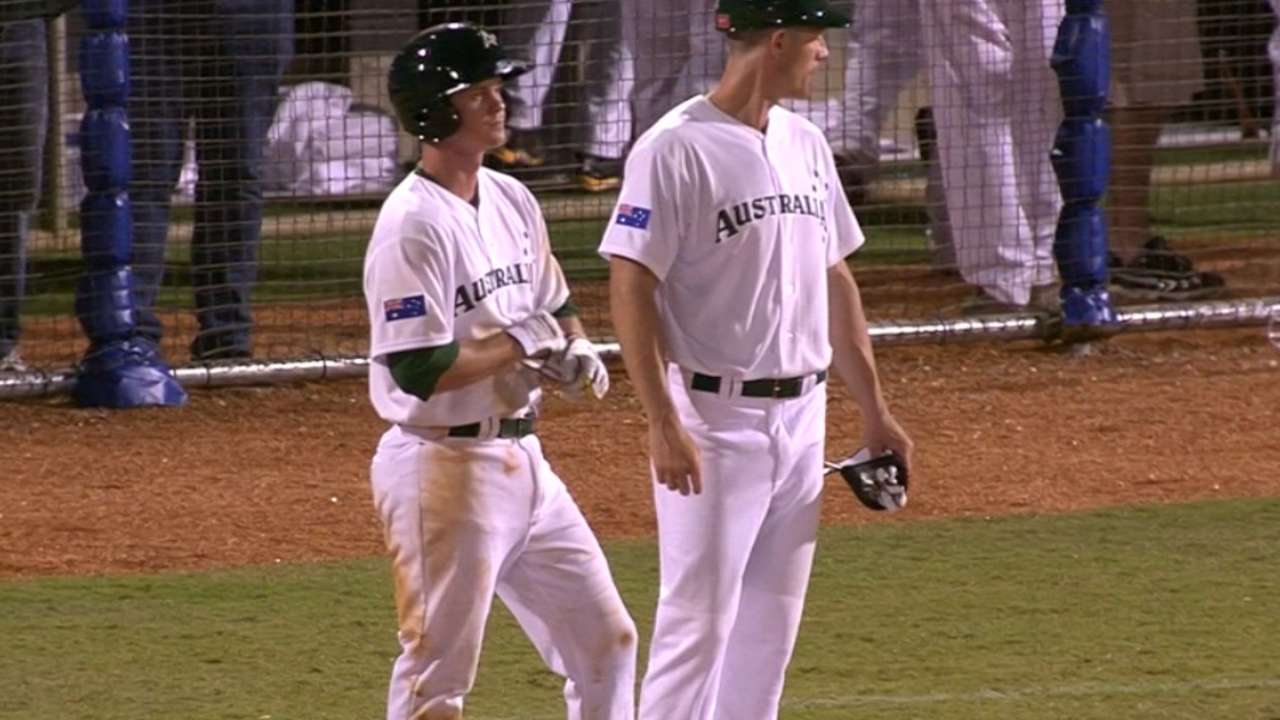 • Mariners' Unsworth leads RSA past New Zealand
• Complete World Baseball Classic coverage
Joining Beresford in Team Australia's rout, fellow Twins farmhand Logan Wade had two doubles and Stefan Welch went 2-for-4 with three RBIs.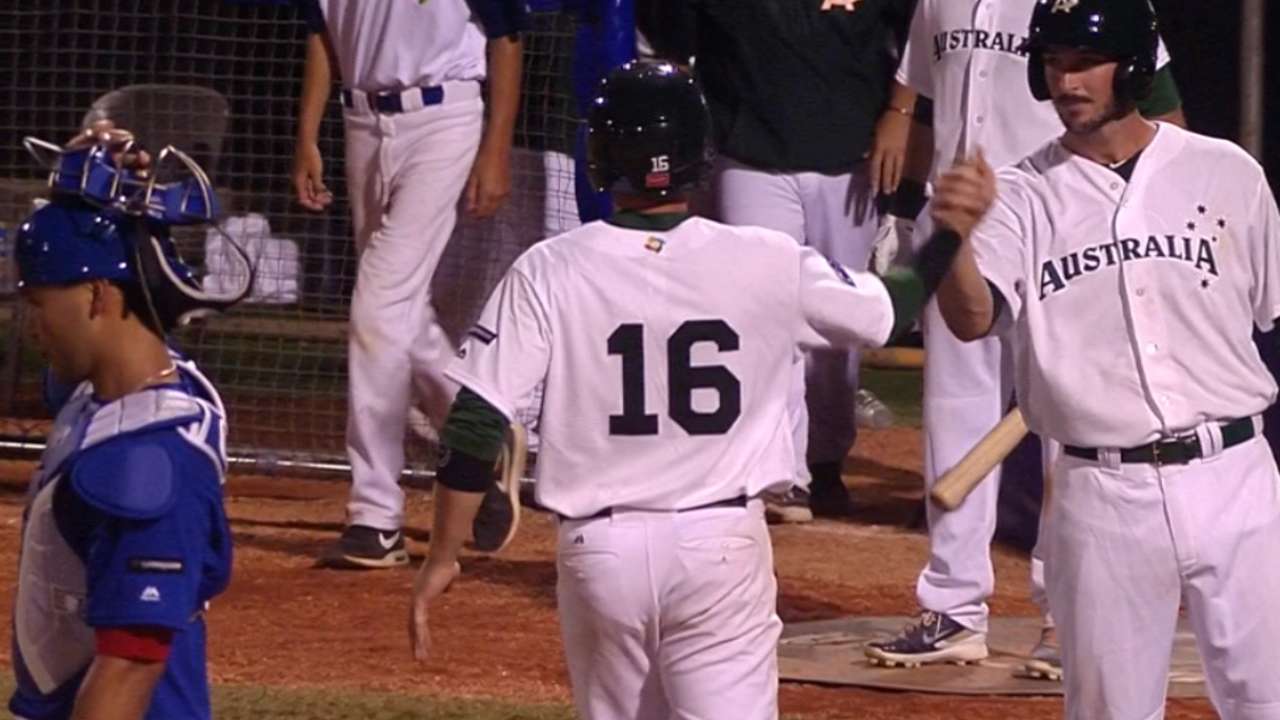 Winning pitcher Steven Kent, who was signed to a Minor League deal by Atlanta in January, struck out seven over six innings, giving up one run on four hits. Kent settled down after a 25-pitch first inning in which he gave up one run on two hits. The 26-year-old lefty finished his night by retiring his final seven batters.
"I thought Kent was outstanding tonight," Deeble said. "That first inning he really battled, and he started changing speeds in the third or fourth inning. We were looking at the fifth inning, and we thought if we could just squeeze that sixth inning out ... he got through that, and that was big for us."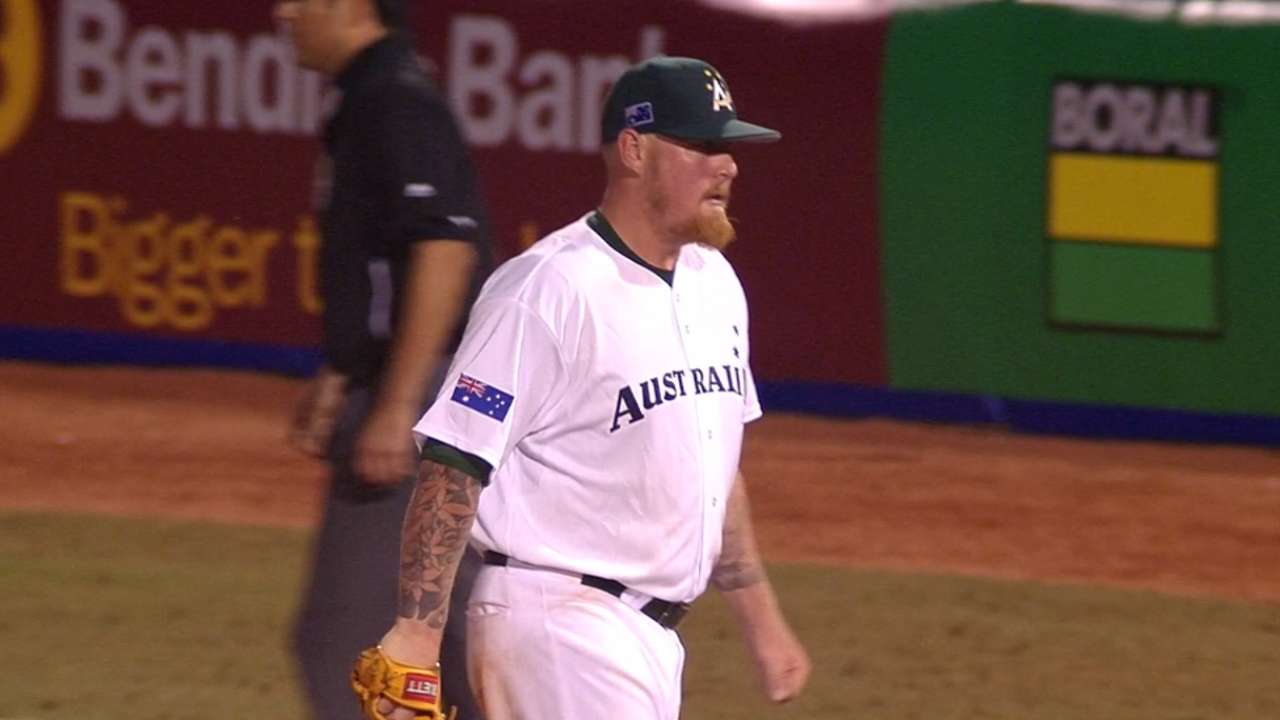 The teams traded runs in the first inning, as Cal State Dominguez Hills senior Brady Conlan drove in the game's first run for the Philippines with a two-out single to center. Eric Farris, a teammate of Beresford at Triple-A Rochester this past season, scored the Philippines' only run.
Welch countered with an RBI single in the bottom of the inning, and a Beresford RBI single scored Wade in the second.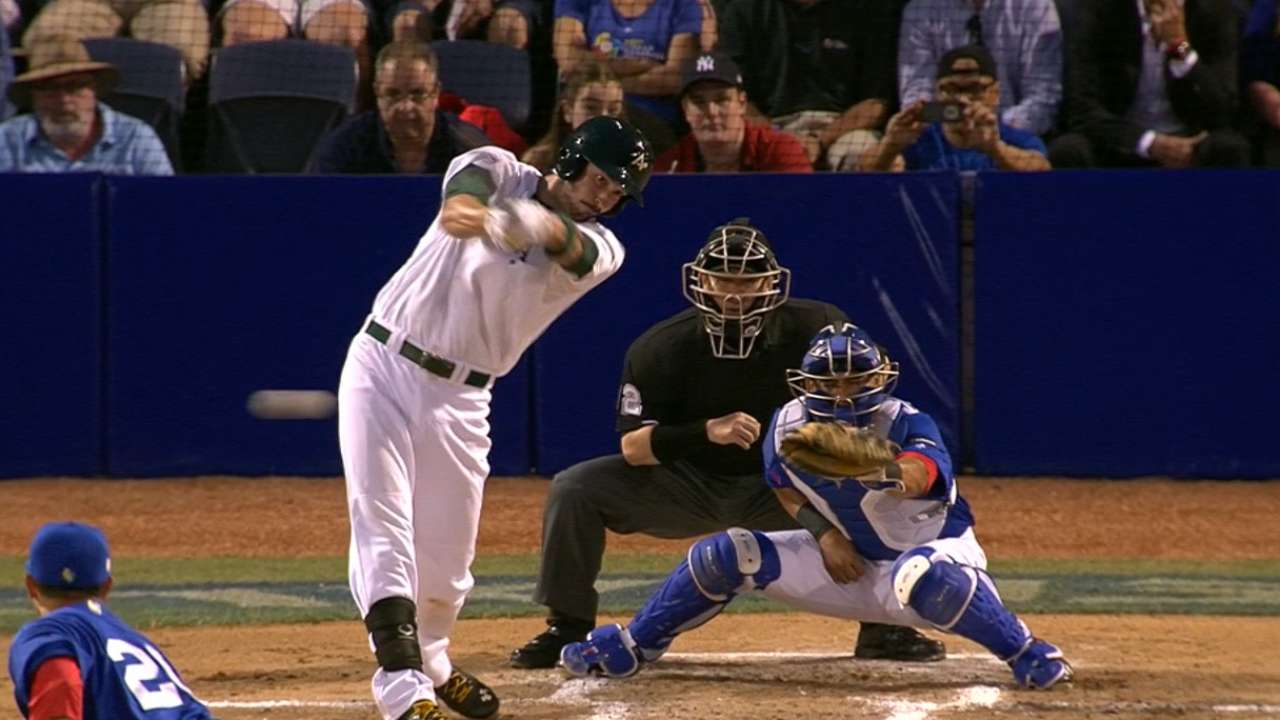 Philippines starting pitcher J.R. Bunda left in the third inning with right elbow strain, and former big league left-hander Clay Rapada came on in a 2-1 game. Rapada appeared in 649 Minor and Major League games over 14 seasons and is set to retire when Team Philippines wraps up its World Baseball Classic run. Rapada allowed two runs on three hits, striking out two in two innings.
"I thought Bunda did a fantastic job. He was a little bit of an unknown for us, but he had thrown some really great bullpens," said Philippines manager Tim Hulett. "If we knew how great his sinker was -- most of the balls that were hit hard were his secondary pitches."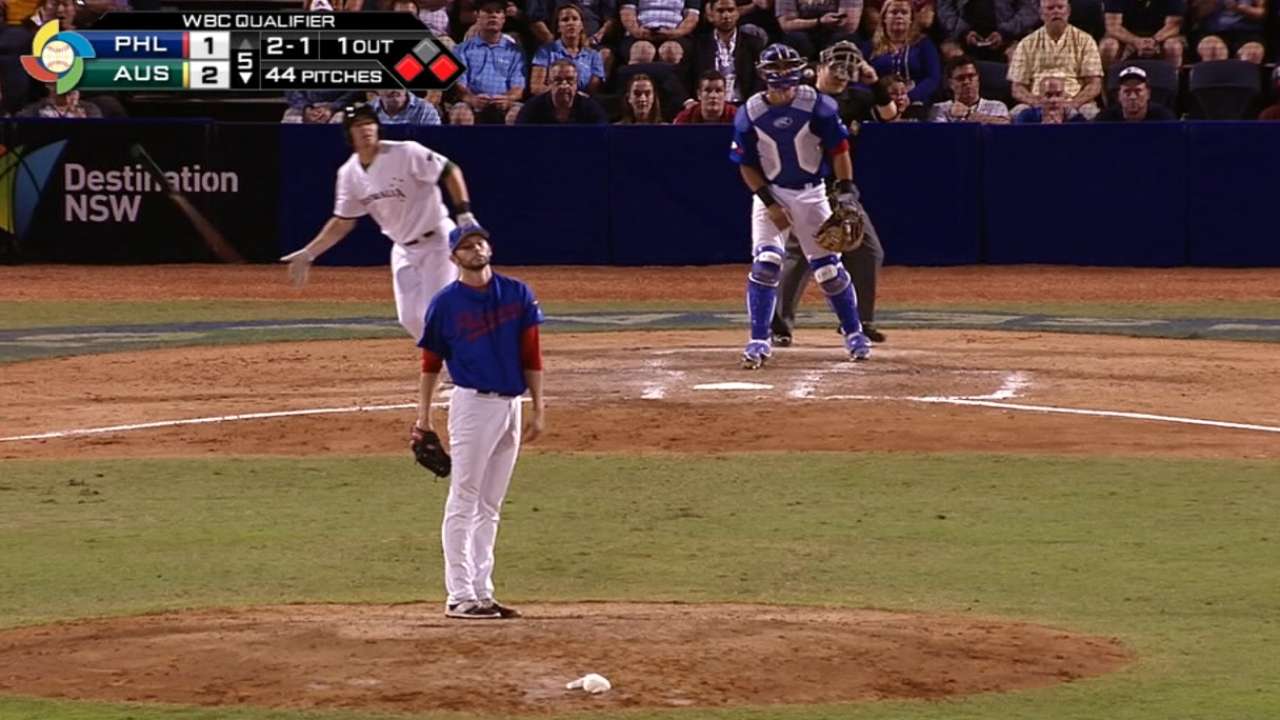 Trent Oeltjen chased Rapada from the game with a two-run double in the left-field gap that made it 4-1 in the fifth inning, and Team Australia batted around and added seven runs in the seventh to end the game two innings early.
The Aussies (1-0) will face South Africa (1-0) at 7:30 p.m. local time (3:30 a.m. ET) on Friday, with right-hander Warwick Saupold from the Tigers organization taking on South Africa right-hander Carl Michaels. Fans can watch the action unfold live on MLB.com, WorldBaseballClassic.com and ESPN Pac-Rim.

Philippines vs. Australia Qualifier
QUALIFIER SCHEDULE/RESULTS
Thursday
• South Africa 7, New Zealand 1
• Australia 11, Philippines 1
Friday
• Philippines (0-1) vs. New Zealand (0-1)
Local: 1 p.m.
ET: 9 p.m. Thursday
Watch: Live on MLB.com, WorldBaseballClassic.com and ESPN Pac-Rim
• Australia (1-0) vs. South Africa (1-0)
Local: 7:30 p.m.
ET: 3:30 a.m.
Watch: Live on MLB Network, MLB.com, WorldBaseballClassic.com and ESPN Pac-Rim
Saturday
• TBD vs. TBD
Local: 6:30 p.m.
ET: 2:30 a.m.
Watch: Live on MLB Network, MLB.com and WorldBaseballClassic.com (ESPN Pac-Rim delayed to 12:30 p.m. local)
Sunday
• Finalist 2 vs. Finalist 1
Local: 2 p.m.
ET: 10 p.m. Saturday
Watch: Live on MLB Network, MLB.com and WorldBaseballClassic.com (ESPN Pac-Rim delayed to 11 p.m. local)
Niall Adler is a contributor to MLB.com. This story was not subject to the approval of Major League Baseball or its clubs.