Mariners' Unsworth leads RSA past New Zealand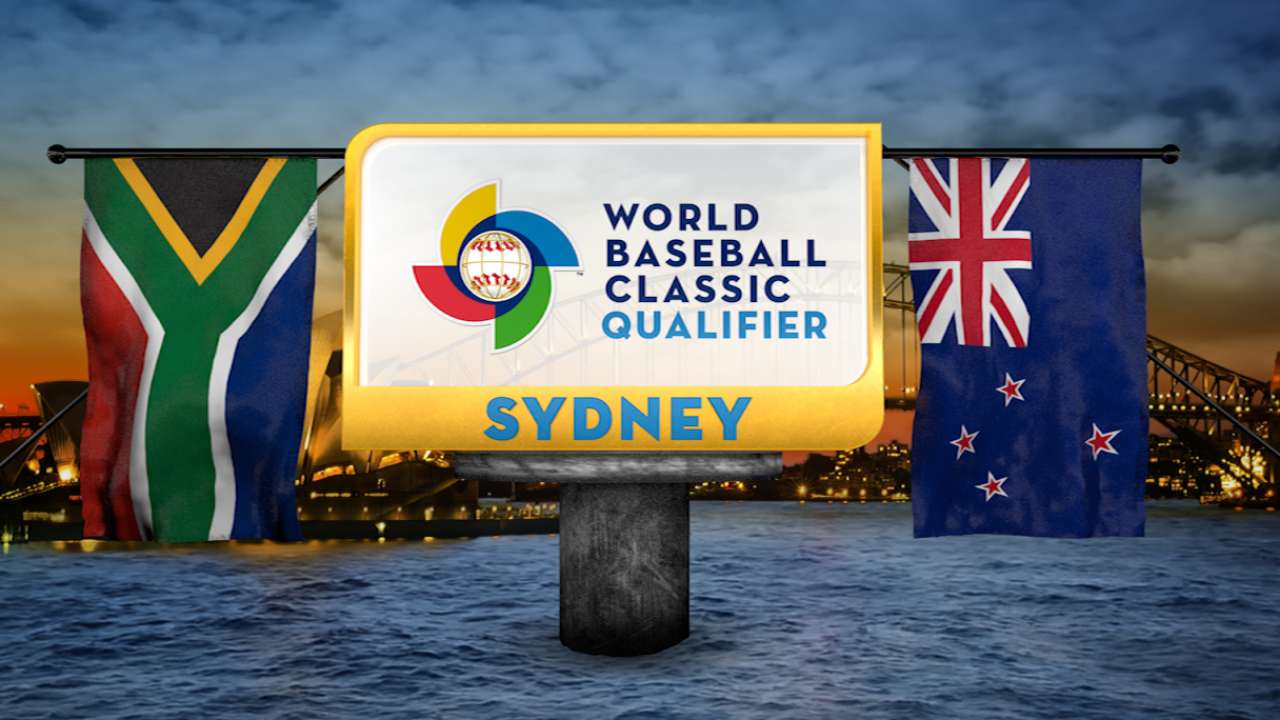 SYDNEY -- Mariners prospect Dylan Unsworth pitched eight shutout innings, scattering two hits, to put South Africa into the winner's bracket on the first day of the World Baseball Classic Qualifier with a 7-1 win over New Zealand at Blacktown International Sportspark on Thursday.
"I think everything [was working]. Just commanding the fastball, changeup, curveball, everything," said Unsworth, a 23-year-old right-hander who reached Double-A last season. "When you have a three-run cushion, you feel confident, you feel good. Honestly, all you have to do is throw strikes and everything will happen after that."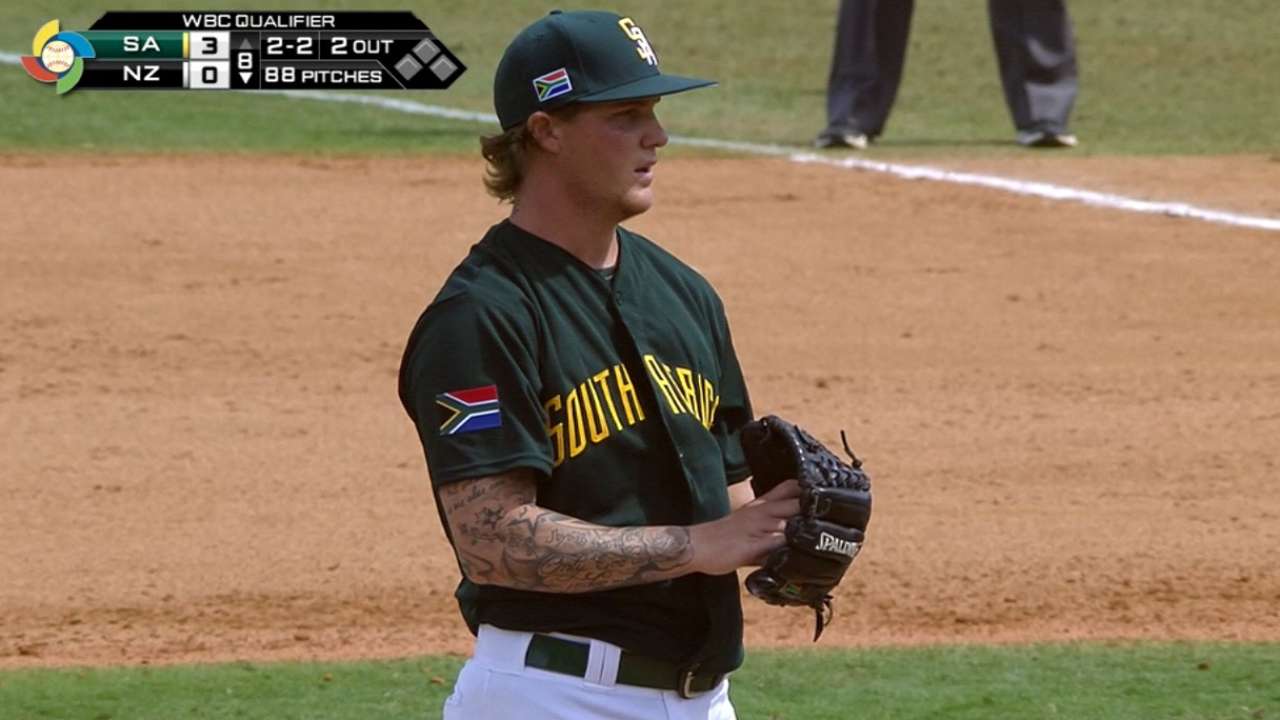 Unsworth induced 15 ground balls and retired the first 11 Kiwis he faced. He struck out the side in his final inning, striking out four overall on 89 pitches. He also retired his final 10 batters.
8 shutout innings with just 89 pitches, Dylan Unsworth brought it tonight: https://t.co/KUxF0isrhW #WBCQSydney pic.twitter.com/a0aviVjEAg

— WBC Baseball (@WBCBaseball) February 11, 2016
"He just competed. He attacked us. He came right after us with his fastball. He was able in certain counts to pitch behind a little bit. He was relentless," said New Zealand manager Chris Woodward, who is the Dodgers' third-base coach and used to coach with the Mariners. "I actually had him in Seattle, and I knew him pretty well. I love the way he competes and I wouldn't say he's got Cy Young stuff, but he's got good enough stuff to where he can pitch at a pretty high level because of his competitiveness."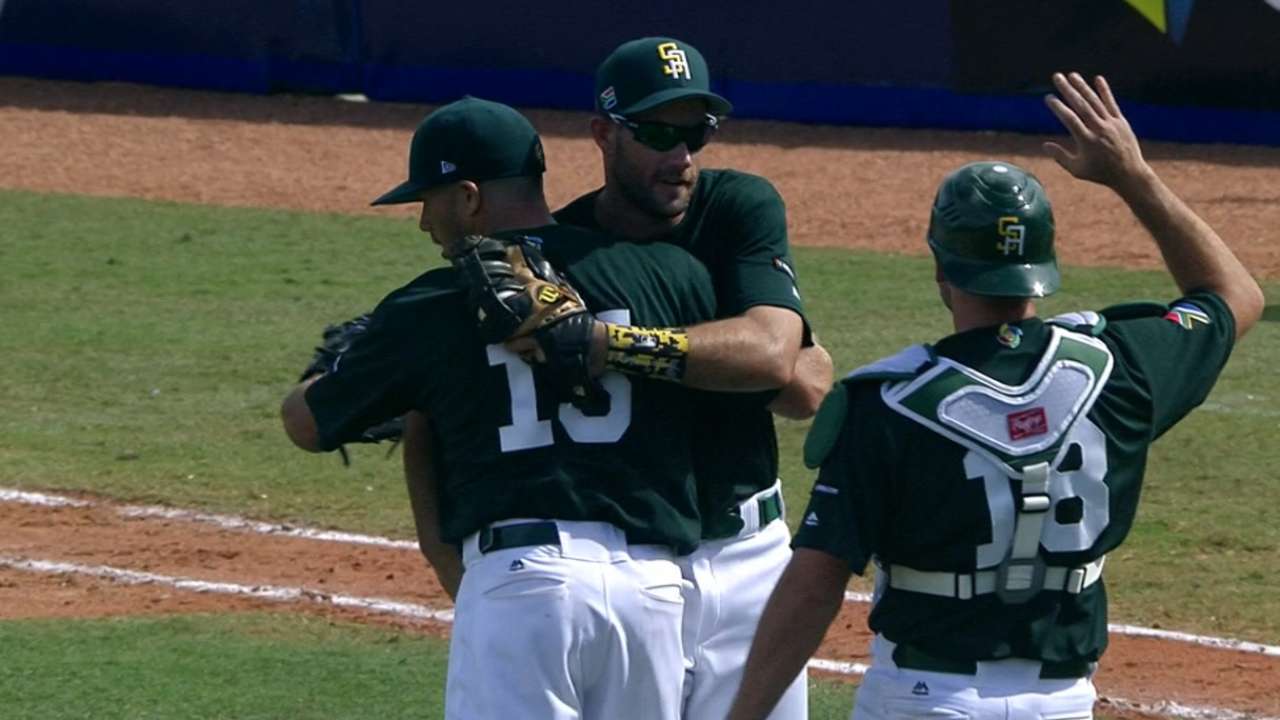 Designated hitter Brett Willemburg had two hits and drove in two runs for South Africa.
South Africa was knocking on the door from the start, but New Zealand's defense kept the opposition off the board until two errors in the third inning led to a 3-0 advantage.
In the first, New Zealand shortstop Scott Campbell went up and grabbed a line drive to end the innning, before left fielder Tim Auty made a diving catch on the dirt of the warning track to end the second with one runner on.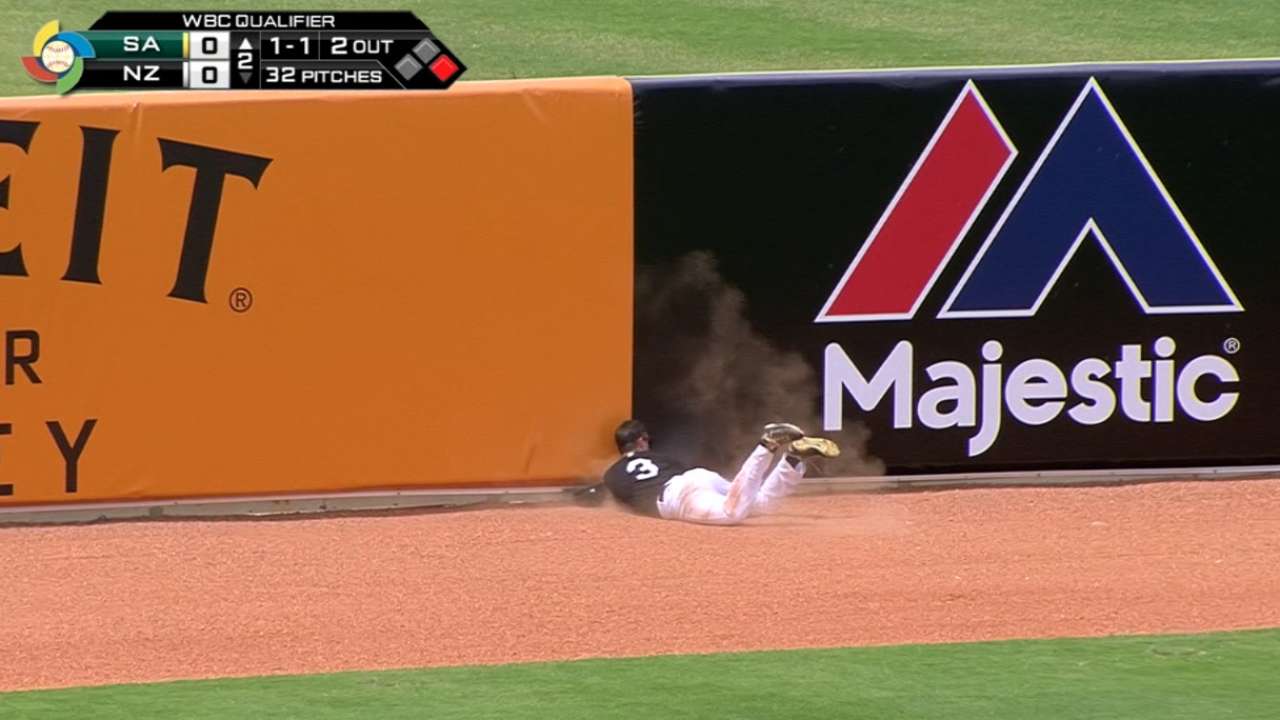 The defensive magic continued for New Zealand into the third, when third baseman Daniel Lamb-Hunt went to one knee and completed a double play, and it looked like New Zealand would again dodge trouble for starting pitcher Scott Cone. But Campbell's throwing error put a runner on with two outs, before Cone was relieved by his brother, Ben Cone, after 43 pitches.
Ben Cone then gave up back-to-back singles to Kyle Botha and Willemburg, the second plating the first run. Then, after hitting Rowan Ebersohn to load the bases, a wild pitch and ensuing throwing error from behind the plate, made it 3-0.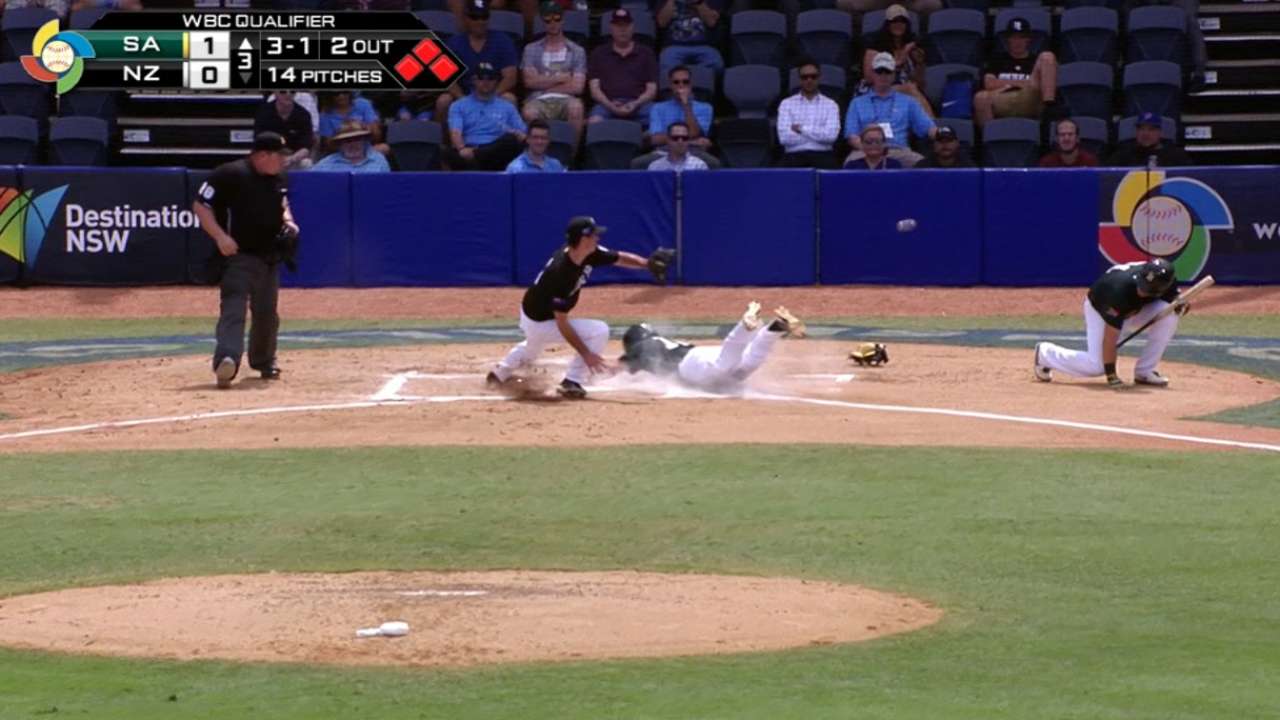 "We felt at one stage we should have been five or six runs up, but in a game of this nature we'll take the three and we'll have to work from there," said South Africa manager Alan Phillips.
Brandon Bouillon, who was batting at the time of the wildness, instead struck out to end the inning.
"Any time that we could put runs on the board early, it's a bit of a settling factor in our squad," said Phillips.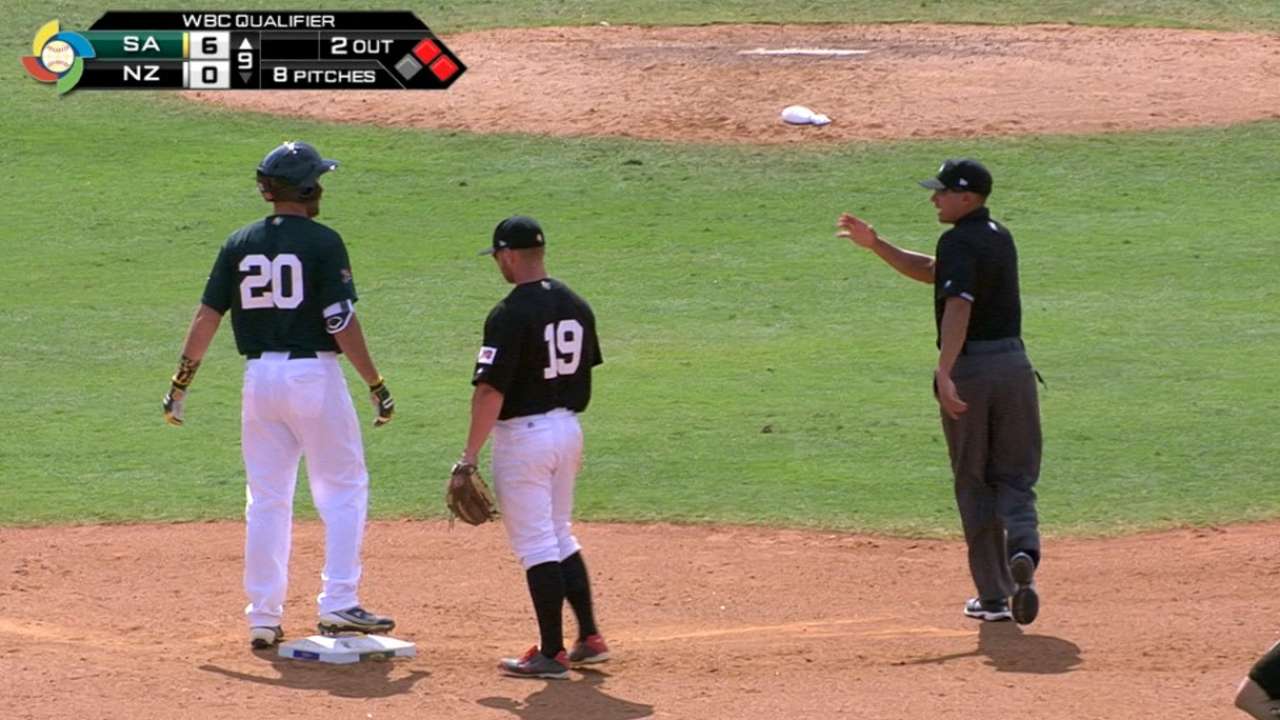 New Zealand's six pitchers walked seven, hit three batters and had two wild pitches. The Kiwis also made three errors, the final one coming in a four-run, four-hit ninth inning.
"I thought our pitchers did a pretty good job," said Woodward. "I thought they kept us in the game, and if it wasn't for a couple mistakes, it would have probably been a scoreless game going into the ninth inning."
Right-hander Carl Michaels is slated to throw for South Africa on Friday against Australia on Thursday. Right-hander Andrew Marck will throw in an elimination game for New Zealand vs. the Philippines.

New Zealand vs. South Africa Qualifier
Qualifier schedule/results:
THURSDAY
• South Africa 7, New Zealand 1
• Australia 11, Philippines 1:
FRIDAY
• Philippines vs. New Zealand:
Local: 1 p.m.
ET: 9 p.m. Thursday
Watch: Live on MLB.com, WorldBaseballClassic.com and ESPN Pac-Rim
• Australia vs. South Africa:
Local: 7:30 p.m.
ET: 3:30 a.m.
Watch: Live on MLB Network, MLB.com, WorldBaseballClassic.com and ESPN Pac-Rim
SATURDAY
• TBD vs. TBD:
Local: 6:30 p.m.
ET: 2:30 a.m.
Watch: Live on MLB Network, MLB.com and WorldBaseballClassic.com (ESPN Pac-Rim delayed to 12:30 p.m. local)
SUNDAY
• Finalist 2 vs. Finalist 1:
Local: 2 p.m.
ET: 10 p.m. Saturday
Watch: Live on MLB Network, MLB.com and WorldBaseballClassic.com (ESPN Pac-Rim delayed to 11 p.m. local)
Niall Adler is a contributor to MLB.com. This story was not subject to the approval of Major League Baseball or its clubs.