Reds host 'Black Businesses Matter' forum
Club continues to keep light on issues affecting community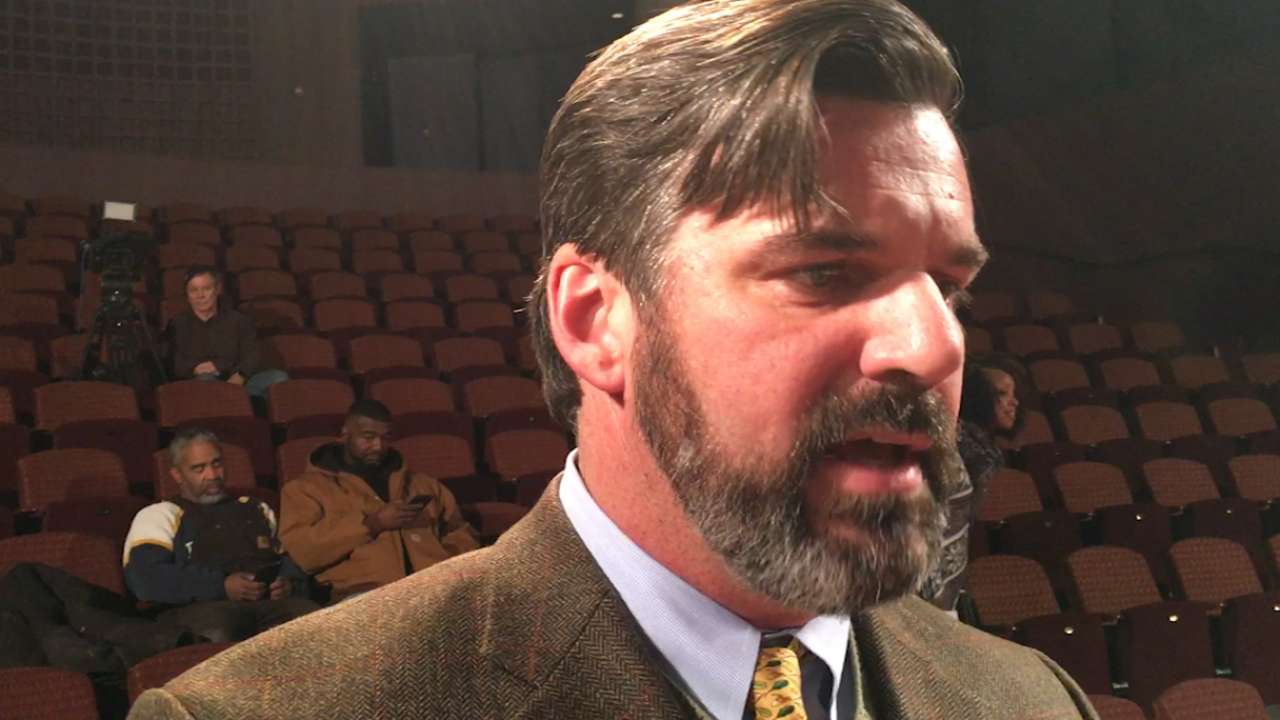 CINCINNATI -- Back in July amid All-Star Game festivities, the Reds and Major League Baseball brought together Cincinnati's African-American community, business leaders and the Black Lives Matter movement for a diversity summit. It was viewed as a way to avoid the threat of divisive protests about criminal justice problems for minorities and instead have a real conversation about the issues.
Several months after the All-Star spotlight has dimmed, the conversation has not stopped and it continues to shine a light on issues affecting the African-American community. On Wednesday at the National Underground Railroad Freedom Center, the focus was on economics. The African American Chamber of Commerce, Cincinnati Reds, Major League Baseball and DeFuze It partnered for a Black History Month community forum called "Black Businesses Matter: Pathway to Prosperity."
"The work continues. It wasn't just a show put on for the All-Star Game," said Reds chief operating officer Phil Castellini, a former board member at the Freedom Center.
Joining Castellini at the forum were Sean Rugless, the president/CEO of the Greater Cincinnati and Northern Kentucky African American Chamber of Commerce; Wendy Lewis, MLB's senior vice president of diversity, inclusion and strategic alliances; Iris Roley, the president of DeFuze It; Rev. Damon Lynch III, the pastor at New Prospect Baptist Church; and Michael Battle, executive vice president of the National Underground Railroad Freedom Center.
"It's even more important to do it this time of year," Rugless said. "What ends up happening is when major events walk in and they leave, usually you don't have anything left. What Major League Baseball did for the city of Cincinnati was actually create a framework and a model that we can now have community discussions on an ongoing basis so that our community can grow in another way from the presence of Major League Baseball."
Rugless, Castellini and Lewis are hopeful that the model from forums like this can be replicated in other Major League markets, using baseball as a way to celebrate the efforts in individual communities.
Lewis felt Major League clubs working with minority businesses in the community was not just the right thing to do, but also entrepreneurial and a model that is good for all business.
"Our franchises are so locally focused that it's in their best interests to grow those communities along with growing those businesses in those communities," Lewis said. "I don't have a club right now that does not realize that the success of their franchise is dependent on the advancement of their individual community, so black business matters."
Rugless noted that about one out of five businesses in Cincinnati is an African-American-owned company.
"They contribute over $100 million in payroll and gross about two-thirds of a billion dollars," he said. "What we want to do is protect that segment so we can grow that contribution, so it can be even bigger."
A spike in local violence and the shooting death of an unarmed black man by a University of Cincinnati officer during a traffic stop in 2015 has placed increased emphasis on racial issues that split the community. There also has been a call to improve social and economic divides.
Before last summer's diversity summit, leaders chose to focus on five pillars needing improvement: jobs, health and wellness, education, economic development and criminal justice.
"It's about connecting the dots between the good work going on in all these pillars of focus and to make sure one party knows what the other party is doing and continue to consolidate the communication of those efforts," Castellini said. "There's not one problem. There's not one fix if we're going to turn things around in certain parts of our community. And so that's really what tonight is about, continuing that conversation with a particular focus on economic development."
Mark Sheldon is a reporter for MLB.com. Read his blog, Mark My Word, follow him on Twitter @m_sheldon and Facebook and listen to his podcast. This story was not subject to the approval of Major League Baseball or its clubs.