#TBT: Mr. Smith goes to St. Louis
In February 1982, McKeon traded Ozzie from Padres to Cardinals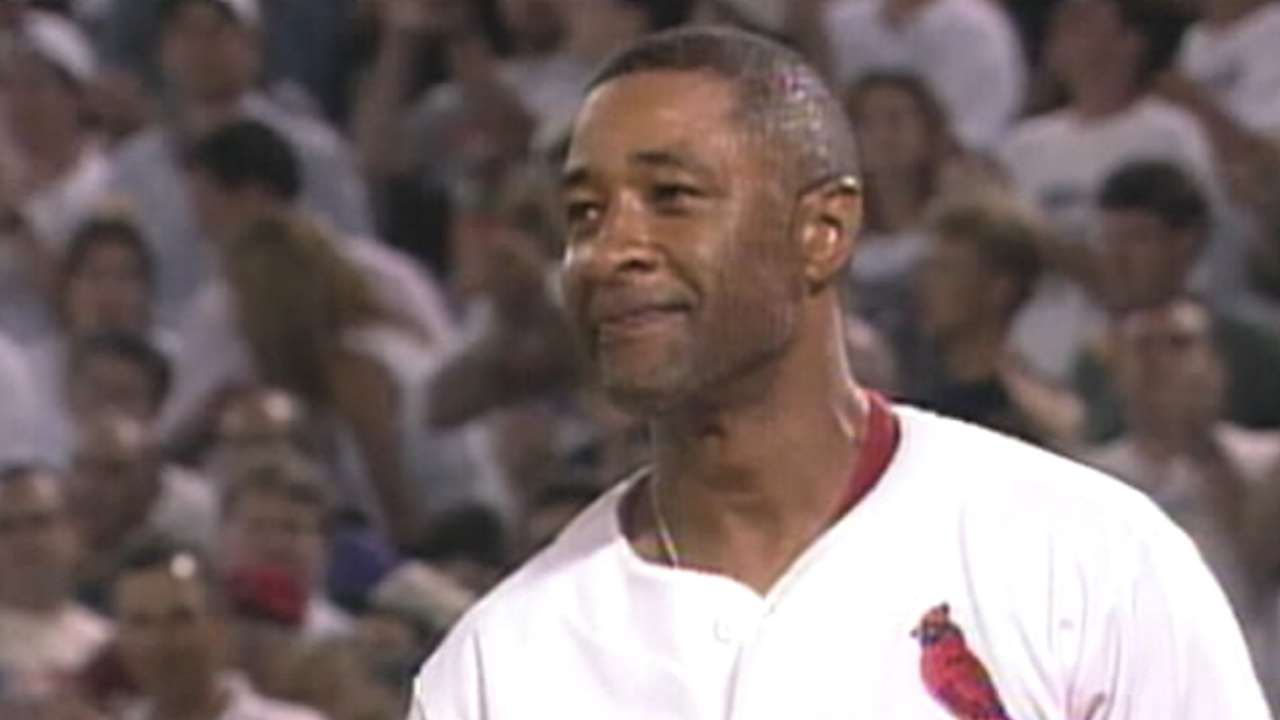 It was December 1981, and Jack McKeon had yet another situation on his hands.
It had only taken McKeon, then the general manager of the San Diego Padres, one offseason on the job to build such a significant reputation as a wheeler and dealer that he had earned the nickname "Trader Jack," and now he was faced with another potential mega-trade.
McKeon had traded Randy Jones to the Mets. He had wheeled Rollie Fingers, Gene Tenace, Bob Shirley and Bob Geren to the Cardinals for Terry Kennedy, Steve Swisher, Mike Phillips, John Littlefield, Al Olmsted, John Urrea and Kim Seaman. McKeon had dealt Tony Phillips and two other players to the A's. He had swapped Jerry Mumphrey and John Pacella to the Yankees in return for the juicy haul of Ruppert Jones, Joe Lefebvre, Tim Lollar and Chris Welsh.
But it turns out those were all warmups for the one transaction that would define McKeon's career as a baseball executive.
Prior to McKeon's stunning late-career comeback as the surprising World Series-winning manager of the 2003 Florida Marlins, Trader Jack was known best for one thing: trading future Hall of Fame shortstop, defensive "Wizard" and baseball icon Ozzie Smith to the Cardinals.
Throwback Thursday marks the 34th anniversary of that famous deal being finalized. The trade that was originally proposed on Dec. 10, 1981, and took two months and one day to become official was listed simply on the transaction sheet: San Diego Padres trade Ozzie Smith, Al Olmsted and Steve Mura to the St. Louis Cardinals for Garry Templeton, Sixto Lezcano and Luis DeLeon.
But it was a lot more complex and historic than that.
The deal started as a Winter Meetings swap that McKeon claims was necessitated by Smith's contract demands. Smith had come up through the Padres' system and was already highly regarded for his defensive skills at the age of 26, with two Gold Gloves and one All-Star Game appearance to his credit. He also had just posted a .222/.294/.256 slash line in a league-high 450 at-bats during the strike-shortened '81 season.
"You have to remember that Ozzie's agent, [Ed] Gottlieb, wanted a 25-year contract for a million dollars a year," McKeon said. "That would have been a heck of a deal. [Then-Padres owner] Mrs. [Joan] Kroc said, 'Hey, we can't afford that. Let's just trade him.' So I went to the Cardinals."
McKeon turned to St. Louis because he knew it had a talented shortstop in Templeton, who had made two All-Star teams and won a Silver Slugger. Templeton had batted .314 in 1979 and .319 in '80 before tailing off slightly to .288 in '81 and then indicating he wanted out of St. Louis.
"[Templeton] was outstanding," McKeon said. "You get a guy like him that can not only be an All-Star shortstop defensively [but] who could provide a good bat and speed. Ozzie was a flashy defensive wizard who hadn't figured it out yet at the plate.
"Look, Ozzie was a heck of a player. There's no question about that. But I had to build that club."
We all know the history that followed as far as Smith is concerned. Smith became as synonymous with St. Louis baseball as anyone. He won 13 Gold Gloves in all, helped the team win a World Series championship right away in '82, appeared in two more Fall Classics (1985 and '87) and was elected into the National Baseball Hall of Fame with 91.7 percent of the vote in 2002.
What we don't remember quite as well is that the Padres actually didn't do so badly on the deal. Templeton, Lezcano and DeLeon helped San Diego improve from a 41-69 record and last place in the National League West in 1981 to an even 81-81 record and fourth place in '82. Two years later, the Padres were in the World Series for the first time since becoming a team in 1969.
"We were going to finish last with Ozzie or without Ozzie," McKeon said. "It was a situation where I could get three players, and we were in the World Series a couple years later. I needed the pieces. I didn't have the pieces. And guys like Ozzie can bring you young talent.
"In the meantime, I had drafted Tony Gwynn and Kevin McReynolds [in 1981]. Tony turned out to not be too bad for a third-round pick."
McKeon is now 85 years old, so he's been hearing about this trade a few times a week, at least, since he was 51. It didn't bother him then, and it doesn't bother him now.
"It's part of the job," McKeon said. "You have to make trades. You have to be aggressive sometimes, you have to be confident, and you roll with the punches. People ask me, 'What's the best trade you made?' and I can't really pinpoint it. 'Which are the bad ones you made?' Well, I traded Kevin Mitchell to the Giants and he became the MVP, but I got Mark Davis back, who was the Cy Young [two years later].
"It's hard to tell. And it was hard to tell with Ozzie. That was the case where Mrs. Kroc said, 'Get rid of him, we can't pay him,' and we were fortunate to get what we got back."
Doug Miller is a reporter for MLB.com. Follow him on Twitter @DougMillerMLB. This story was not subject to the approval of Major League Baseball or its clubs.