Around the Horn: Starting rotation
Tanaka, Pineda and Eovaldi will lead fragile but potentially effective unit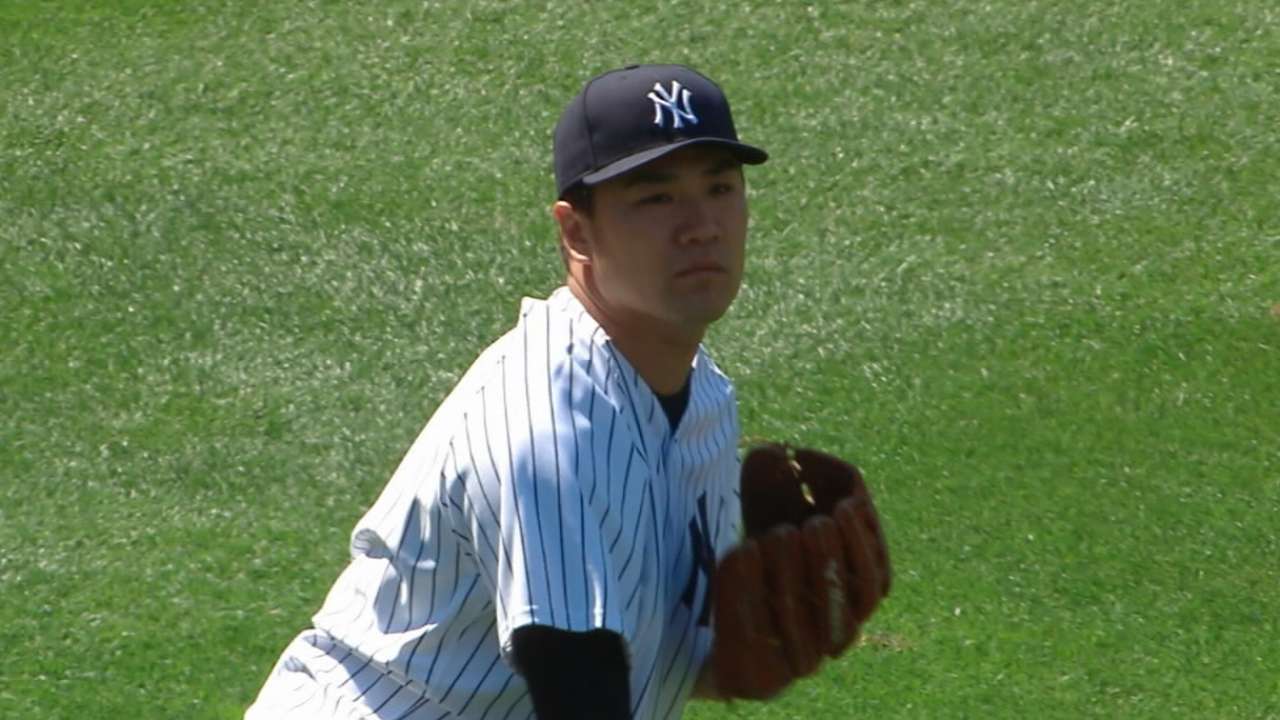 With the start of Spring Training almost here, anticipation is building for the 2016 season. MLB.com is going around the horn to break down each area of the Yankees' roster, continuing this week with the starting rotation.
The Yankees never tried to keep their offseason plan a secret, sending smoke signals that they were ready and willing to make a deal that would upgrade their fragile starting rotation.
Though they were able to address other areas of the roster via the trade market, general manager Brian Cashman didn't find the match he sought. As such, the Yankees head into 2016 hoping that their rotation can stay healthy enough to get the ball to their lockdown bullpen on a regular basis.
"I love our staff," catcher Brian McCann said this week. "I feel a lot of people are sleeping on it. If you look at it, every night, we're running out a good arm."
Masahiro Tanaka projects to serve as the Opening Day starter for a third straight year, having resumed throwing off a mound this week following October surgery to remove a bone spur in his pitching elbow. The Yanks said that the injury dates back to Tanaka's career in Japan, and it could have been a factor as he went 12-7 with a 3.51 ERA in 24 starts last year.
Though Tanaka missed time with right wrist tendinitis, a forearm strain and a strained right hamstring, his feared diagnosis of a ruptured ulnar collateral ligament never materialized. Following the advice of four noted orthopedists, Tanaka will continue to pitch with a partial tear of his UCL, hoping to stave off the Tommy John surgery that would cost him 12-18 months.
Michael Pineda returns for a third season with the Yankees, coming off a campaign in which he went 12-10 with a 4.37 ERA in 27 starts. Though he missed a month with a right flexor strain and stumbled in his seven of his final 10 starts, Pineda posted a 7.43 strikeout-to-walk ratio and recorded a career-high 16 strikeouts on Mother's Day against the Orioles.
Thanks to his increased use of a splitter, the Yankees enjoyed a promising step forward from Nathan Eovaldi, who led the American League with an .824 winning percentage while going 14-3 with a 4.20 ERA in 27 starts. Eovaldi was shut down following a Sept. 5 start with right elbow inflammation, but he would have been active had the Yanks progressed past the AL Wild Card Game.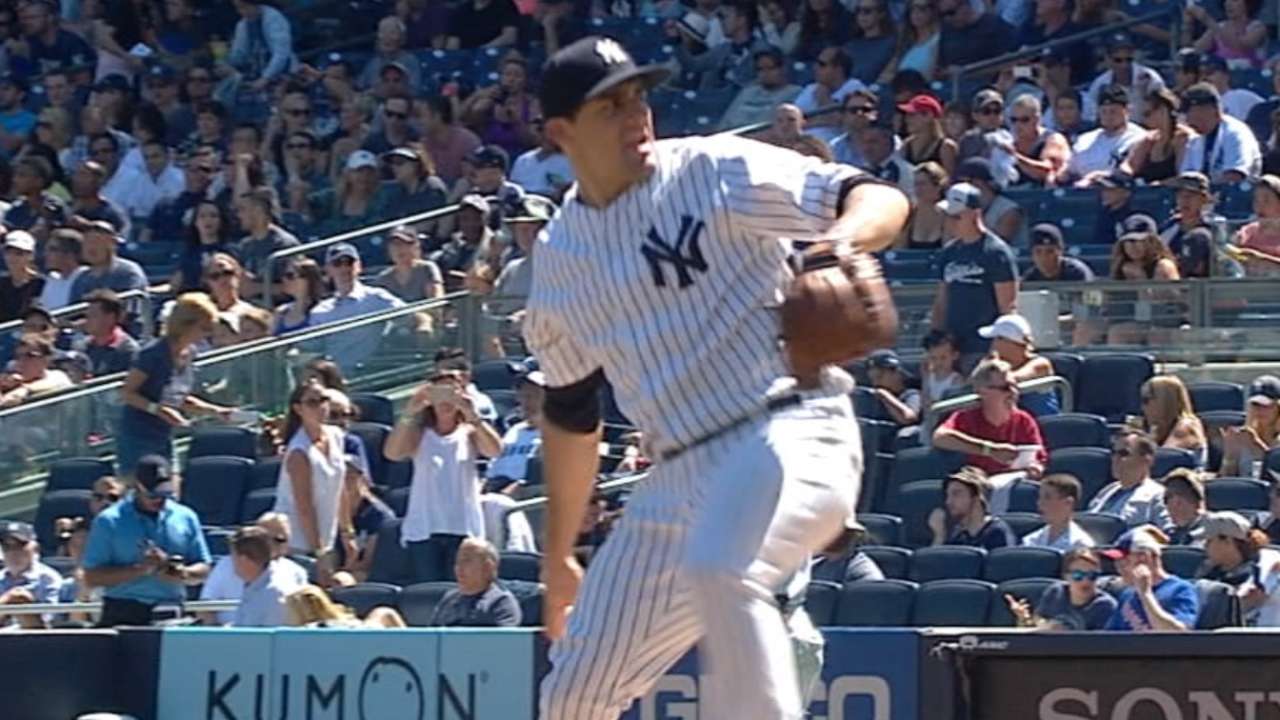 Touted prospect Luis Severino made his Major League debut on Aug. 5, ultimately going 5-3 with a 2.89 ERA in 11 starts. The Yankees believe that Severino proved his mettle by not buckling against challenging lineups like the Blue Jays, whom he faced three times down the stretch, and the club does not eye any significant innings limitation.
"I think that he has a better idea of what he has to do to be successful at this level," manager Joe Girardi said. "There will be some adjustments that he has to make, because teams have seen him once, twice, maybe even three times in our division. But this is a smart kid, and this is a very talented kid."
That gives the Yankees four solid choices and a difficult decision for the No. 5 spot. CC Sabathia is coming back from a season that saw him go 6-10 with a 4.73 ERA in 29 starts, leading the Yanks in innings (167 1/3) and starts before bowing out on the eve of the AL Wild Card Game to seek treatment for alcohol abuse.
"I'm in the early stages," Sabathia said. "I'm always going to be recovering. I have the support of my family, my organization and my team, my friends. I feel pretty good about where I'm at, and I look forward to just getting back out on the field and being myself."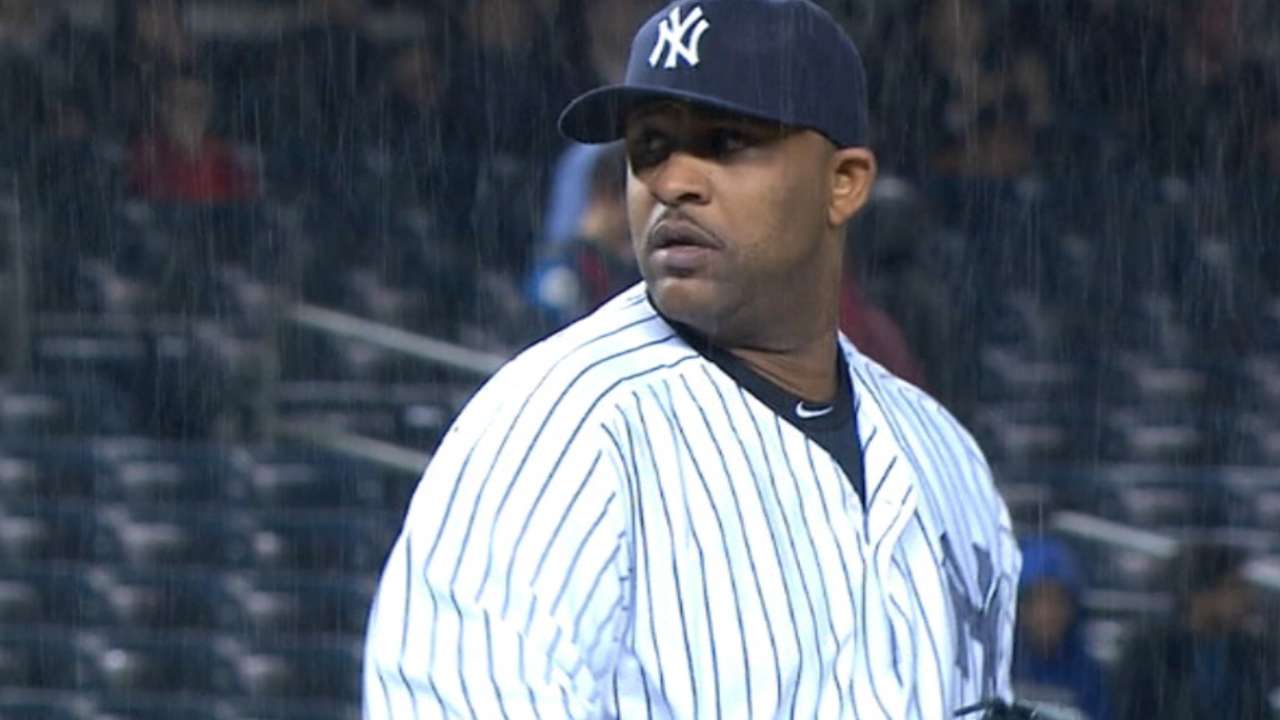 Sabathia saw encouraging results in his final five starts (2.17 ERA), crediting a bulky knee brace for the improvement, which he plans to continue using for the rest of his career. The former ace and only left-hander in the group may have to battle Ivan Nova for mound time; Nova had an inconsistent first year back from Tommy John surgery, going 6-11 with a 5.07 ERA in 17 starts after returning in June.
The Yankees are hopeful that Nova will follow the pattern of pitchers who are stronger in their second year removed from the procedure; as he heads into his final year before free agency, Nova was selected by Cashman as the Yanks' most likely pitcher to complete 200 innings.
Having shipped valued swingman Adam Warren to the Cubs in the Starlin Castro trade, the Yankees can audition Bryan Mitchell for that role. Mitchell was 0-2 with a save and a 6.37 ERA in 20 appearances (two starts) over four stints with New York last season. Luis Cessa, acquired from the Tigers in a trade for reliever Justin Wilson, will also get a look.
Bryan Hoch is a reporter for MLB.com. Follow him on Twitter @bryanhoch, on Facebook and read his MLBlog, Bombers Beat. This story was not subject to the approval of Major League Baseball or its clubs.