Hale poised to bounce back after rough '15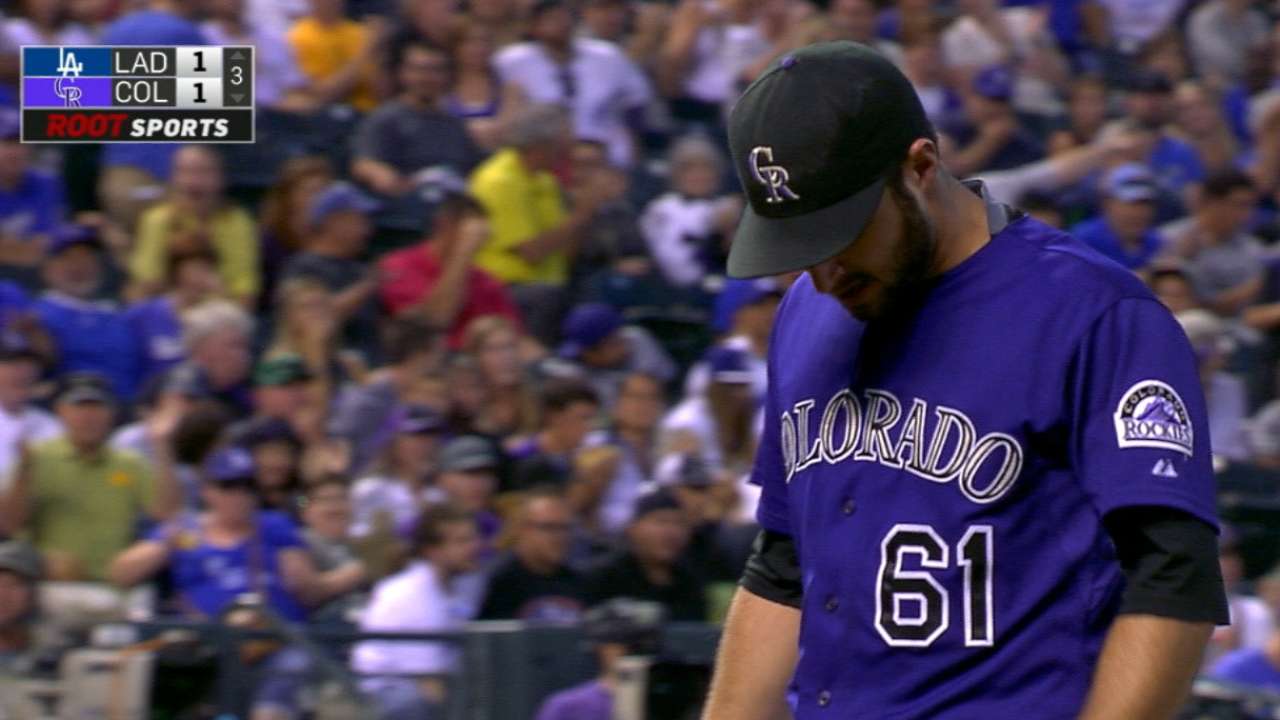 DENVER -- Rockies right-handed pitcher David Hale has a degree in economics from Princeton and is quite capable of learning, but last season tested his aptitude.
Hale suffered a left oblique injury just before the start of the season, and it cost him a potential spot in the starting rotation. After his third promotion from Triple-A Albuquerque on June 8, he landed on the disabled list again, this time with a left groin strain suffered July 9.
• Rockies' pitching needs to take step forward in '16
The lessons weren't just painful ones. When healthy, Hale spent much of the season correcting a delivery flaw that caused him to spin toward first base and lose momentum to the plate. It took much of the year.
After being recalled on Sept. 3, Hale incorporated his changes while going 2-0 with a 5.89 ERA in his final six outings, which included two starts. Coming off a 5-5 record and 6.09 ERA in 17 games (12 starts) after arriving in a trade with the Braves, Hale hopes for health and consistency this season as he competes for a spot in the starting rotation.
"The injuries were very frustrating. It was a blessing that it wasn't my arm, but frustrating at the same time that it wasn't my arm," said Hale, 27, one of several Rockies hoping to rebound from a rough 2015 season. "But I learned what it takes to pitch in Colorado. I've made some major adjustments with my mechanics that I think will make me more consistent."
The Rockies will enter Spring Training in a few days depending on veteran lefty Jorge De La Rosa and righty Chad Bettis. Beyond that, they're hoping for healthy seasons for righties Jordan Lyles and Tyler Chatwood (with Chatwood being the bigger question coming off 2014 Tommy John surgery), and quick maturity out of 2013 first-round Draft pick Jon Gray, a 24-year-old righty who debuted at the end of last season.
Hale is in a category with lefty Chris Rusin (6-10, 5.33 ERA in 22 games, 20 starts) and righty Eddie Butler (3-10, 5.90 in 16 starts), a trio on the outside looking in.
It was a mostly rough year for Butler, who hopes to return to a sinker-dominated pitching plan after trying to incorporate a four-seam fastball. Rusin, who had the Rockies' only shutout and two of their three complete games last season, and Hale, who was 5-5 with a 3.02 ERA in 47 games (eight starts) over the 2013 and '14 seasons with the Braves before the trade, had enough good moments to have the Rockies believing they just need to even out their performances.
"We've seen them be good at times," Rockies manager Walt Weiss said. "It's a matter of just stringing that together over a six-month period. It's not like you're going to be good every time out, but it's a matter of consistency. That's a separator from established big league players and younger players."
Hale smiled when comparing the difficult course load at an Ivy League school with the seemingly simple physical adjustment to pitching. Guess which was harder.
"I was telling my dad -- my dad played ball a little bit -- try doing something you do every day, writing or walking, but doing it slightly different," Hale said. "You have to think about it for a long time before it changes. The stuff I learned in school, the first time I experienced it, I could soak it up. But to change something that's ingrained in you is very difficult."
Thomas Harding is a reporter for MLB.com. Follow him on Twitter @harding_at_mlb, listen to podcasts and like his Facebook page. This story was not subject to the approval of Major League Baseball or its clubs.