Inbox: Which prospects could debut in 2016?
Beat reporter Jane Lee answers questions from fans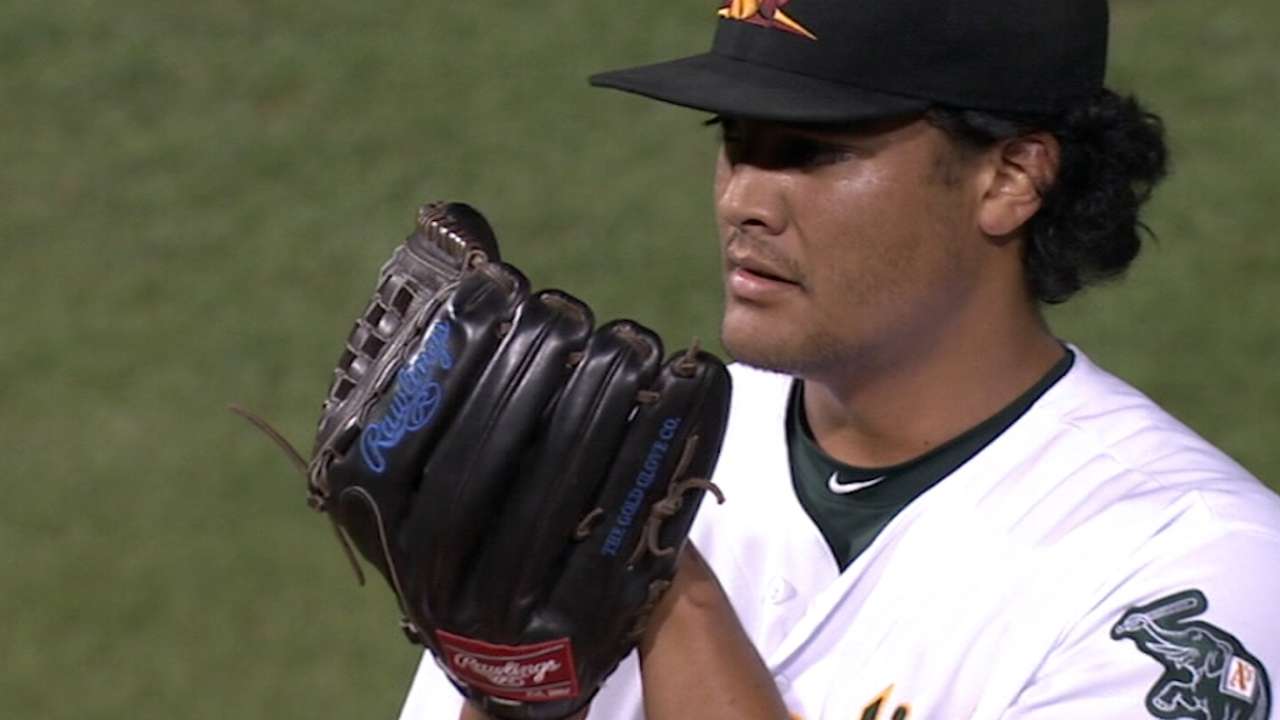 @JaneMLB which minor league players/prospects do you see debuting with Oakland this year?

— Mando Calrissian (@El__Mando) February 9, 2016
I think we'll be seeing lefty Sean Manaea before any other prospect this year. Not only does he already appear close to being big league ready -- the A's would still prefer to get him a little Triple-A seasoning before calling him up -- but rotations fluctuate so much in the Majors that the need may arise quickly. I could also see Joey Wendle making his way up to the big leagues this season, since it will probably only take an injury to one of the A's current infielders to make that happen. Keep an eye on first baseman/outfielder Matt Olson, who could quickly pave his own path to Oakland with a strong showing at Triple-A.
• Submit a question to the A's Inbox
@JaneMLB Can you see trade for some catching depth because of Vogt surgery?

— M.K. (@matyss69) February 9, 2016
Even before the news came out last week that Vogt underwent right elbow surgery, I thought it would behoove the A's to reel in additional catching depth this winter. Vogt and Phegley are the only two catchers on the 40-man roster, and there's little experience behind them among the Spring Training non-roster invitees. Matt McBride has played in parts of three big league seasons, while Carson Blair totaled 11 appearances in his big league debut for the A's last year. Vogt is expected to be fully ready for Opening Day, but the club will have three other catchers (No. 8 prospect Jacob Nottingham, No. 27 prospect Bruce Maxwell and Beau Taylor) on hand during camp to make up for his temporary absence. Not one is considered close to big league ready.
The A's could have scooped up Carlos Corporan while he was available, but the Yankees signed him to a Minor League deal a couple of weeks ago. I'd still think Oakland is keeping an eye on the market for a similar addition.
@JaneMLB Word has it there's still money available to spend...could you see the Athletics getting another bat, maybe an outfielder?

— DJ Wilson (@MoneyballWorks) February 9, 2016
It seems like the A's are content with their current group of outfielders, particularly with all of the depth they've accumulated in left field as insurance for the oft-injured Coco Crisp. The A's are big on young power hitter Mark Canha, who can play both corner-outfield spots when he's not sharing first-base duties with Yonder Alonso, and any one of the A's other left-field options -- Sam Fuld, Jake Smolinski and Andrew Lambo -- are capable of handling all three positions in the event of injury to everyday players Billy Burns and Josh Reddick.
Do you think anyone on the team is capable of hitting 20 home runs and stealing 20 bases this season?
-- Mark L., San Jose
I actually thought about this question last week when another person brought it up, and I settled on Marcus Semien. Reddick is another potential candidate if he can swipe a few more bases, but I definitely see Semien as having the potential to get it done. Now that he has a full season at shortstop under his belt, with steady improvement made on defense, I think we're going to be seeing a more complete player. He quietly finished with 15 home runs last year, so 20 is within reach, and he boasts athleticism on the bases to hit that 20-20 mark.
What seven arms do you think are in the bullpen on Opening Day?
-- Craig T., Livermore, Calif.
Sean Doolittle, Ryan Madson, Liam Hendriks, John Axford, Marc Rzepczynski, Fernando Rodriguez and Ryan Dull.
Not exactly a burning question, but it has been bothering me for two years. What do they call Billy Burns in the clubhouse? Seems wrong to call him Burnsy and there are too many Billys to call him that.
-- Brooke, Pleasant Hill, Calif.
Sorry if you were expecting a more exciting answer, but I hear him being called both Burnsy and Billy on a regular basis. If he goes by another name in the clubhouse, I don't know about it.
Jane Lee is a reporter for MLB.com. This story was not subject to the approval of Major League Baseball or its clubs.