Pillar wants crack at leadoff role
Outfielder makes case for being Blue Jays' tablesetter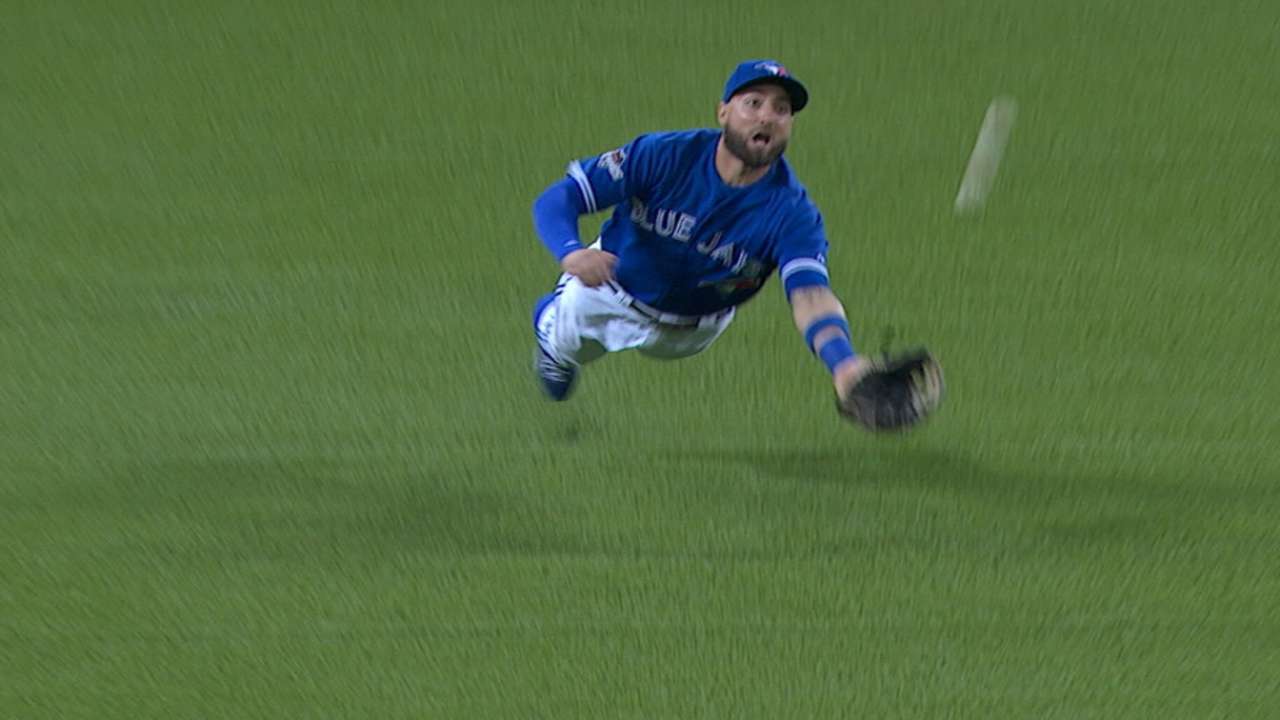 TORONTO -- The Blue Jays have an opening at the top of their lineup, and Kevin Pillar strongly believes that he is the man for the job.
Pillar made his case to be named the club's leadoff hitter while in Toronto last week to attend an annual event for season-ticket holders. The departure of Ben Revere created a void at the top of the order, and Pillar wants a shot at being named the replacement.
• Spring Training: Schedule | Tickets | Info
The 27-year-old has hit first at various points in his Minor League career, and although it might be a completely different challenge at the big league level, Pillar believes he's up for the task after a breakout 2015 season.
"I definitely can see myself batting leadoff," Pillar said. "It's a role that I've been in in the Minor Leagues. I've also hit in the middle of the order in the Minor Leagues, but my mindset doesn't change whether I'm hitting first, eighth, ninth or wherever they put me in the lineup.
"My job is to get on base, score runs, allow the big boys to drive me in, but I definitely think I would make a great leadoff hitter. I had success doing it in the Minor Leagues, you're really only the leadoff for the first at-bat. Then the lineup turns over, and it's just like hitting anywhere else."
Pillar proved a lot of his critics wrong in 2015 by hitting .278 with 12 home runs and 56 RBIs while appearing in all but three games. The numbers were impressive, but the primary attribute of a reliable leadoff hitter is someone who consistently gets on base, and Pillar has struggled in that regard so far in his career.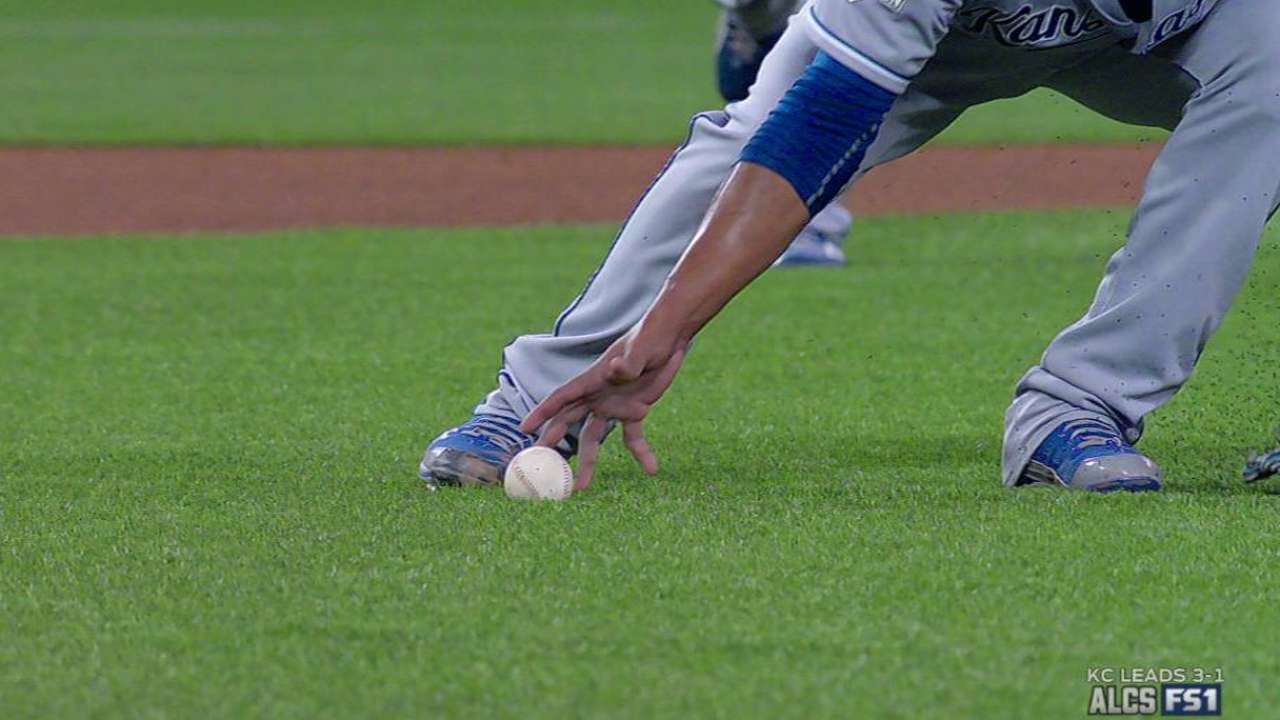 Despite the high average, Pillar had a relatively low .314 on-base percentage, thanks to just 28 walks in 628 plate appearances. At times, he has chased offspeed pitches in the dirt and while that tendency did improve last season, Pillar would need to take it to another level in 2016 to justify the top spot.
Pillar wanted to address the lack of walks with the media when the topic of leadoff was broached. Some of the previous criticism about his approach clearly made it back to the Gold Glove-caliber center fielder, because he wanted to set the record straight about why his walk total hasn't been as high as some people might like.
"I promise you, with Josh [Donaldson] hitting behind me in the two-hole, I'm going to get some better pitches to hit, and I'm going to find a way to get more hits," Pillar said. "The walks will come, but let's be honest with each other about walks here. You have the choice between me Josh, Jose [Bautista] and Edwin [Encarnacion]; who are you going to take chances with? Probably me at this point of my career.
"These guys aren't trying to walk me. I think I need to get that on the table. We always talk about walks, yeah walks are going to happen, but I'm up there to hit. If I get a good pitch to hit, I'm not going to sit around and try to walk. But I promise you, if Josh is hitting behind me, I'll have better pitches to hit, and I'll be on base more."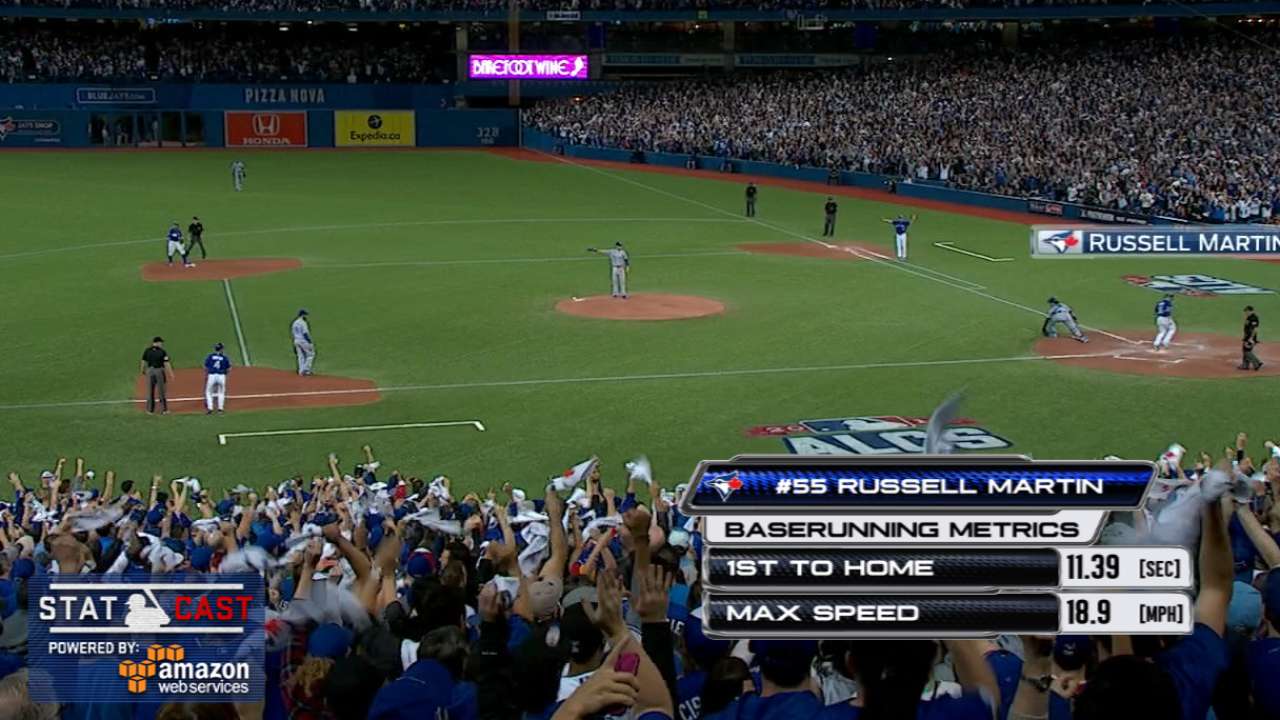 The Blue Jays also will consider Troy Tulowitzki for the leadoff role, though manager John Gibbons did suggest last week that he prefers his star shortstop lower in the order. Devon Travis might eventually take over the top spot, but he's out until at least May following left shoulder surgery.
That doesn't leave the Blue Jays with a lot of options. If Gibbons doesn't want to go with Tulowitzki, he'll have to choose between some unorthodox picks like Pillar, Ryan Goins or possibly even left fielder Michael Saunders
"We'll experiment a little bit down there in Spring Training," Gibbons said. "We've had that problem before, we've battled some things in the past since I've been here about who's going to do what. We'll come up with a good one. We have the guys who can do it, we just don't know exactly who that is yet."
Gregor Chisholm is a reporter for MLB.com. Read his blog, North of the Border, follow him on Twitter @gregorMLB and Facebook, and listen to his podcast. This story was not subject to the approval of Major League Baseball or its clubs.