Jackson eager for challenges of 1st full pro season
Prospect won Northwest League MVP, graduated from Stanford in offseason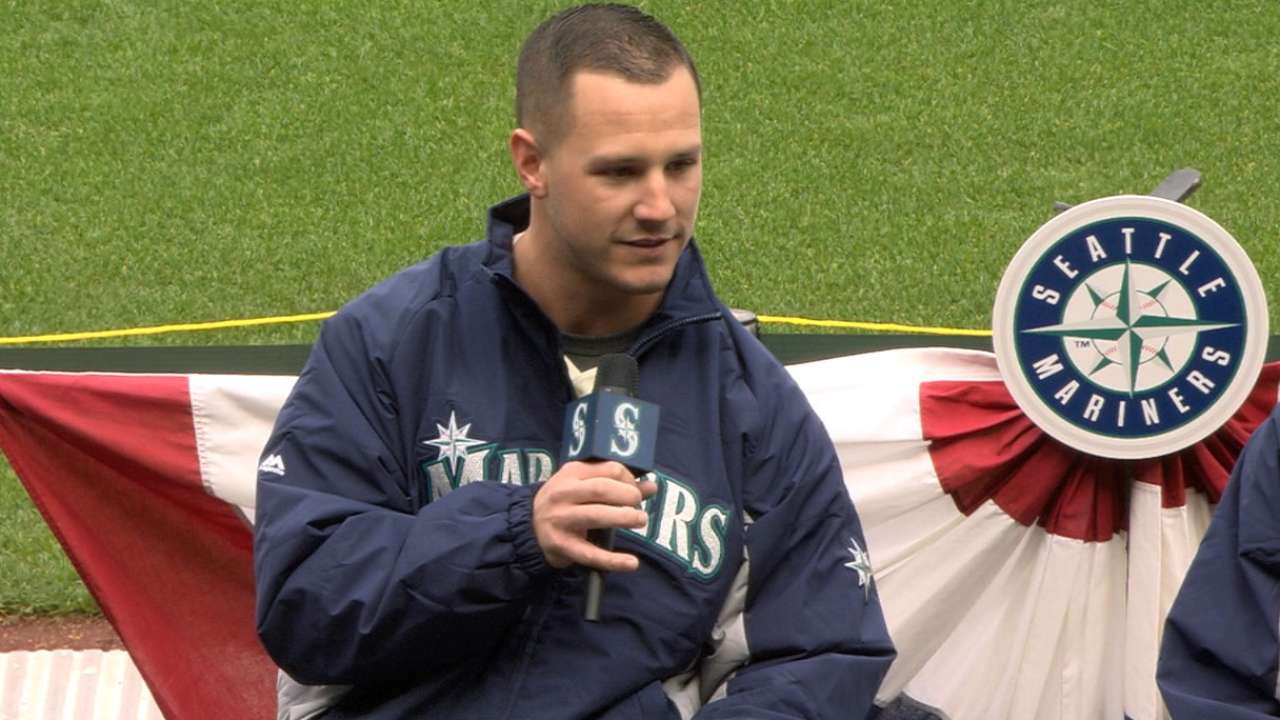 SEATTLE -- After being named Most Valuable Player in the Northwest Short-Season Class A League last year for the Everett AquaSox, Mariners shortstop prospect Drew Jackson is eager to take on his first full season of pro ball.
But first, the 22-year-old had one significant order of business this offseason, as he completed his final four classes and 17 credits to earn his diploma in Science, Technology and Society after 3 1/2 years at Stanford.
"I finished up my degree in the fall and have been training at their facilities since my strength coach is there," Jackson said. "It's been a great offseason, but I'm itching to get back on the field."
The athletic 6-foot-2, 200-pounder is one of the more intriguing Mariners prospects --- ranked No. 22 in the organization by MLBPipeline.com -- after busting out last season following his selection in the fifth round of the Draft. Though he'd stolen just 13 bases in his three-year college career and never hit above .207 until batting .320 his junior season with the Cardinal, Jackson broke out in a big way at Everett as he led the Northwest League in average (.358), on-base percentage (.432), runs (64) and stolen bases (47) in just 59 games.
Things will get tougher this year when he's bumped up to full-season Class A, either at Bakersfield or Clinton, but Jackson is ready for it.
"You have to be physically prepared, but I think it's more of a mental preparation," said Jackson, whose older brother Brett was a first-round pick of the Cubs in 2009. "For me last summer and what I tried to carry over from the college season was just staying within myself every day.
"I was just focusing on the day-to-day things rather than thinking about the whole season and, 'What's my average going to be in a month?' People can go crazy if they worry too much about the results or the future or whatnot."
For Jackson, that meant not getting too caught up in flirting with .400 for much of the season in Everett, though he admitted it inevitably crossed his mind.
"It's impossible not to think about it when you're going up to the plate and the catcher is saying, 'Hey, what's up, Ted Williams?' and you look up at the scoreboard to see the count, and there's your face with the average next to it," he said. "Obviously it's impossible to avoid, and that's the poison of baseball as they say -- your batting average up there and tying your batting average to your name. It's best to avoid that as a player and just focus on playing."
Jackson has proven to be a good student not only at Stanford, but in his short tenure with the Mariners organization. As one of 15 youngsters invited to a hitting summit led by new manager Scott Servais and hitting coach Edgar Martinez last month in Peoria, Ariz., he came away with a clear understanding of the organization's expectations. And he's happy they mesh with his own style of play as he prepares to report to Minor League camp next month.
"They went over the hitting philosophy, and it's a lot of what I've been working on the last year or so," he said. "It was really refreshing to hear, because my approach at least caters to trying to get on base as much as I can. I feel like my biggest asset is my basestealing threat, so their whole system works well with me. I'm just going to keep trying to work with it."
Everett manager Rob Mummau said after the season ended last year that Jackson was everything he could have hoped for at shortstop.
"He can really run, he can really throw and really hit," Mummau said. "He's a guy we counted on every single day at the top of the order. He can do a lot of things, just a real exciting kid, and his baseball IQ is off the charts. He just gets it. He's a kid that had really good at-bats, studies the pitchers from the dugout and helps his teammates a lot."
And, yes, those 47 stolen bases in 51 attempts were a surprise to everyone, given he was best known at Stanford for his powerful throwing arm. But Jackson excelled under the tutelage of Everett hitting coach Brian Hunter, who was a two-time American League stolen base champ for the Tigers in the late '90s.
"Stanford has never really been known as a stealing program and the college game is a lot different," Jackson said. "In pro ball, they kind of let you do your thing a little more. At least my coaches let me have the green light whenever I wanted. Working with Brian Hunter, who stole a bunch of bases, getting his advice on how to read pitchers and get jumps helped a lot. I'm only hoping to learn more because I feel like I could do even better."
Greg Johns is a reporter for MLB.com. Follow him on Twitter @GregJohnsMLB, read his Mariners Musings blog, and listen to his podcast. This story was not subject to the approval of Major League Baseball or its clubs.