Tigers' Truck Day sparks spring excitement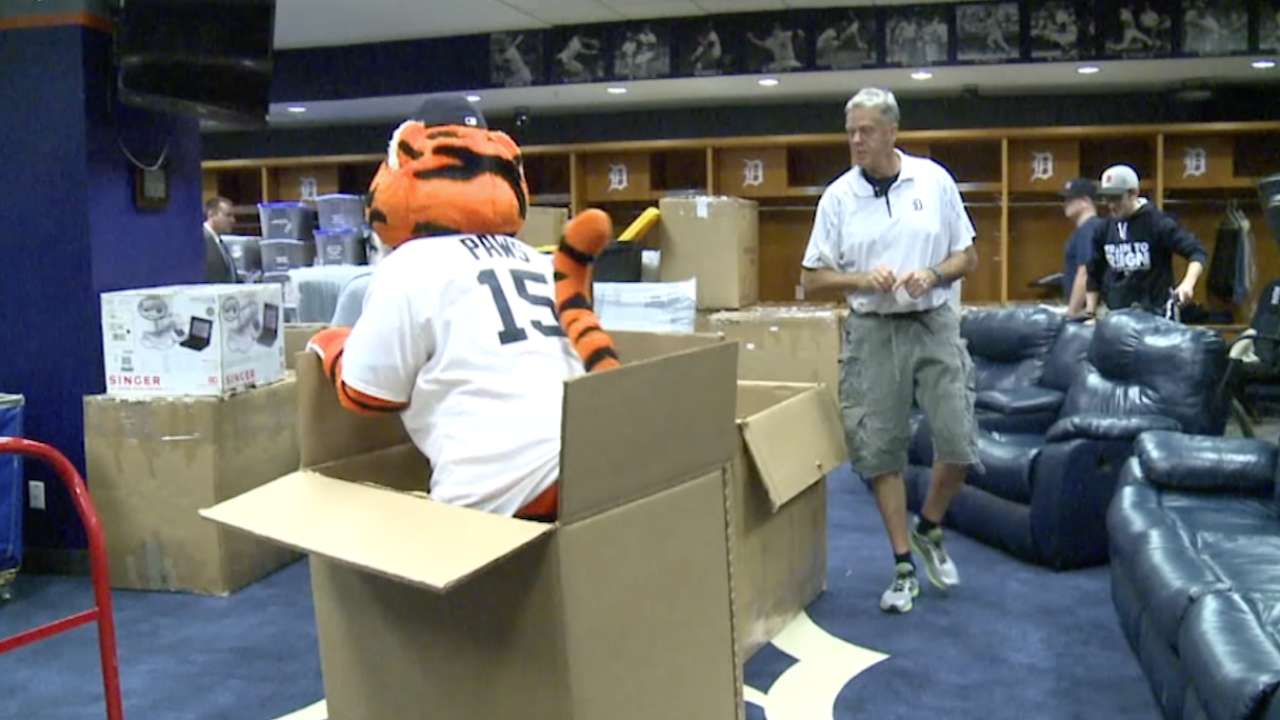 DETROIT -- The relatively tepid winter that Michigan has enjoyed gave way to snow showers Tuesday morning to slop up the work commute, providing a backdrop as the Tigers' clubhouse packed up gear bound for Spring Training in Lakeland, Fla.
While the weather was a reminder that winter isn't nearly over yet, Truck Day provided the Tigers' annual sign that baseball season isn't far away.
"It's kind of like the swallows of [San Juan] Capistrano," said Bob MacDonald, who has driven one of the Tigers' two large equipment trucks to Florida around this time each year since 2000. "Nothing says spring like snow on loading day. I look forward to it."
Truck Day is a tradition not just for what it signifies, but also for who does it. After 16 years, MacDonald knows the route by heart. By Tuesday night, his trek down Interstate 75 will have taken him past Lexington, Ky. If he can avoid traffic jams around Atlanta, he can cross into Florida by Wednesday night. On Thursday afternoon, a small army of clubhouse assistants will greet him at Joker Marchant Stadium, unload the truck and ready the Tigers' clubhouse for reporting day and first workouts next week.
• Tigers' Spring Training info
"There's something about the sound of a bat hitting a ball that sounds good," said MacDonald, whose work has allowed him to see just two Spring Training contests over the years. Last year, he managed to take in a game before hauling equipment back north at the end of camp.
The clubhouse assistants who greet MacDonald are Michigan and northwest Ohio college students and recent graduates working for Jim Schmakel, for whom Truck Day signified the unofficial start of his 38th season as Tigers clubhouse manager. He has packed and unpacked enough times that he has the process memorized.
"Basically, we start packing the minute the season's over," Schmakel explained. "We get everything out of here, back to their homes, and then we start ordering stuff for the season. And we hide stuff in nooks and crannies. We had a bunch of stuff in the visiting clubhouse that we store. As it comes in, we pack it, inventory it, send it over there. That stuff is now being loaded on the truck."
The equipment includes baseballs, bats, hats, weight equipment, video and computer technology, bicycles and other assorted items. Add in gear for Tigers front-office members, and there's enough to fill two 53-foot trailers.
"We stuff it stem to stern, top to bottom," Schmakel said.
The equipment has changed over the years. They don't ship as many bats as in past years because the current maple bats seem to last longer, and there's enough weight equipment at the Tiger Town complex that they don't need to bring much. The cabinets that once contained scouting files on players across the league are now obsolete, replaced by computer files. Video and computer equipment have become more of a premium.
It doesn't make the trip much lighter. Nearly 80,000 pounds of equipment is headed south. The hope of a new season isn't included, but it follows.
"For me, in truck terms, it's an easy trip," MacDonald said. "It's not hard. It's one load going to one place. And it goes down to Florida."
Jason Beck is a reporter for MLB.com. Read Beck's Blog, follow him on Twitter @beckjason and listen to his podcast. This story was not subject to the approval of Major League Baseball or its clubs.