MLB.com Columnist
Fred Zinkie
Fantasy's top pick: Harper, Trout, Goldy or others?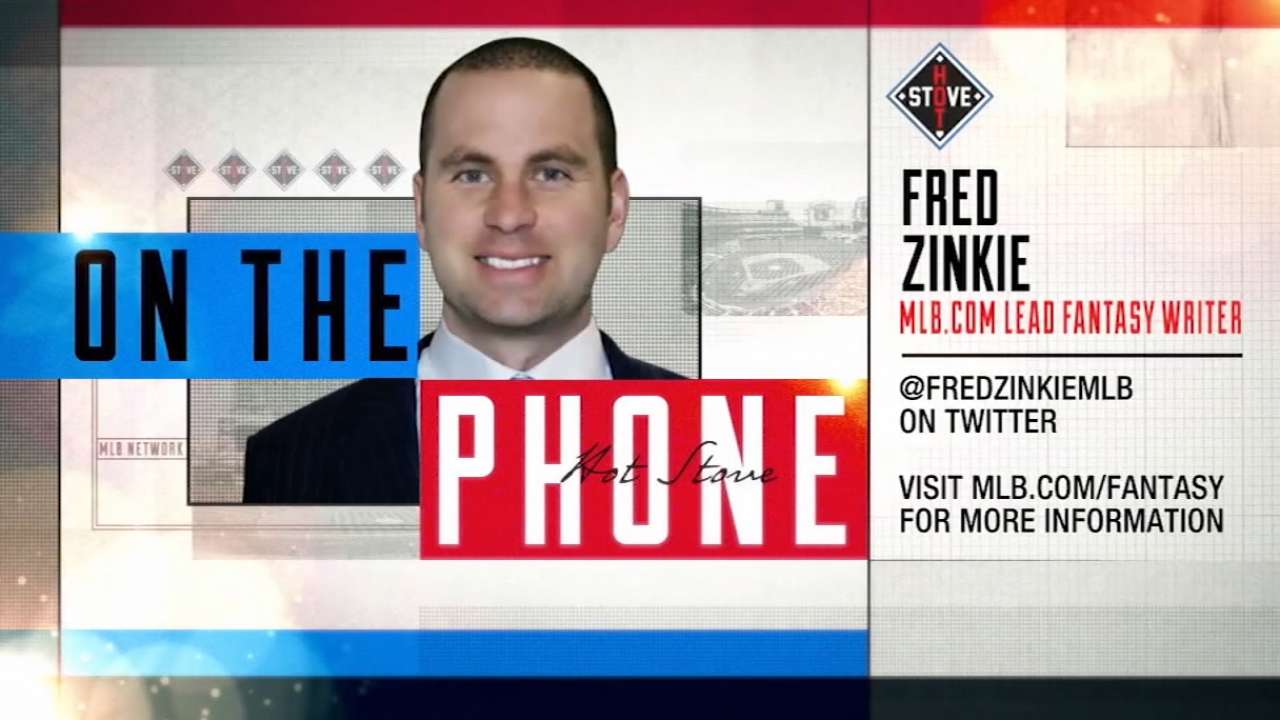 The collective efforts of your rabbit's foot, horseshoe and four-leaf clover have paid off -- you have been tabbed to pick first in your upcoming fantasy draft. But now the real fun begins. Because three players -- Bryce Harper, Mike Trout and Paul Goldschmidt -- each present a compelling case to anchor your 2016 squad, the dilemma at the top of the draft is unusually difficult this year. Making the best choice could be the difference between a narrow victory and an agonizing defeat.
Reasons to choose Harper
The 2015 National League MVP Award winner finally delivered on longstanding predictions that he would rise to the top of the baseball world. He managed to produce that outstanding campaign despite receiving little support from an injury-marred Nationals lineup; Denard Span, Anthony Rendon, Jayson Werth and Ryan Zimmerman all missed significant time, leaving Harper with fewer opportunities to score and drive in runs. With incredible plate discipline and power, the 23-year-old could post even higher totals in '16 with help from a healthy lineup that now includes Ben Revere and Daniel Murphy. Finally, the arrival of manager Dusty Baker spurs optimism that Harper -- who swiped 29 bags from 2012-13 -- could run the bases more aggressively this year.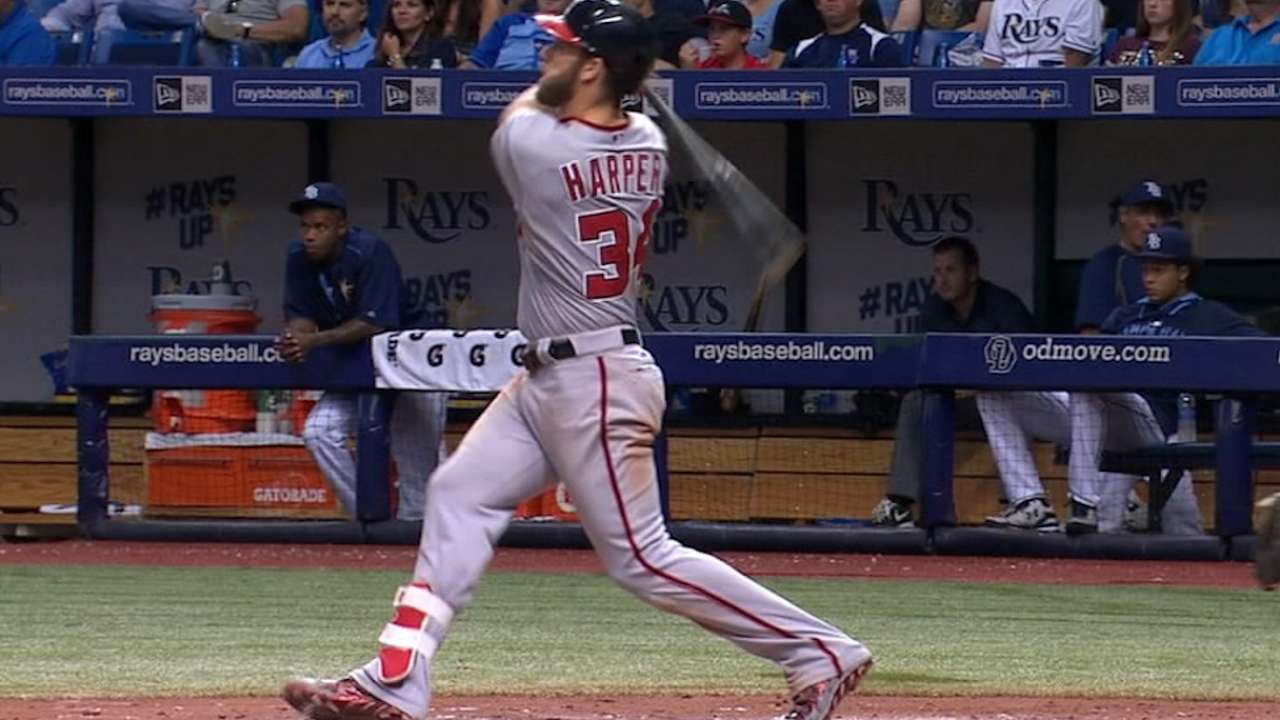 Reasons not to choose Harper
Even for a player as highly touted as Harper, such a massive jump in single-season production is sometimes followed by a level of regression. In his first three big league seasons, the Nevada native did not exceed 22 homers, 59 RBIs or a .274 average. Also, Harper is arguably the greatest injury risk of the three options, as he failed to play 120 games in '13 and '14.
Reasons to choose Trout
Trout is among the few players in baseball to perform at an elite level for each of the past four seasons. While his profile has shifted from speedster to slugger, the New Jersey native has consistently posted a high average and compiled counting stats at a remarkable rate. Having steadily increased his power numbers in recent years, Trout now ranks among the best home run hitters in baseball. And gains made last season with both his line-drive and hard-hit rates suggest that he can continue to combine a high batting mark with his prodigious power stroke.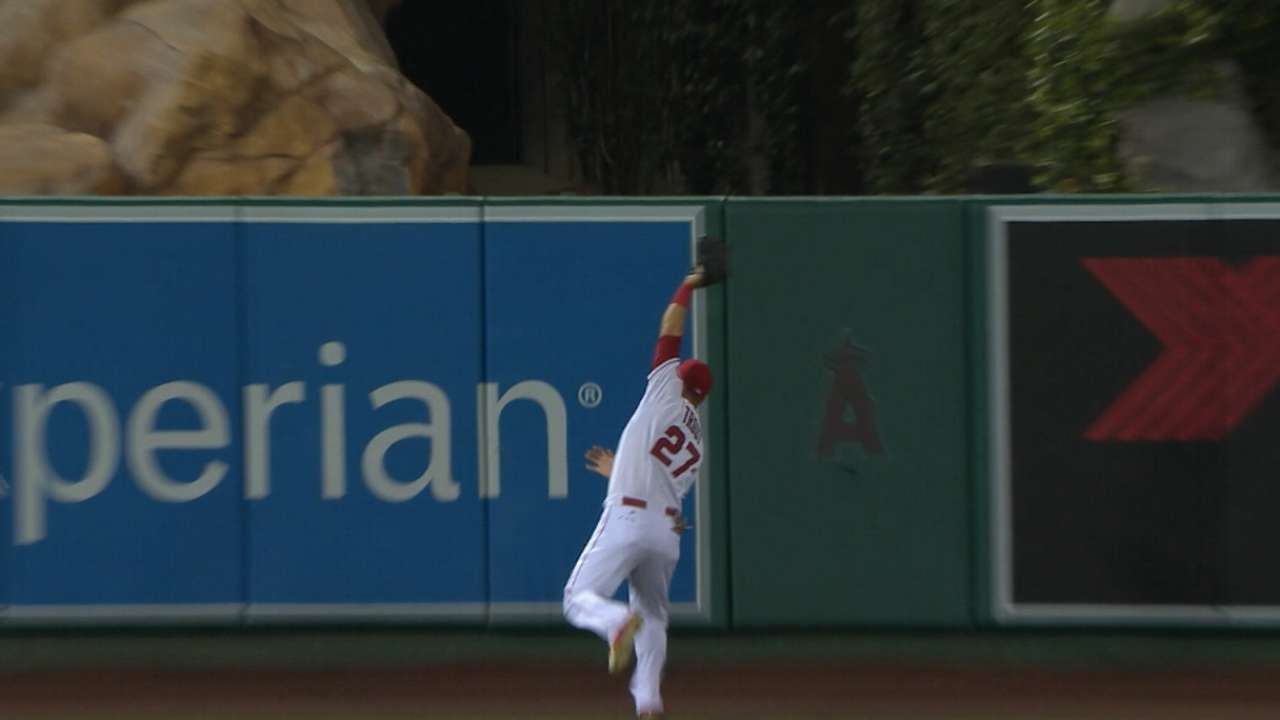 Reasons not to choose Trout
Trout used to set himself apart from other great hitters by posting a high stolen-base total, but his steals have dramatically declined in the past three years. In 2015, he compiled just five swipes after May 1 and finished with a full-season-low 11 steals. As a result of his decreased tendency to run, Trout can no longer be counted on for elite five-category production. And while Harper could receive additional help from his supporting cast in '16, Trout may be forced to carry the Angels' offense after the club did not add an impact bat in the offseason. Albert Pujols -- who is arguably the team's only other intimidating hitter -- may open the campaign on the disabled list while he recovers from offseason right toe surgery.
Reasons to choose Goldschmidt
Coming off a 21-steal season, Goldschmidt may have the best chance of the three options to make a sizable impact in all five standard offensive categories. With a tremendous ability to make hard contact, he should be on the verge of a fourth straight season with at least a .300 average. And with the benefits of batting behind super-sparkplug A.J. Pollock and playing at a hitter-friendly home park, Goldschmidt should be a safe source of at least 100 RBIs. Because the first-base position lacks its usual depth this season, owners may wish to start their draft with Goldschmidt and find outfielders in subsequent rounds.
Reasons not to choose Goldschmidt
While Harper and Trout have each produced a 40-homer season, Goldschmidt has yet to challenge that mark. The D-backs first baseman topped out at 36 long balls in 2013 and was on pace for less than that when he sustained a season-ending injury in '14. Goldschmidt can be expected to surpass 30 again after hitting 33 in '15, but 40 may be out of reach. Moreover, his .321 batting average from a year ago could dive closer to the .300 mark, as he was helped by a .382 BABIP. Finally, Goldschmidt's steals total could decline this season, as he stole just five bases after the '15 All-Star break and must contend with historic trends that show first basemen rarely hover around the 20-steal mark for multiple years.
Other options
While likely to go first overall in few 2016 drafts, Clayton Kershaw, Josh Donaldson and Carlos Correa each offer reasons to have their names in the discussion.
Although short on experience, Correa is long on upside. In his first full season, the 21-year-old could rip 30 homers, swipe 20 bases and drive in 100 runs from the heart of a rapidly improving Astros lineup. Because his potential production dwarfs that of his peers at the shortstop spot, Correa gets an added boost in the position-scarcity department. Case in point: In MLB.com's Fantasy Player Preview, Correa's auction value is listed at $38, with the second-priciest shortstop (Xander Bogaerts) coming in at less than half as much ($18). In snake drafts, Correa has a very strong case to go in the first round, while someone such as Bogaerts could easily remain on the board until Round 5. No other player in fantasy is so far ahead of his positional brethren. Correa's value also shoots up in leagues that employ keepers. If your league allows you to hold onto players from year to year, Correa could be a justifiable pick for the top spot.
Even with the depth at the pitcher position, Kershaw is a cut above his peers. With a 1.92 ERA and a 0.89 WHIP since the start of the 2013 season, he has produced a level of consistent dominance that cannot be matched by any hitter. Fantasy owners can consider starting their squad with Kershaw -- especially in head-to-head formats, where there is a premium on top pitchers -- then loading up on hitters in subsequent rounds.
If an owner believes that Donaldson can match his 2015 American League MVP Award-winning season, Donaldson can be considered at the top spot. Hitting in a high-octane Blue Jays lineup, the third baseman led the Majors in runs scored, ranked second in RBIs and tied Trout for fifth in homers. Toronto has retained all of the key pieces from its league-leading offense.
Final verdict: With the optimism that he can repeat -- or even improve upon -- his breakout 2015 season, Harper is our choice to have his name called first in '16 fantasy drafts. Trout ranks slightly behind Harper in second place, and any owner who gets the third slot should be ecstatic to select Goldschmidt.
Fred Zinkie is the lead fantasy baseball writer for MLB.com. Follow him on Twitter at @FredZinkieMLB. This story was not subject to the approval of Major League Baseball or its clubs.