Around the Horn: Rotation depth could be key
Halos have 8 big league-caliber starters for 5 spots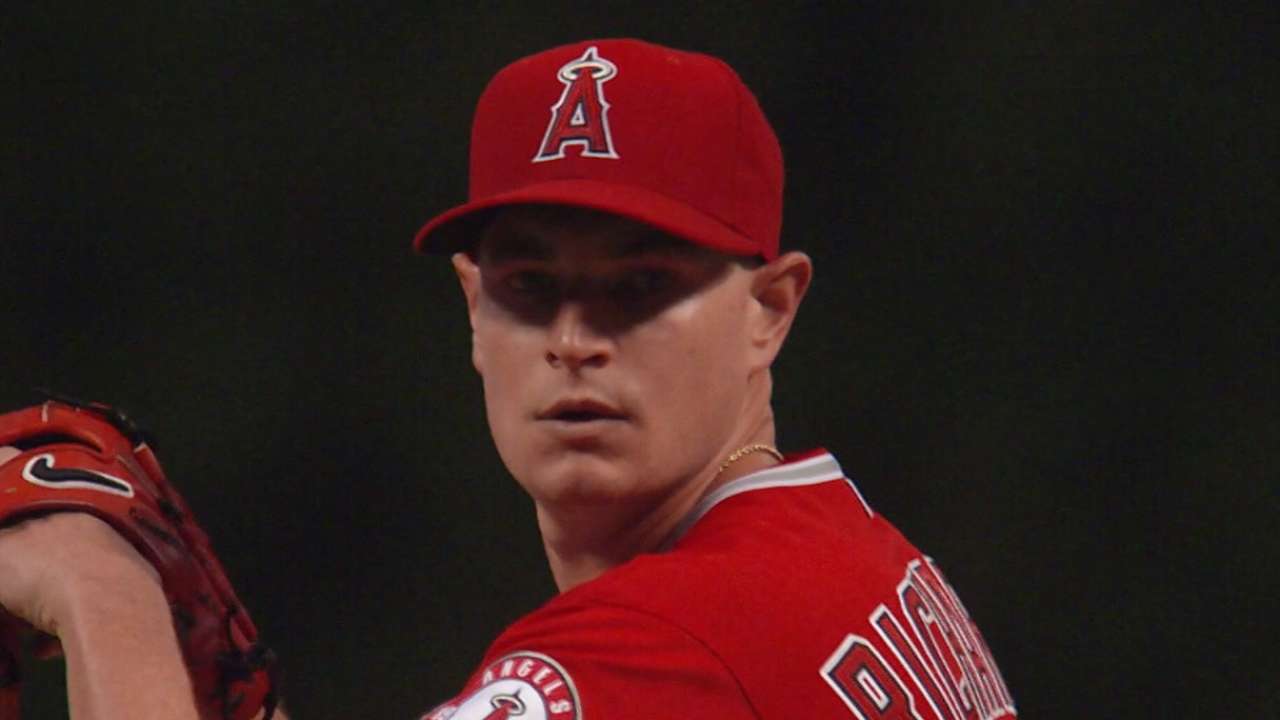 With pitchers and catchers scheduled to report to Tempe, Ariz., by Feb. 18, it's time to dissect the Angels' 2016 roster. This is the sixth of a six-part Around the Horn series taking a position-by-position look at projected starters and backup options heading into the season. Last, but certainly not least: starting pitching. (previously: catcher, corner infield, middle infield, outfield, bullpen)
ANAHEIM -- In an ideal world, the Angels would've used some of their starting-pitching depth to add an impact bat to their unstable lineup. They still might. But with nine days left until Spring Training, they still haven't, because the old baseball axiom, "You can't have too much starting pitching," still holds true, and because the Angels have a lot of uncertainty in their starting rotation.
Garrett Richards, C.J. Wilson, Jered Weaver, Andrew Heaney, Hector Santiago, Matt Shoemaker, Tyler Skaggs and Nick Tropeano -- listed in order of where they perceivably reside in the pecking order -- make up a group of eight legitimate Major League starting pitchers heading into Spring Training.
Chances are at least one of them could be dealt before Opening Day, either for help in left field or second base, or to simply free up some payroll space. But, as Angels general manager Billy Eppler said early in the offseason, "I don't want to rob Peter to pay Paul."
"What I witnessed in some experiences is that you think it's eight [starting pitchers] in November and it turns out April 1 that there are six," Eppler said. "You have to protect your depth."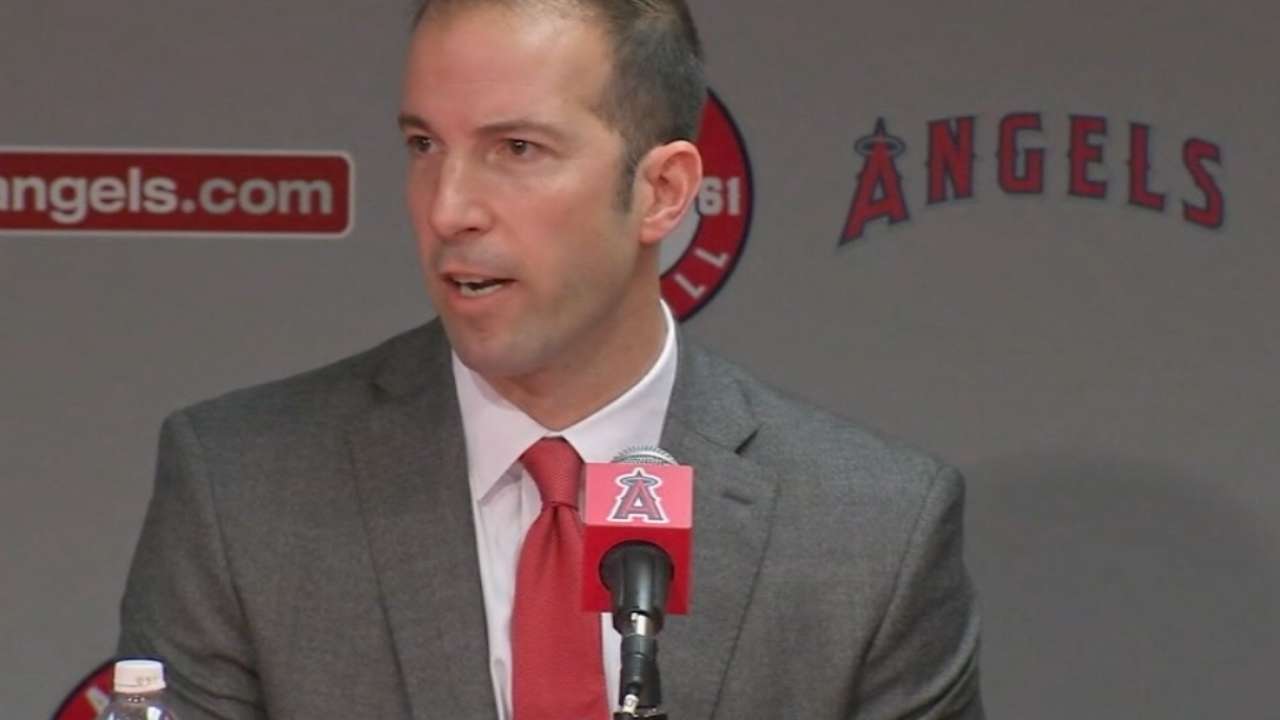 Often it's the starting-pitching depth beyond an Opening Day rotation that can make or break a team's season. And this is the first time in a long time that the Angels have had legitimate safety netting.
For much of 2012, a Minor League journeyman named Brad Mills was the next man in the Angels' organizational starting-pitching depth. In 2013, their rotation ERA was the fifth-highest in the American League. In the final six weeks of 2014, they used a collection of relievers every five days because Richards and Skaggs were lost for the season. And toward the end of 2015, they signed Mat Latos -- 6.66 ERA thru mid-September, then without a team -- because they basically ran out of starters.
All but one AL team -- the White Sox -- needed six different starters to make at least 10 starts, with the division-rival Mariners and Rangers requiring eight. Every AL team needed at least seven starters to make at least five starts, and 10 of them needed at least 10 pitchers to make one start. Given the questions facing this Angels group -- Weaver declining, Wilson and Skaggs coming off surgery, Heaney and Tropeano's youth, Santiago's tendency to be erratic and Shoemaker's recent struggles -- you'll see why Eppler has been hesitant to part with his depth.
Below is a look at each of the Angels' starters.
Richards: The 27-year-old right-hander has established himself as the Angels' de facto ace, taking the title Weaver held for so long. Richards has the highest fastball velocity among starters and his curveball boasts the highest spin rate of any pitch in the Majors. He went 15-12 with a 3.65 ERA in 32 starts in his first season removed from major left knee surgery and should be better after a full year back.
Wilson: Wilson missed the final two months of last season after removing loose bodies from his pitching elbow. The 35-year-old lefty has had more than enough time to recover and will be entering his final season before free agency, set to make $20 million. The Angels could eventually trade Wilson for a bat or payroll space, but don't want to sell low on an intriguing bounceback candidate.
• Several Angels looking for bounceback seasons
Weaver: His fastball velocity dipped to an average of 85 mph, prompting the worst season of his career (12 losses, a 4.64 ERA, a 1.23 WHIP, 5.1 strikeouts per nine innings and 24 home runs allowed in 159 innings). Weaver, 33, is also in his final year before free agency. But the Angels believe that with improved health and a stronger core, he may be able to get a few ticks back on his fastball.
Heaney: Acquired from the Marlins for Howie Kendrick in December 2014, Heaney struggled in his first spring with the Angels. But he ironed out his mechanics, got called up in late June and turned in an impressive rookie season, with a 3.49 ERA and a 1.20 WHIP in 105 2/3 innings. The 24-year-old left-hander is basically a lock for this year's staff. The Angels hope he can take another step forward.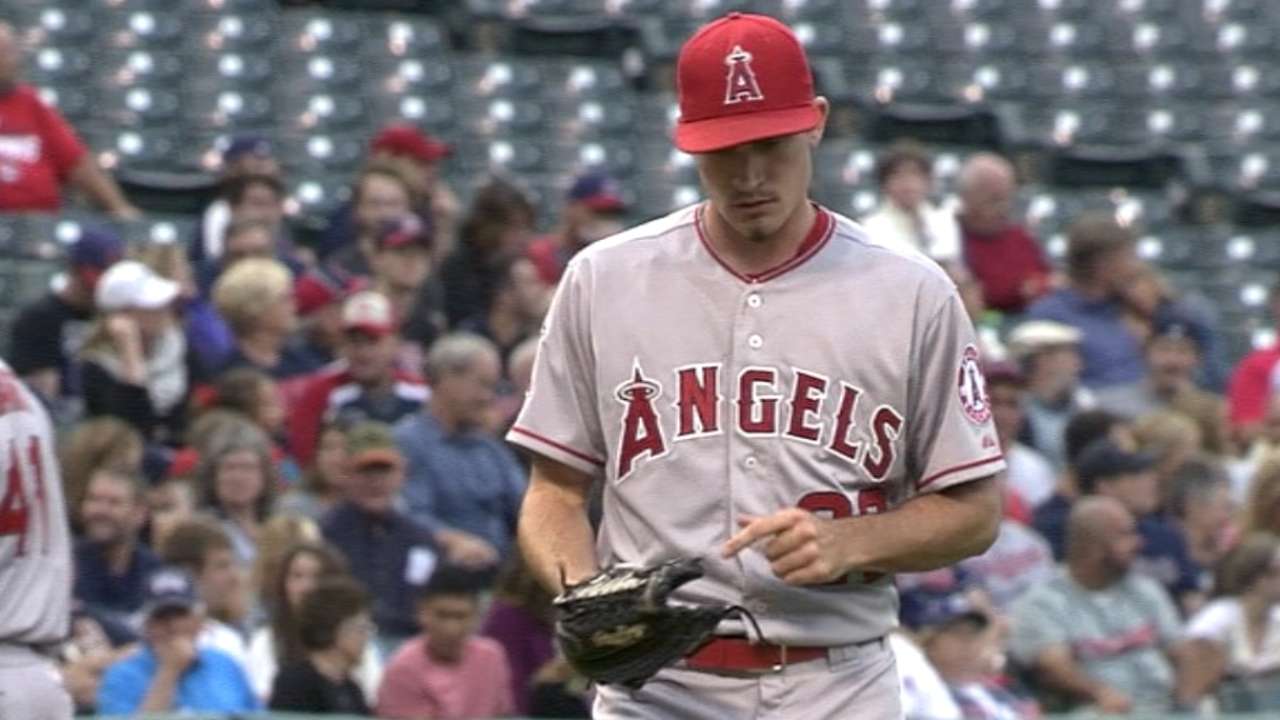 Santiago: The 28-year-old lefty basically had two different seasons in 2015. He posted a 2.33 ERA in 108 1/3 innings in the first half, good enough to make the All-Star team. Then he recorded a 5.47 ERA in 72 1/3 innings in the second half. Santiago has nonetheless earned the right to lock down a spot in the rotation, but he's also been a rumored trade candidate all offseason. He can help in the bullpen if needed.
Shoemaker: The thick-bearded right-hander burst onto the scene in 2014, going 16-4 with a 3.04 ERA to finish second in AL Rookie of the Year voting. Last year, though, Shoemaker struggled to a 4.46 ERA and gave up 24 homers in 135 1/3 innings -- a troubling stat for someone who makes a living generating ground balls. Shoemaker is now in danger of starting the season in Triple-A or the bullpen.
Skaggs: Skaggs enters Spring Training more than 18 months removed from Tommy John surgery and remains a promising young arm, at 24. Skaggs had a 4.30 ERA in 18 starts (and was 4 2/3 innings into a no-hitter) when he tore his ulnar collateral ligament on July 31, 2014. The Angels have high hopes for Skaggs, but there doesn't seem to be a place for him right now.
Tropeano: He may be last on this depth chart, but Tropeano has proven he has the ability to start games in the Major Leagues. Acquired alongside Carlos Perez from the Astros for Hank Conger in November 2014, Tropeano finished last year with a 3.82 ERA in 37 2/3 innings in the Majors. The 25-year-old right-hander doesn't issue many walks and has a good fastball-changeup mix.
FanGraphs WAR projections (by Steamer)
Richards: 3.2
Wilson: 1.7
Heaney: 1.2
Shoemaker: 0.8
Skaggs: 0.7
Santiago: 0.6
Tropeano: 0.5
Weaver: 0.2
Beyond the active roster
The Angels' farm system took a hit when starting pitchers Sean Newcomb and Chris Ellis were dealt to the Braves for shortstop Andrelton Simmons in November. Victor Alcantara, a hard-throwing right-hander who struggled through Class A Advanced last year, is now the organization's top-rated prospect, according to MLBPipeline.com.
Nate Smith, ranked third, is the closest to the Majors. He's a 6-foot-3, 24-year-old left-hander who doesn't have overpowering stuff but has an easy delivery and knows how to put pitches together. Smith pitched well in Double-A last year, posting a 2.48 ERA in 17 starts, but got hit around after a late-season promotion to Triple-A.
Yunesky Maya, who racked up 59 innings with the Nationals from 2010-13, was signed to a Minor League contract and will help fill out the Triple-A rotation. Maya spent all of last year pitching in South Korea and the Dominican Republic and will be joined in Spring Training by Angels farmhands Kyle McGowin (ranked 16th) and Tyler DeLoach.
Alden Gonzalez is a reporter for MLB.com. Follow him on Twitter @Alden_Gonzalez and Facebook , and listen to his podcast. This story was not subject to the approval of Major League Baseball or its clubs.