Truck Day is here! Reds load up spring gear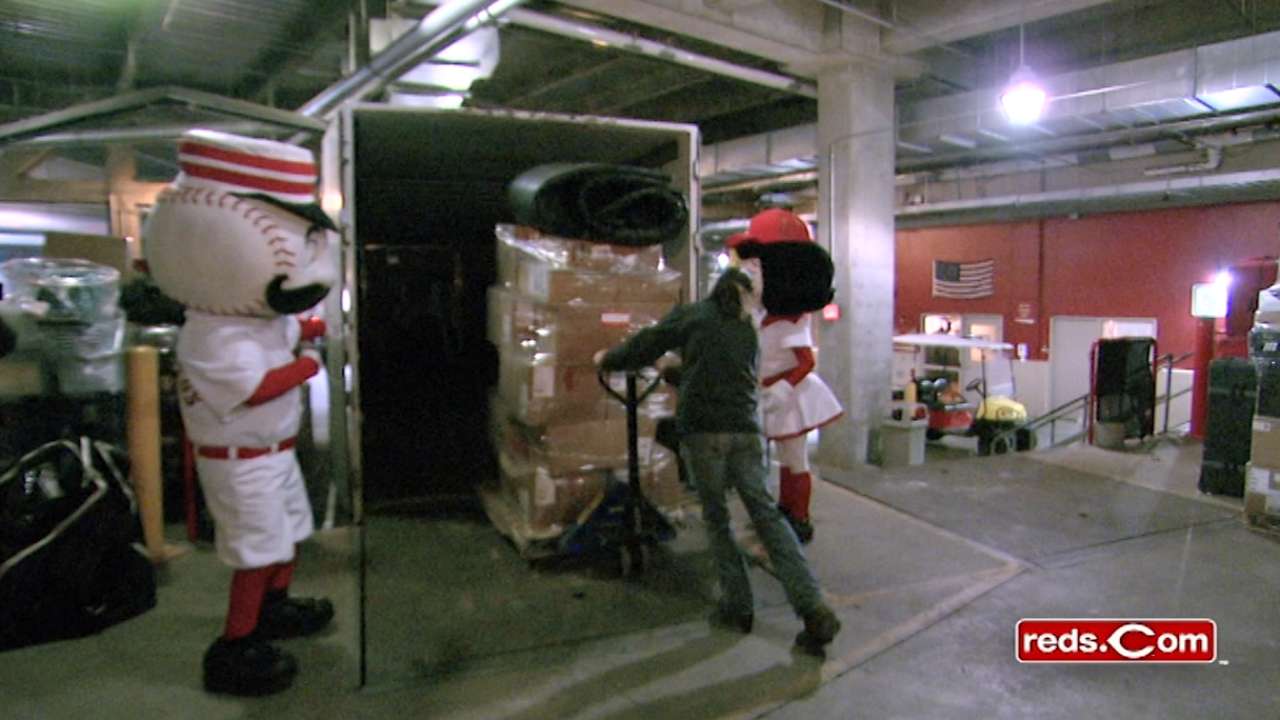 CINCINNATI -- A light snowfall was enough to close schools throughout Greater Cincinnati on Tuesday, and temperatures are expected to nosedive to near zero degrees later in the week. Nevertheless, a sign of spring still sprung from the loading dock inside of Great American Ball Park.
A truck with a 53-foot trailer arrived and backed in, ready to be loaded with all the equipment for Spring Training.
"This is Day 1. This is where the organization comes together," Reds home clubhouse assistant Tony Walter said. "We work together -- the field staff all the way to the executive offices -- and this is where everybody's stuff comes and we get our start."
Led by clubhouse manager Rick Stowe, the packing and gathering of trunks, boxes and bags has been happening for weeks. Even before the truck arrived Tuesday, large skids were piled high and covered in shrink wrap to keep it all together.
The usual game equipment -- like bats, baseballs, extra uniforms and helmets -- is headed to the Reds' player development complex in Goodyear, Ariz. But also included are front-office items, kitchen and food supplies for the clubhouse, all the equipment of the medical and training staff, marketing and promotional materials and audio/visual equipment needed for the scoreboard crew shoots. There were some other items, too, including a guitar, a bicycle and a treadmill.
"That's a very unique treadmill. It's an anti-gravity treadmill," Walter said. "Everything it takes to operate a baseball team is on this truck, besides the players."
The truck is scheduled to leave Cincinnati on Wednesday for a three-day, 1,800-mile trek to Goodyear. Stowe, Walter and the clubhouse staff will be there on Saturday to unload everything from the truck and begin the setup, ahead of the Feb. 18 report date for Reds pitchers and catchers.
"We get it out there. We get it there in one piece," Walter said. "It's important to us that everything comes off that truck in the same condition that it went on."
Mark Sheldon is a reporter for MLB.com. Read his blog, Mark My Word, follow him on Twitter @m_sheldon and Facebook and listen to his podcast. This story was not subject to the approval of Major League Baseball or its clubs.