Still on the market, Fowler boasts a truly unique skill set
Free-agent OF could be the game's best switch-hitting OBP threat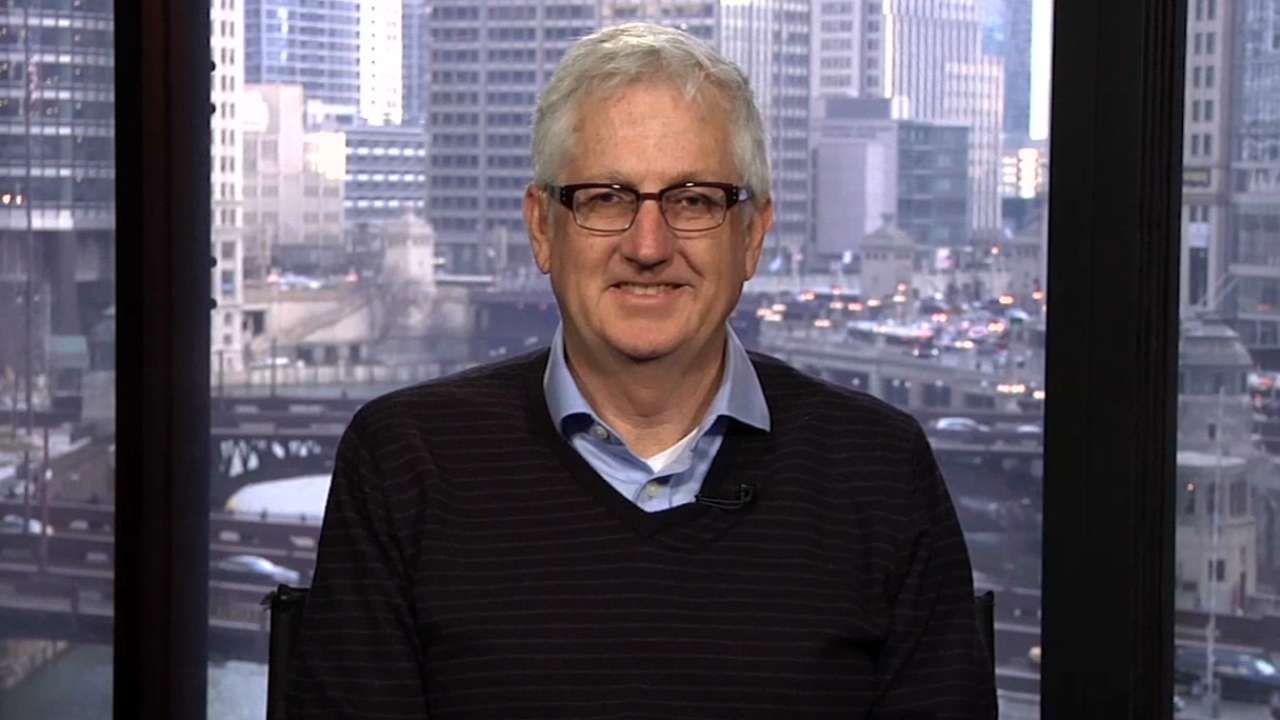 The market for free-agent outfielders was particularly loaded this offseason, and as a result, one of the most unique players in the class seemed to get lost in the shuffle.
It's the second week of February, and Dexter Fowler still hasn't found a home. He's 29 years old -- younger than Yoenis Cespedes and Alex Gordon -- and fresh off a season in which he manned center field and batted leadoff for a Cubs team that reached its first postseason in seven years.
There are many reasons to like Fowler -- and many reasons why he'd be a perfect fit for the 5-6 teams still in search of an outfielder. But what's most striking about Fowler is his truly unique skill set at the plate.
He's a switch-hitter who reaches base at a very high rate. There simply aren't very many players you can say that about.
In 2015, only six switch-hitters reached base at a clip of .350 or better -- the lowest mark since 1969, the first season of divisional play. In fact, only 33 switch-hitters even recorded 300 at-bats in 2015 -- the lowest total since 1981.
The mid 1990s were full of switch-hitting on-base threats (namely Roberto Alomar, Tim Raines, Chili Davis, Bernie Williams and Chipper Jones). Twenty years later, there's a legitimate argument to be made that Fowler is the best switch-hitter in baseball, at least in terms of reaching base. Take a look at the switch-hitting OBP leaderboard over the past four seasons:
Fowler .368
Carlos Santana .366
Ben Zobrist .361
Victor Martinez .360
Daniel Nava .358
(minimum 500 plate appearances)
After those five, there's a pretty steep drop-off. A few switch-hitters -- Mark Teixeira, Carlos Beltran and Kendrys Morales immediately come to mind -- have been very productive in that time, but their OBPs aren't close to Fowler's.
"So Fowler is unique," you may be saying. "A lot of players are unique. That doesn't necessarily make them worth multiyear, big-money contracts." But in Fowler's case, there are reasons to believe his uniqueness makes him valuable:
• He brings roster flexibility. Signing Fowler to a multiyear deal doesn't pigeonhole a franchise in terms of future signings. He fits nicely in a lineup that's left-handed-heavy, and he fits nicely in a lineup that's right-handed-heavy.
• His late-inning presence is tough on opposing managers. Wherever he signs, Fowler will bat toward the top of the order. Generally, the best way to to neutralize the heart of an opponent's lineup is to keep the bases clear before you get there. Not only does Fowler get on base at a very high clip, he does it from both sides of the plate, making things extremely tough for opposing managers who want to mix and match within their bullpen.
Sure, Fowler's numbers are better as a right-handed hitter against lefties than vice versa:
Career
Vs. Left: .303/.392/.438
Vs. Right: .252/.351/.410
But the difference isn't as stark as for a few other switch-hitters. From his weaker left side, Fowler has still managed to reach base at a .351 clip -- which puts him only two points below the career OBPs of lefty hitters Jason Heyward and Gordon.
Even though Fowler is attached to Draft pick compensation, he'd be a worthwhile addition for several clubs -- most notably the White Sox, Angels, Indians and Cardinals, who would all benefit from some outfield help. There's room for Fowler toward the top of all four of those lineups -- and some serious power bats who could potentially hit behind him. (Think of Fowler getting on base for Jose Abreu and Todd Frazier or Mike Trout and Albert Pujols.)
In front of Kris Bryant and Anthony Rizzo last season, Fowler scored 102 times (fourth in the NL). And while runs totals are generally the result of circumstance, you can't score if you aren't reaching base. And Fowler has done that as well as anyone in this year's class. (Over the past three seasons, only John Jaso has a higher OBP among 2015-16 free agents.)
As a switch-hitting on-base threat in 2016, Fowler is a truly rare breed. And it's that uniqueness that makes him the most valuable free agent remaining on the market.
AJ Cassavell is a reporter for MLB.com. Follow him on Twitter @ajcassavell. This story was not subject to the approval of Major League Baseball or its clubs.