MLB.com Columnist
Jesse Sanchez
MLB Showcase puts spotlight on international talent
59 players from 7 countries to participate in 2-day event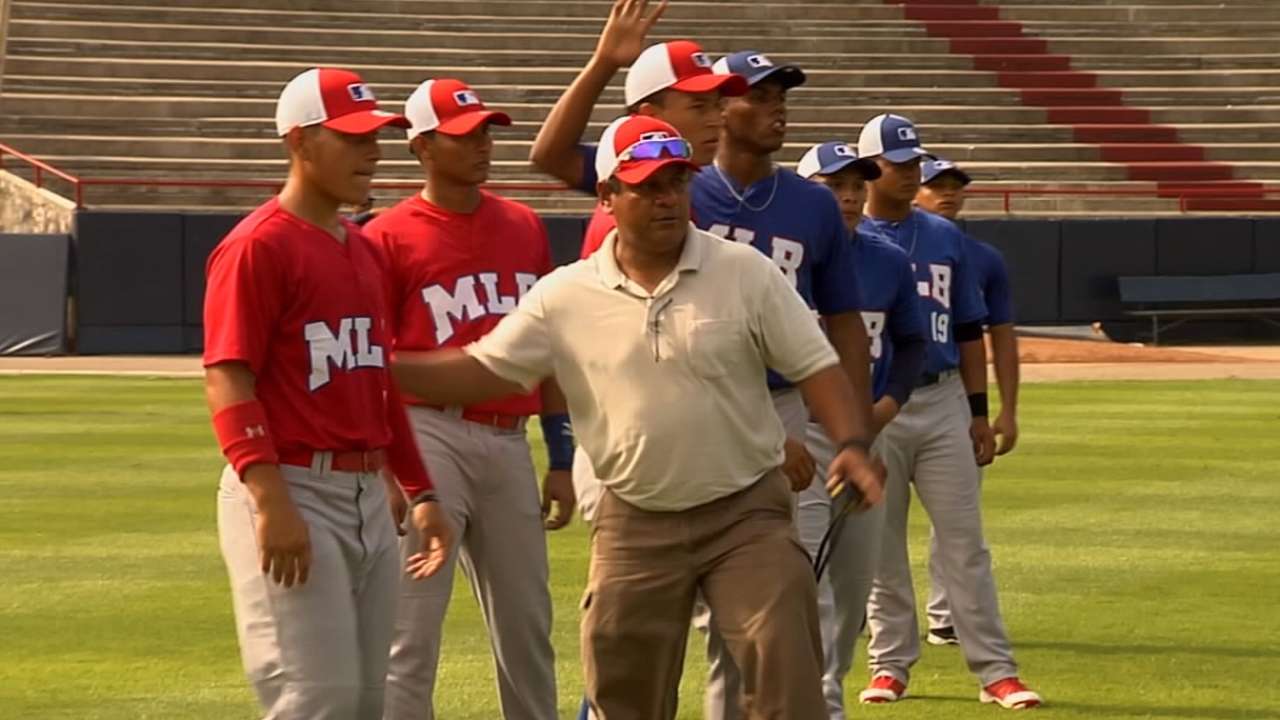 SANTO DOMINGO, Dominican Republic -- Venezuela's Kevin Maitan, considered by many to be top player available during the upcoming international signing period that starts July 2, is expected to be there.
Outfielder Tirso Ornelas, the best teenage prospect in Mexico, will to be there, too. Right-handed Edisson Gonzalez will take the mound as the best teen pitcher Panama has to offer and outfielder Jeisson Rosario, one of the top outfielders from the Dominican Republic, will roam the grass at Estadio Quisqueya.
• MLB Pipeline's Top 30 international prospects
On Wednesday, the most famous ballpark in Santo Domingo will play host to some of the most talented prospects from across Latin America for two days at Major League Baseball's fifth annual International Showcase.
A total of 59 players representing seven countries, a record number for the event, including Colombia, Curacao, the Dominican Republic, Mexico, Nicaragua, Panama and Venezuela, are expected to participate, although there could be some last-minute changes to the rosters.
Prospects Rafael Devers (Red Sox,), Ozzie Albies (Braves), Michael De Leon (Rangers), Gleyber Torres (Cubs) and Franklin Barreto (A's) are all alumni of MLB's International Prospect Showcase.
"It's the only real opportunity throughout the year where clubs and evaluators can see the best talent in one class all in one place," said Joel Araujo, manager of Latin American game development for MLB. "We started in 2012 with the top 25 Dominican Republic players versus the top 25 Venezuelan players and now, it's the best of [the] international market, with a focus on Latin America. We will also have a player from the Bahamas."
The showcase portion of the event on Wednesday will feature a 60-yard dash, infield and outfield practice, along with batting practice and one game. A doubleheader is scheduled for Thursday. More than 300 scouts and front office executives are expected to attend.
While scouting remains paramount on the international market, tryouts are no longer the only way for clubs to evaluate talent. Showcases that feature games and leagues have been commonplace since the Dominican Prospect League introduced the format in 2009 and the International Prospect League followed a year later.
Major League Baseball's Amateur Prospect League began in 2012 with games and showcases in the Dominican Republic. Now, there are national showcases in the Dominican Republic and Venezuela, along with tryouts in Brazil, Nicaragua, Panama, Mexico, Curacao and Colombia.
"I can tell you, in particular in the Dominican Republic, that up until four or five years ago Major League clubs were evaluating international talent at workouts alone, meaning kids would take a round or two of batting practice, run, field, and throw, and scouts were left to decide how many tens of thousands or hundreds of thousands or even millions that they were going to give a 15-year-old kid," said Kim Ng, Major League Baseball's senior vice president of baseball. "What you have to remember is that in the United States you are making those similar decisions, but you've probably seen them in high school baseball games from the time they were freshmen all the way up to their senior year and in college. They are also 17 and 18 years old, a lot more physically mature and mentally and emotionally mature as well."
The guidelines for signing a prospect are these: A 16-year-old international player can sign during the period that extends from July 2 through June 15 of next year if the prospect turns 17 before Sept. 1 of this year or by the completion of his first Minor League season.
Each team is allotted a base and a bonus pool made up of four slot values based on the team's record from the previous year to spend on these prospects. Clubs are allowed to trade pool money. Bonuses of $10,000 or less are exempt and do not count against the allotment.
There are also penalties for teams that exceed their bonus pools. The Cubs, Dodgers, Giants and Royals will not be able to sign any pool-eligible prospects for more than $300,000 for the next two international signing periods after exceeding their bonus pools during the current signing period that ends June 15. The Angels, D-backs, Rays, Red Sox and Yankees are already in the maximum penalty after exceeding their bonus pools.
The Padres, Braves and Nationals have been very aggressive on the international market and each team expects to have a solid class of prospects for the next international signing period. Milwaukee, St. Louis, Philadelphia and Texas have also been very busy.
Representatives from all 30 teams are expected at the event.
"In terms of international baseball, I think it's important for people to know that very few countries in the world have formalized, structured baseball. In other words, there are not very many leagues available where kids have the opportunity to play," Ng said. "High school and college baseball are virtually non-existent and they only exist in handful of countries -- the U.S., obviously, several Asian countries and then there are a couple of high schools in Puerto Rico. So that's where we were five-plus years ago where we were evaluating kids off of tryouts only, but that's not the case anymore."
Jesse Sanchez is a national reporter for MLB.com. Follow him on Twitter @JesseSanchezMLB. This story was not subject to the approval of Major League Baseball or its clubs.