Pitchers get in last Turner Field workouts
Foltynewicz, Wisler and others will report to Orlando area by Feb. 19
ATLANTA -- Though there was still a little chill in the air, those who passed through the Braves' clubhouse at Turner Field on Monday could certainly get the sense that the baseball season is quickly approaching.
Braves general manager John Coppolella added a couple suitcases to a group of boxes that will be placed on a moving truck that will transport most of the club's equipment to Spring Training on Friday. As Coppolella packed, pitchers Matt Wisler, Mike Foltynewicz and Williams Perez were at the stadium to complete one of their final workouts before heading to Florida. Atlanta's pitchers and catchers are required to report to Spring Training by Feb. 19, but many of them will arrive in the Orlando area a few days early to get settled before entering daily grind of the baseball season.
"You can tell that everyone is starting to get excited," said veteran reliever David Carpenter, who has returned to the Braves organization after spending last year with the Yankees and Nationals.
While Wisler, Perez, Foltynewicz and right-handed reliever Danny Burawa have been frequent visitors to Turner Field over the past week, Carpenter just got to town on Sunday evening. He plans to stay a few days before heading south toward ESPN's Wide World of Sports Complex, which has been Atlanta's Spring Training home since 1998.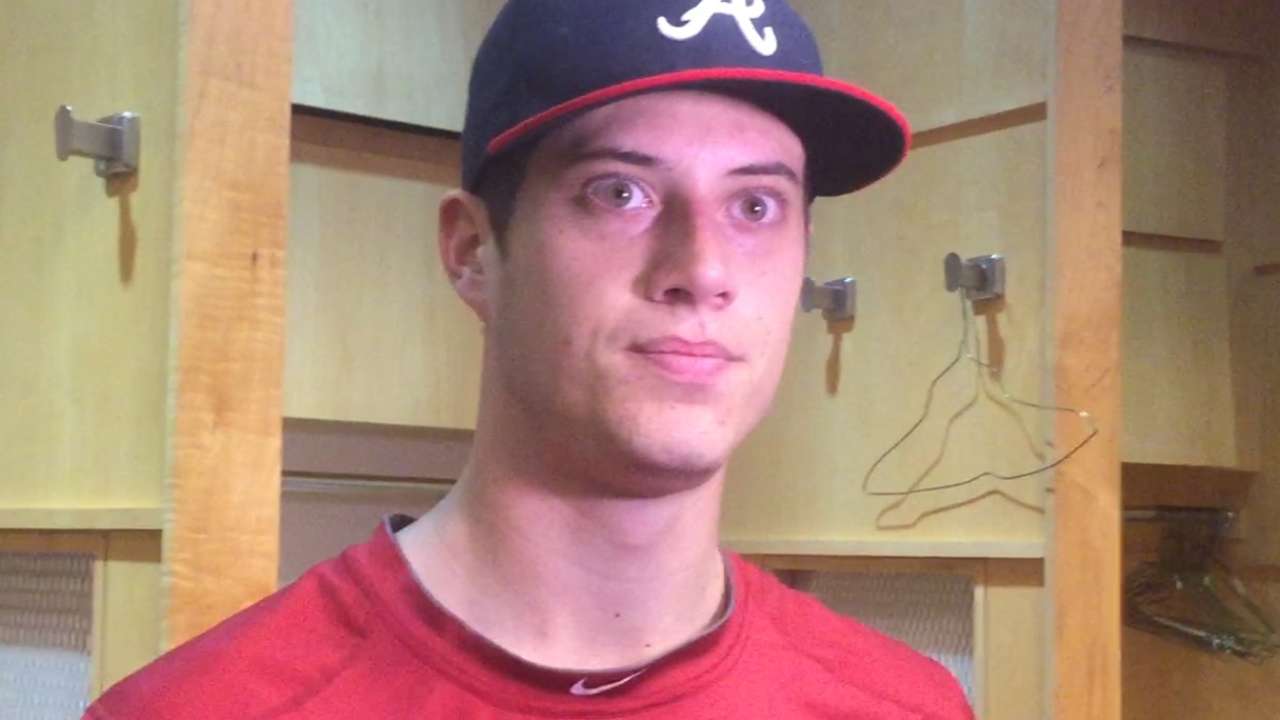 Carpenter wasn't the only familiar figure who was getting reacquainted with Turner Field on Monday. The same could be said of veteran catcher Tyler Flowers, who was in the Braves' farm system before being traded to the White Sox before the 2009 season. He signed with Atlanta on Dec. 16 after seven years in Chicago.
Flowers has worked out at Turner Field a few times over the past week. In fact, while the suburban Atlanta resident was taking batting practice in the indoor batting cages on Friday, he received word that he needed to leave the stadium immediately because his wife had gone into labor and needed to get to a nearby hospital.
With Foltynewicz likely out of the mix as he attempts to regain the strength he lost after having surgery to remove a blood clot and a portion of a rib in September, it appears Julio Teheran, offseason signee Bud Norris and Wisler will hold the first three rotation spots. Perez, Manny Banuelos, Ryan Weber, Kyle Kendrick and Jhoulys Chacin will battle for the final two rotation spots.
The battles for the final bullpen spots will be influenced by how far Jason Grilli has progressed in his attempt to return from a ruptured left Achilles tendon. If Grilli is not ready, Arodys Vizcaino, Jim Johnson and Chris Withrow would stand as the only three near-locks to begin the season in the Braves' bullpen.
Carpenter, Alexi Ogando and lefty Alex Torres will all come to camp as non-roster invitees who are hopeful to win one of those bullpen spots. The competition will be further enhanced by the presence of some returning candidates like Daniel Winkler and Burawa, who showed some promise as he worked out of Atlanta's bullpen late last season.
"Competition makes everybody better," Carpenter said. "If you come in and you're lackadaisical, and you don't get yourself prepared, then in turn, you hurt the team, and you hurt yourself."
Mark Bowman is a reporter for MLB.com. This story was not subject to the approval of Major League Baseball or its clubs.