Spring cleaning: Rockies gear shipped
Clubhouse-operations staff clears out Coors Field for annual trip to Arizona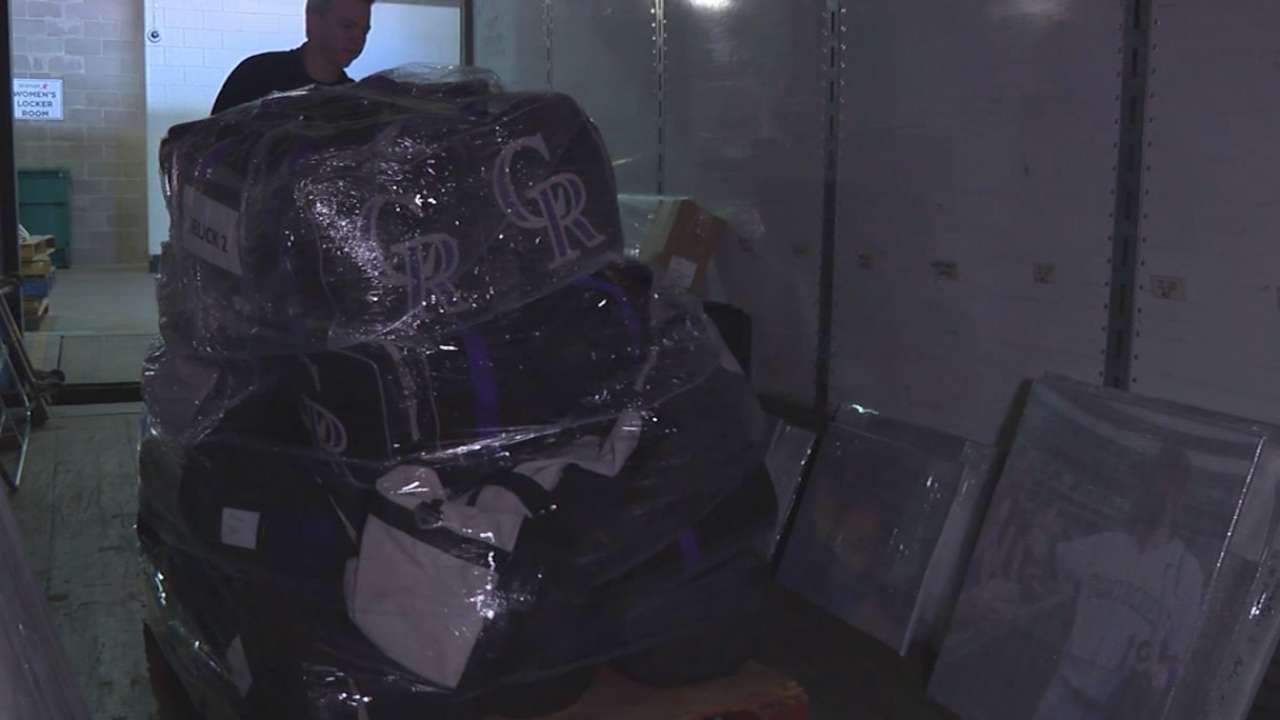 DENVER -- Tyler Sanders finished his Friday walking through the eerily empty clubhouse and storage areas of Coors Field, knowing that baseball and all its paraphernalia would greet him by the time he landed in Scottsdale, Ariz., Saturday afternoon.
Sanders, Colorado's assistant to the director of clubhouse operations, was responsible for making sure that when the final truck pulled out for the trip to Salt River Fields at Talking Stick -- the Rockies' Spring Training home -- there was nothing left behind. That meant every piece of baseball equipment, every jacket and coat, every pen and pad and desk calendar, even every bicycle and game console for the staff and their families.
The move is, in a way, the culmination of a process that began Jan. 4, the day employees returned from holiday break. Sanders worked with director of clubhouse operations Alan Bossart and visiting clubhouse manager Mike Pontarelli to push much of the baseball and workout equipment onto a truck that left about three weeks ago. But Sanders, who is in his third year with the Rockies (fifth in the organization) and has been working in equipment operations since his days as an undergrad at Georgia, is a baseball guy.
So the empty ballpark in Denver is really a beginning.
• Spring Training schedule, tickets
"It's always fun to get down there and see everybody," said Sanders, 28. "This place is kind of a ghost town in the offseason. It's nice to be around people again and start hearing the crack of the bat. Baseball is here."
People like Sanders make sure baseball is where it needs to be.
Sanders grew up in Macon, Ga., playing mostly baseball, basketball and football. His high school days were spent at John Milledge Academy, where his father, Gary, was on the football coaching staff. Sanders grew to love the inner workings of sports, and as a student at the University of Georgia he found his opening into that world.
"A guy I knew who was a friend of some of the people I went to high school with tried out for the baseball team, didn't make it, stuck around as a student-manager," Sanders said. "That year I went to all the home games and I'd see him around working and said, 'Hey, that looks like fun, and if you ever need any help, let me know.' That summer they had a couple openings and I started helping them."
Sanders began working baseball and other sports at Georgia, finishing his work as a graduate assistant with the storied Bulldogs football program. He would earn bachelor's and master's degrees in sports policy and management.
Sanders also found work in the Braves' clubhouse, which put his foot in the pro baseball door. After joining the Rockies' operation in Denver, Sanders was clubhouse manager at Class A Asheville and Rookie-level Grand Junction.
Working with Bossart, Sanders has learned the different equipment needs of players. Some like to experiment, especially with bats.
The current Rockies are mostly conventional about equipment.
As for tinkerers, "We just lost one of our biggest -- Corey Dickerson [traded recently to the Rays] loved his bats. To his credit, he knew what he liked, and if he didn't like something, that's his career, that's how he earns a living."
Center fielder Charlie Blackmon and second baseman DJ LeMahieu are opposites of Dickerson.
"They don't change things a whole lot," Sanders said. "They've been pretty doggone successful doing it like this, so there's really nothing they have to change."
Why must the Rockies empty Coors Field for Spring Training? After all, the Salt River Fields operation is open year-round because of extended spring training, instructional ball, Arizona Fall League play and offseason workouts.
"You just never know what you're going to run into," Sanders said. "You had snow down there a couple years ago. You might run into that and guys need heavy, cold-weather jackets. We pretty much take everything we have down there. You'd rather take it and not need it than need it and not have it."
The final walk through Coors Field was a lonely one for Sanders. He was ready for the activity that's already going on at Salt River Fields, with much of the team arriving early to complete their offseason workouts.
And, there's no snow on the ground in Scottsdale.
"I'm ready to get out in the 70 degrees and warm up a little bit," Sanders said.
Thomas Harding is a reporter for MLB.com. Follow him on Twitter @harding_at_mlb, listen to podcasts and like his Facebook page. This story was not subject to the approval of Major League Baseball or its clubs.