Goldy always looking to improve routine
Star first baseman makes small tweaks to offseason program to continue progressing
PHOENIX -- Given the results from each of his first four full seasons in the big leagues, it is clear that not much, if anything, is lacking in Paul Goldschmidt's offseason workout program. But that doesn't mean the D-backs' first baseman is not always looking for ways to make even the slightest of improvements.
"I have my base program that I've been doing really since the year before I got called up five years ago, and it's basically the same," Goldschmidt said. "Every year, I sit down with Nate Shaw, our strength and conditioning coordinator, and we kind of tweak the program a little bit."
For instance, before last offseason, he sat down with Shaw and added more of a speed element to his offseason workouts. That paid dividends when Goldschmidt stole a career-high 21 bases in 26 attempts in 2015.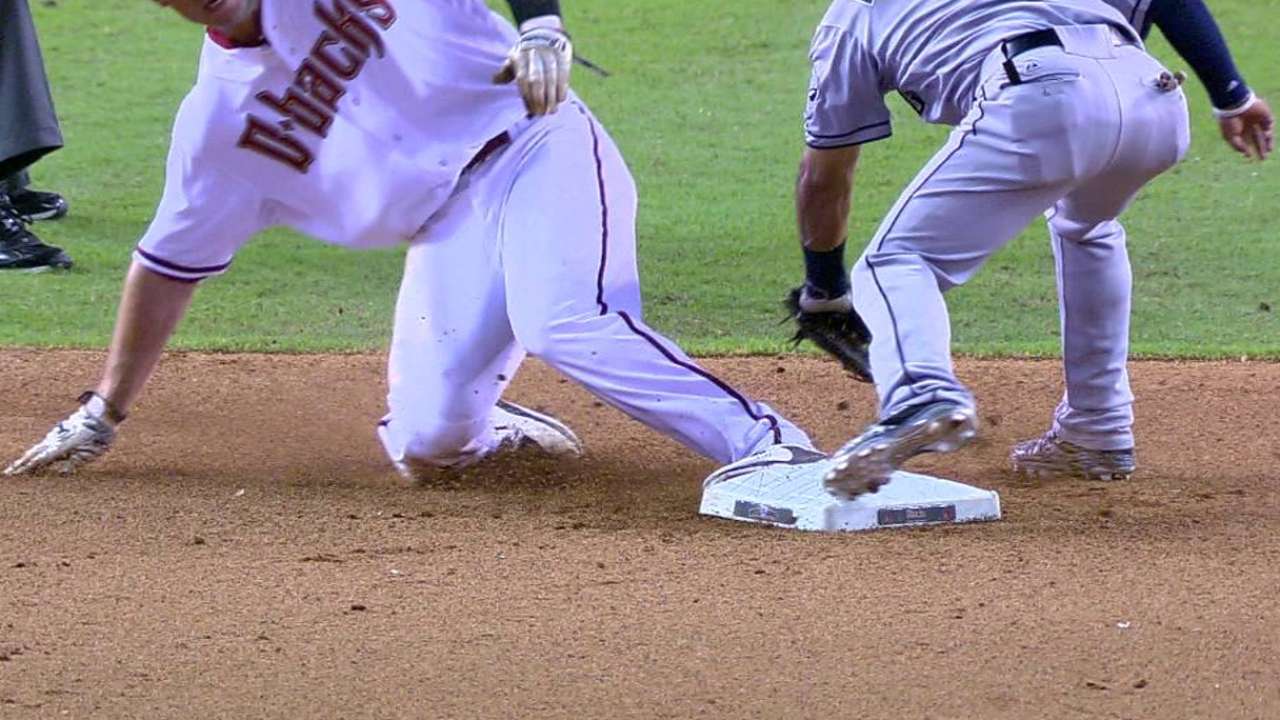 "There are no major changes, but it's just about progressing each year and trying to be a little smarter, whether it's weight training or running," Goldschmidt said.
Goldschmidt finished second in the National League Most Valuable Player Award voting in 2015, the second time he has done so in the past three seasons, and he had arguably his best year of his career with an on-base-plus-slugging mark of 1.005.
Defensively, he won his second Gold Glove Award while making his third All-Star Game appearance -- his second straight as a starter.
Still, in Goldschmidt's mind, there is always room for improvement.
"With Matty coming back this year as infield coach, I've already talked to him about some things that he would like to do and ways that I could improve," he said, referring to third-base coach Matt Williams. "It's the same thing with [Dave] Magadan coming in as the hitting coach. I also talk to [manager Chip Hale]. He's a guy that's been around and has some suggestions. I'm sure other guys are doing the same thing, as well."
Goldschmidt, who lives in Scottsdale, Ariz., spends the offseason working out at the team's state-of-the-art Salt River Fields Spring Training complex.
• D-backs' Spring Training info
With so many players living in the Phoenix area, there is a large group of regulars at SRF.
"In the offseason, there's more of the weight-lifting type stuff, so to have the training staff and Nate, the strength coach, there is huge," Goldschmidt said. "It's great to have a place like that to go to. Everyone wants to get better and do the best they can, and if we got guys as a group doing that, hopefully it will be a fun year and we'll win a lot of games."
Steve Gilbert is a reporter for MLB.com. Follow him on Twitter @SteveGilbertMLB. This story was not subject to the approval of Major League Baseball or its clubs.