Hammer timeless: On birthday, Aaron's feats still awe
Hall of Famer turns 82, same year as Milwaukee's last WS appearance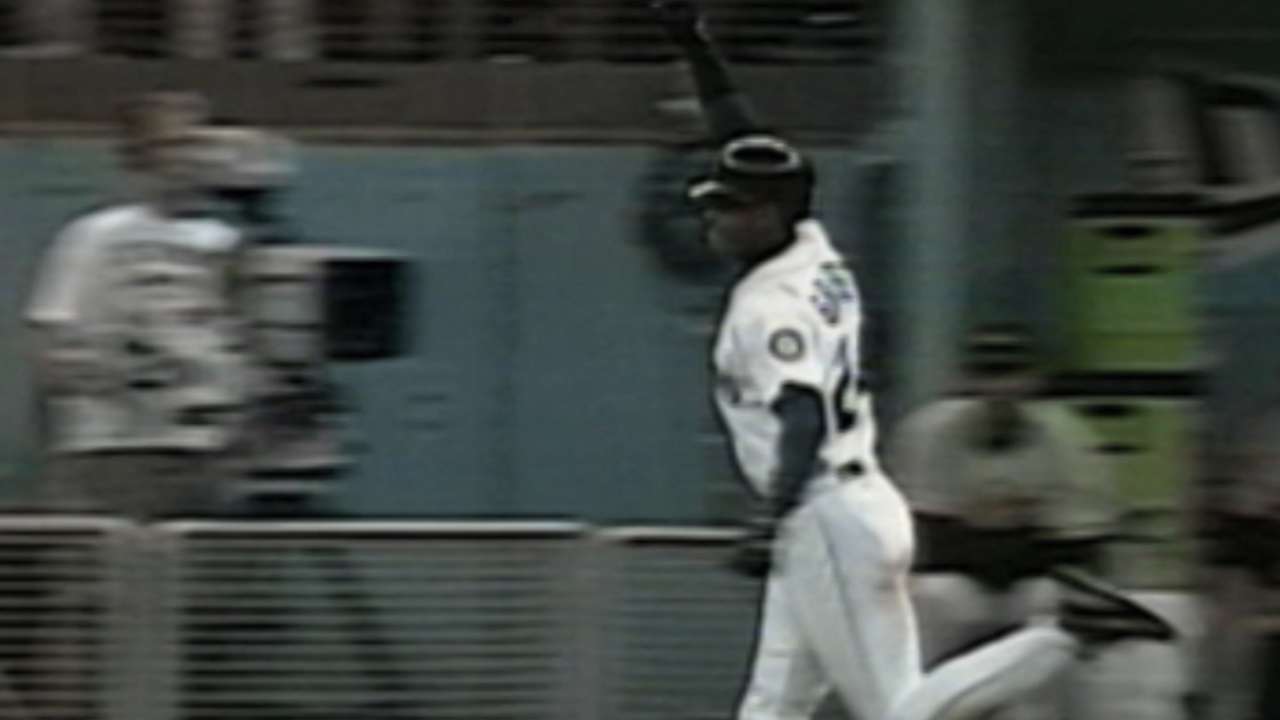 Hall of Famer Hank Aaron celebrated his birthday on Friday, providing the baseball world with another chance to marvel at his many accomplishments.
This Oct. 3 will be the 40th anniversary of Aaron's final game, for the Brewers against the Tigers at Milwaukee's County Stadium. And it just so happens that Aaron is turning 82, which is fitting since 1982 is the last year Milwaukee made it to the World Series. Over the course of his 23 seasons, Aaron played in the city for two different franchises, the Braves (1954-65) and Brewers (1975-76).
Here are some other facts and figures to know about Aaron's illustrious career.
• Aaron, of course, broke Babe Ruth's all-time home run record, Aaron's 755 standing until 2007, when Barry Bonds surpassed him. But while Bonds famously hit a record 73 bombs in 2001, Aaron made history in a more steady fashion. He never put together a 50-homer campaign, topping out at 47, but is tied for second all-time with eight 40-homer seasons. Only Alex Rodriguez can match Aaron's 15 seasons with 30-plus round-trippers, and the Braves' legend stands alone by going deep 20 or more times in 20 different years and reaching double digits 23 times. From 1955-74, at the ages of 21-40, Aaron collected 20-plus homers each season.
• Aaron still holds the all-time record for RBIs (2,297), 83 ahead of Ruth. Rodriguez is the only active player with even 1,700 RBIs going into the 2016 season. Aaron also stands on top in total bases (6,856), a staggering 722 ahead of second-place Stan Musial. That's a difference 265 bases greater than Ruth's single-season record.
• Aaron's 142.6 career WAR ranks seventh all time, according to baseball-reference.com, and trails only Ruth, Bonds, Willie Mays and Ty Cobb among position players. Aaron cleared the 6.0-WAR mark (considered an All-Star level) 16 times in his 23 seasons, tied with Bonds for the most in history.
• Aaron also ranks third all time in hits (3,771) and 10th in doubles (624). His 155 OPS+ is 15th among players with 8,000 plate appearances, as is his .555 slugging percentage.
• The only times Aaron did not make an All-Star team were as a 20-year-old rookie in 1954 and as a 42-year-old playing his final season in '76. In between, he made a record 25 All-Star squads (there were multiple games each year from 1959-62). Hammerin' Hank trails only Mays with 17 All-Star games started.
• Aaron is one of five members of both the 3,000-hit and 500-homer clubs, along with Rodriguez, Mays, Rafael Palmeiro and Eddie Murray. Aaron has nearly 500 more hits and 70 more homers than any of the other four.
• Though not remembered for his speed, Aaron stole as many as 31 bases in a season, swiped at least 15 every year from 1960-68 and finished with 240 -- at a solid 76.7 percent success rate. Bonds, Mays, Rodriguez and Gary Sheffield are the only players with at least 500 homers to also have more steals.
• Only Pete Rose and Carl Yastrzemski played more games than Aaron's 3,298. The Mobile, Ala., native debuted for the Milwaukee Braves against the Reds on April 13, 1954, at Cincinnati's Crosley Field. Aaron went 0-for-5 that day, batting in a lineup that also featured Hall of Fame third baseman Eddie Mathews. In his final game, more than 22 years later, Aaron shared a lineup with another Hall of Famer, Brewers shortstop Robin Yount.
• Aaron played by far his most games in right field, but over the years he spent time at all three outfield spots, as well as first, second and third base and designated hitter. Aaron actually started as many as 26 games in a season at second, way back in 1955.
• Aaron homered in 31 different ballparks and off 310 different pitchers, hitting his most against Hall of Famer Don Drysdale (17). Aaron went deep for the first time on April 23, 1954, against the Cardinals' Vic Raschi (born 1919) and in his final season hit homers off multiple pitchers born in '53.
• Including the postseason, Aaron encountered 21 different pitchers who would go on to make the Hall of Fame. Of the six he faced at least 100 times -- Drysdale, Bob Gibson, Juan Marichal, Robin Roberts, Sandy Koufax and Gaylord Perry -- only Gibson held Aaron below an .820 OPS. Aaron batted an astounding .362/.431/.647 off Koufax, giving him the highest OPS of anyone with 25-plus plate appearances against the left-hander.
Andrew Simon is a reporter for MLB.com. Follow him on Twitter @AndrewSimonMLB. This story was not subject to the approval of Major League Baseball or its clubs.