Spring not far away as truck heads to Arizona
White Sox pack up camp necessities for trip out west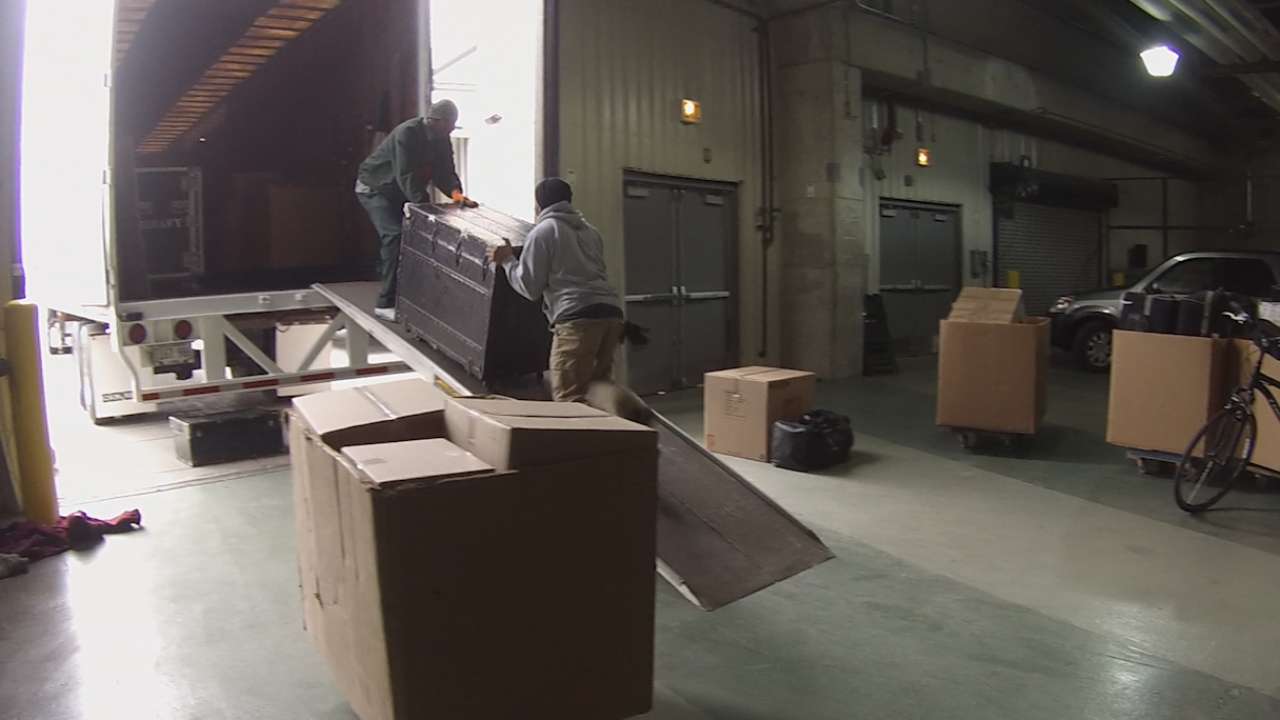 CHICAGO -- Special cargo was loaded on the White Sox equipment truck moving from Chicago to Glendale, Ariz., last February, as Paul Konerko's home clubhouse locker made the journey.
That delivery became possible with all of the lockers being removed during a remodel at U.S. Cellular Field. But when that truck departed Friday afternoon from the South Side of Chicago, it was business as usual.
"There's no Konerko locker. There's nothing intriguing about this trip as compared to other years," said a smiling Rob Warren, the White Sox home clubhouse manager. "It's a lot of the same stuff that gets to and from. Just easier to bring instead of ordering or getting shipped directly down there.
Things are getting real. The #SoxSpringTraining truck is getting set to ship out. pic.twitter.com/HiDE54TjM7

— Chicago White Sox (@whitesox) February 5, 2016
"Every year, for the most part, it's the same stuff we bring back and forth. Some years, there's a Konerko locker. Some years, it's baseball equipment, medical equipment, scoreboard stuff, things that other departments might need to take care of and get there."
After serving the past 10 years as the assistant home clubhouse manager, Warren begins his first year as the home clubhouse man in charge. He said the loading process isn't much different in his new role, except if something gets left behind, "now, it's all on me."
"For the most part, I think we are good this year," said Warren, who is assisted by Jason Gilliam and visiting clubhouse manager Gabe Morell. "We are ready to go."
With the White Sox opening the season on the road, the truck also had equipment and necessities for that first series against the A's. They go from Arizona to San Diego to Oakland before they return to Chicago, so there's a definite mix with Spring Training material.
"Everything that usually goes on that plane is being brought down," Warren said. "We'll load up and make sure we are good to go down there.
"Whether it's [White Sox head athletic trainer] Herm [Schneider's] medical equipment or our backup equipment. … We have helmets that we have to size up everybody in Spring Training. A lot of pants that we use throughout Spring Training. Anything from some pine tar or cleaning supplies or shoe supplies.
"Backup shoes that maybe people left behind from last year. Leftover bats from last year," Warren added. "It's a lot of stuff that didn't necessarily get used last year, but they still might use it. Or if they don't use it, maybe the Minor Leagues will be able to use it or something like that."
Warren might describe the one full truck pulling away from the parking lot as nothing intriguing. For White Sox fans living in the cold Midwest, it's the first sign of spring.
Scott Merkin is a reporter for MLB.com. Read his blog, Merk's Works, follow him on Twitter @scottmerkin, on Facebook and listen to his podcast. This story was not subject to the approval of Major League Baseball or its clubs.