Slimmed-down Graham feeling stronger, faster
Twins reliever drops 30-40 pounds this offseason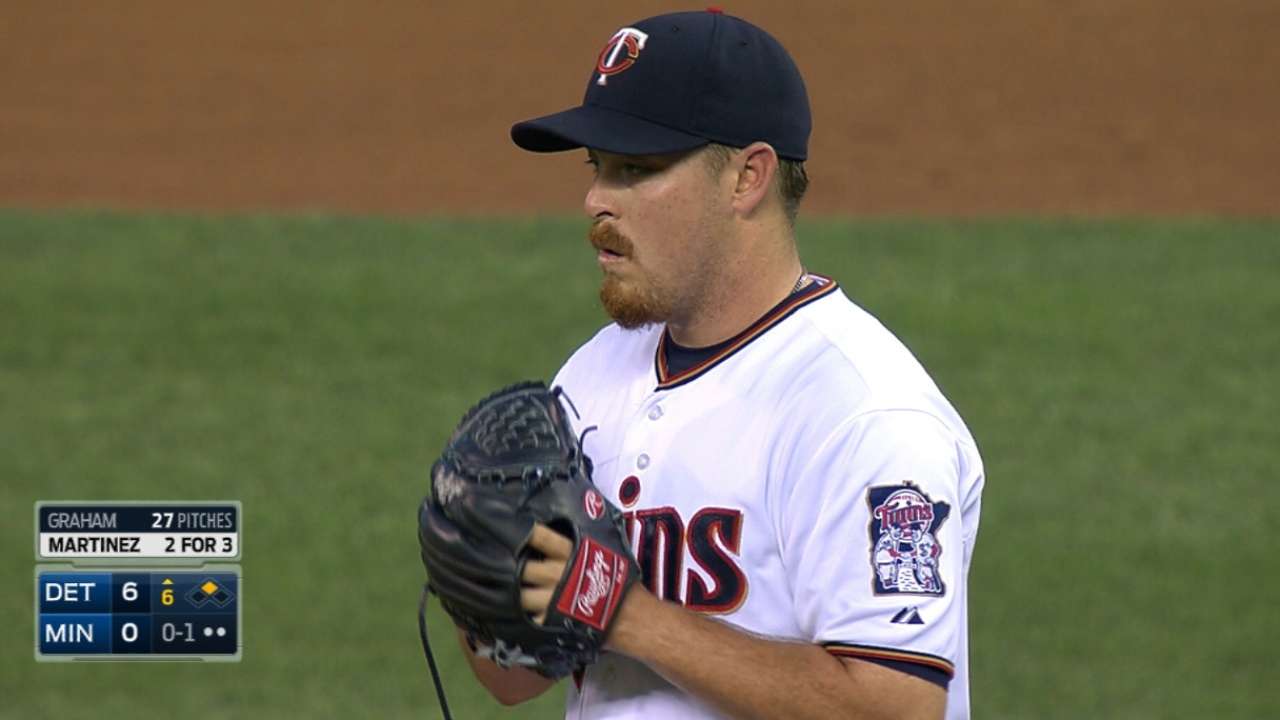 MINNEAPOLIS -- It would've been easy to understand if Twins reliever J.R. Graham's teammates didn't recognize him at TwinsFest last weekend.
Graham showed up to the event having lost roughly 30-40 pounds this offseason, as he went from weighing 210 last season to about 170-175. Graham didn't change his workout routine, but simply adjusted his diet because he didn't like the way he felt physically in his first year in the Majors as a Rule 5 Draft pick with the Twins.
"It was actually during the season, I realized I just didn't feel good," Graham said. "I wasn't eating like I should be eating as a professional athlete. So I decided in the offseason to focus on better eating habits. So it's actually surprising how much of a change it made because it wasn't a conscious goal to lose this amount of weight. I just wanted to eat better and have more protein."
Graham, 26, decided to cut out sugar, alcohol and foods heavy in carbohydrates in favor of a high-protein diet that features plenty of protein shakes, salads, meats and vegetables.
He leaned on his mom, Julie, to help him with the plan, as she's lost weight in recent years with a better diet and the help of Weight Watchers. She was the one who helped cook him his meals, while his dad, Brian, was there to help him with his workouts at night.
"I can just feel the change," Graham said. "The energy. Everything. I feel great. I'm excited to see how it'll translate into spring. I know I shouldn't have any problems because I'm stronger than I've ever been. I'm faster. All that. So it's really exciting."
Given his increase in overall strength, Graham said the Twins shouldn't worry about him losing velocity despite the weight loss. He was also roughly this weight while in college and in the Braves' organization before gaining weight after a right shoulder strain suffered in 2013.
"Some people have concerns how it'll affect me when I'm pitching, but all I know is I was this weight in 2013 and hitting triple digits [on the radar gun]," Graham said. "I'm used to being this light. I was probably even lighter in college. I was just heavier post-rehab, which was a goal of mine. But I didn't like it."
And as for his strength, Graham knows he's stronger than ever because he keeps a detailed binder with all of his workouts dating back to 2007, when he was a junior in high school.
"It's documented and written down with weights and times and everything," Graham said. "So that's how I know it'll translate to throwing a baseball. I've tracked everything. I know I'm above and beyond stronger and faster than I've ever been."
Graham, who had a 4.95 ERA with 53 strikeouts in 63 2/3 innings as a rookie last year, said he's excited to see how it all translates in Spring Training. His goal is to be on the Opening Day roster like last year, but knows there's a lot of competition for a bullpen spot.
"I go into every spring the same -- I have to fight to make the team," Graham said. "I'm really excited. I love the challenge. I have my back up against the wall and that's kind of how I felt last year."
Rhett Bollinger is a reporter for MLB.com. Read his blog, Bollinger Beat, follow him on Twitter @RhettBollinger and listen to his podcast. This story was not subject to the approval of Major League Baseball or its clubs.